HALTING HYPOCRISY
by Jeff Hagan
(Tacoma, WA, USA)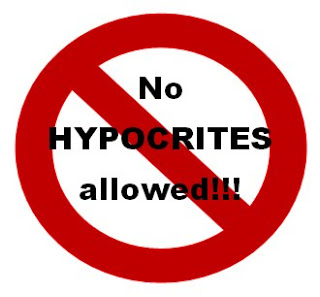 Scripture Reading: Matthews 5 & 6

Remember back in Jr. High and High School when you use to pretend to be something you weren't? You just wanted to be accepted, to be popular. You did things that weren't really you just in order to get noticed. Adults do the same thing, especially with the explosion of social media. People set up profiles in a way to try and impress those who see it. They offer up all the good, positive, and "successful" things going on in their life, but rarely do you see the whole truth, the real person. Well, to be honest, it was not much different back in the time of Jesus.

Jesus started traveling throughout Galilee teaching in the synagogues and healing people. News about him began to spread throughout the land, and people began to follow him around almost everywhere he went. Seeing the large crowd, Jesus took his disciples off to the side and led them up a hill and then he sat down. The disciples knew something serious was about to be said. Many times a teacher would give instruction while standing or even pacing back and forth, but when he would sit down it meant something very important and close to his heart was about to be shared.

Jesus looked intently at his disciples and said, "Blessed are those who are poor in spirit – who know they have a need for God – for they shall inherit the Kingdom." "Blessed are those who are pure in heart," he continued, "those who are honest with themselves and God, for they shall see God." Jesus carried on stating character qualities of those who would truly follow him. As he was finishing, he noticed the crowds making their way up the hill, so he began addressing them as well.

Jesus looked at them and knew some were there sincerely, others wanting some kind of personal favor, others just wanted to be healed, some were just curious, and then some were just proud religious leaders who wanted to be sure and make an appearance. But whatever the reasons, Jesus knew the underlying problem was the same. None of these people could live up to God's standard of righteousness. This was something the religious leaders were well aware of as well, so they took it upon themselves to basically lower the standard of God's law. They did this by limiting the intent of God's law and by adding on their own rules that were easier to keep. By obeying just the letter of the law and their man-made additions, one could look like they were keeping the law on the outside, however, their heart could actually be far from God.

Jesus addressed this problem head-on. "You have heard it said from the law of Moses that you shall not commit murder. But, I tell you that if you even look down on another with contempt, you are committing murder in your heart."

Jesus kept repeating that model, "You have heard 'so and so' said to you, but I tell you 'so and so.'" Jesus was giving a new meaning, a deeper insight, into their old laws. Instead of just obeying them on the outside, Jesus challenged them in regard to the attitude of their hearts. As you can imagine, this was very uncomfortable for them.

Jesus continued, "Don't do things in hopes that others are going to notice it. If that's what you do, then you will have no reward in heaven. When you give, do it quietly. When you pray, pray straight to God. Don't pray for an audience. Don't use big words and long sentences in your prayers trying to impress others and draw attention to yourself, and don't stand out in populated places just to be seen."

This was a big problem for a lot of people back then. Think about it, three times a day they were expected and called to prayer. Wherever they were and regardless of what they are doing, they were to stop and pray. As a result, near the hour of prayer, some people would plan out the timing so they could be in a public place, like the busy street markets, when it was time to pray. They wanted to be seen, they wanted the crowds to notice as they stood there offering up their prayer appearing to be as religious as can be.

Giving to the poor, fasting, and praying were all things people thought were righteous things to do. So, some people, hypocrites actually, started doing all these things publicly for appearance. Some who were fasting would muss up their hair and clothes and would even put on makeup or paint to make their faces appear whiter than they were so they would look pale as though affected by the lack of food. It's disgusting but similar things happen today just with different cultural methods.

Jesus was not fooled in the least by these people pretending to be one thing on the outside while they were actually something completely different on the inside. God's kingdom is not a place for the religious, it is a place for those who are in right relationship with God through Jesus Christ.

A time will come when you are tempted to do something in order to look good, if it hasn't already. It could even be good things, positive things, but for the wrong reasons. Just be aware this temptation will come and instead live a truthful and authentic life and if you do, no one can effectively accuse you of being a hypocrite.