HAVE YOU BROKEN YOUR NEW YEARS RESOLUTIONS YET
by Charles Robey
(Trussville AL)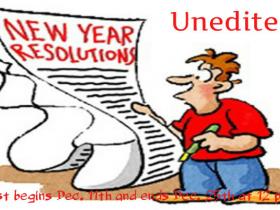 Well, have you broken those "New Years" resolutions, yet ? According to statistics, more than 60 percent of individuals said they don't ever make New Year's resolutions and nearly 80 percent of people will break them. With this in mind, here is a consensus of the ten most popular New Year resolutions.

• Lose Weight and Get Fit
• Quit Smoking
• Learn Something New
• Eat Healthier and Diet
• Get Out of Dept and Save Money
• Spend More Time with Family
• Travel to New Places
• Be Less Stressed
• Volunteer
• Drink Less

Please bear in mind, this information is strictly based on a secular view point. So, what about from a Christian point of view ? I realize, for a Christian to make any spiritual New Year resolution may be rather difficult, considering we Christian are bound somewhat to our environment. We cannot isolate ourselves from our surroundings. ( 1 Cor 5:9-10 ) and we all know that the current world environment is dictated by Satan himself. (Ephesians 6:12)

However, one need only to pray and search the scriptures to quickly defeat this worlds evil influence. It's just a matter of a "spiritual attitude adjustment". For God is ready and willing for His Holy Spirit to control our lives. ( Romans 8:26 ) ( 1 John 5:6-8 )

And one need only pick up a newspaper, turn on the TV news or surf the internet, to see the terrible condition of this old world. And if you let it, aside from trusting in God's divine help, it will surely drive you "bananas". Sometimes, I feel like this current political mind-set is all by design to distract Christians, as it's certainly easy to get addicted to this particular liberal point of view. On the other hand, it may just be prophecy at work. (2 Timothy 3:1-13) Whatever the intention, we as believers must not let this worlds evil persuasion effect out walk with Christ. ( Philippians 2:5 )

A good " New Year's" resolution scripture, to guard against Satan's evil traits, is found in ( Romans 12:1-2 ). We must not let Satan's influence conform us to his way of thinking. But we need be transform into the image of Christ.( Galatians 4:19 ) When we submit our hearts and lives to Christ, the Bible says we will be "transformed into his likeness ... which comes from the Lord, who is the Spirit" (2 Corinthians 3:18).

In addition, we must renew our mind by much prayer ( 1 John 5:14-15) and the study of God's word. (1Thess. 1:5) The Holy scriptures have the power to turn our thoughts and attitudes toward God and away from the carnal ways of the world. Without the cleansing power of the word, we become insensitive to sin.

Another good Christian New Year's resolution is to read the book of Proverbs by reading one chapter a day of a month. Just pick out a 31 day month and go for it.

And it wouldn't hurt to memorize ( Philippians 4:6-7 ) or print out the passage and post it on your bulletin board, for daily review.

So, what about you ? Are you going to resolve this year to be a better follower of our living Lord? If so, then you can forget all about those secular "New Years" resolution.