HAVE YOU STRAPPED ON YOUR GLORY BOOTS
by Charles Robey
(Trussville AL)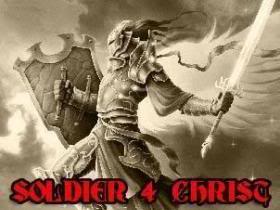 Is Your Armor Ready
We have started in the war for God and right.
We've enlisted in God's army for to fight.
Jesus bids us go along, with a happy shout and song.
We are fighting for the King, both day and night

Ever fighting in the name of Christ our king.
Many precious souls to Him we gladly bring
We will shout the victory over land and sea.
We will sing His praises throughout eternity.

At our post of duty, we will stand so true
Faithful till we reach the land beyond the blue.
We will hold the standard high, We will fight until we die.
We'll obey the word that God would have us do.

We will never shirk our trusted duty to the Lord
We will all stand at attention ready of one accord
With our weapon for to fight the battle day or night
We will march to our victory's eternal sweet reward


I remember a dear old saint of God, back in my home church, who always wore those high top brogan shoes, with which he had cut air holes in the sides. If one of us young people ever ask him about the shoes, his classic answer was always, "why son these are my "glory boots and the air holes are to let the smell of the Devil out". I ask you, have you strapped on your "glory boots" ? Are you ready to go to war against Satan and all his many minions ? Or, are you battle weary?

Just remember that old hymn entitled "Victory In Jesus". Yes, we are promised that victory, (Deut 28:7) if we fight in the name of the Lord. (Psalm 91:1-16)

Throughout scripture the Apostle Paul compared the Christian walk to that of spiritual warfare.(2 Cor 10:3-5) A warfare of God's goodness against the evil powers of Satan.

Even though Satan is described as being the "price of the powers of the air" and in control of this worlds evil forces,(2 Cor 11:14) I have read the back of the book. And guess what, in the end (Psalm 37:12-16) we followers of Christ win. (Rev 20:10) (Rev 12:9)

What about you? Is your armor ready to withstand the devil's schemes? Is your belt of truth buckled tight? Is your breast plate of righteousness shinned? Is your feet fitted with the readiness of the gospel of peace? Have you taken up the shield of faith to extinguish the evil flaming arrows? And, have you put on the helmet of salvation and sharpen your sword of the spirit, which is the word of God? (Ephesians 6:10-18)

Don't let your spiritual armor be tarnish by sin, but keep it shinning and bright, for we go in the "Spirit". The Holy Spirit" that is. And fear has no place on this spiritual battle field. (2 Timothy 1:7)Beloved, none of Satan's darts can ever penetrate the armor of a faithful soldier of God's army.