He Did It for Us: Part 2 of 2
by John Lowe
(Laurens, SC)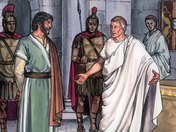 Jesus tells him, he would have no power if it was not given from above. After that Pilate looked for ways to free Jesus, but everything he tried failed. This mighty officer of Rome who had it within his power to defy the Jews and set Jesus free, who in fact had it in his power to kill anybody that displeased him, bowed to the will of the Sanhedrin. He sent Jesus to be crucified.

Throughout this story of hatred and hypocrisy, the majesty of Jesus shines through. He, the miracle worker, the Son of God, had the power to stop everything. He did not need to go to the cross. He said in the garden that he could call on His Father who would put at His disposal more than twelve legions of angels to fight for Him. At the least, He could have simply walked away and disappeared. He did not need to go to the cross. It was His choosing. He towered above the Jewish authorities and even treated Herod with contempt by refusing to even talk to him. He was in full control when He was before Pilate, and left him, Pilate, nervous and afraid.

Jesus went to the cross! It was His choice in obedience to God the Father. The Sanhedrin and Herod and Pilate were all just participants in God's plan for our salvation. Listen again to what Paul said about Jesus in Philippians 2:6-8: "Who, being in very nature God, did not consider equality with God something to be grasped, but made himself nothing, taking the very nature of a servant, being made in human likeness. And being found in appearance as a man, he humbled himself and became obedient to death-even death on a cross!"

Now I refer you back to John 19, verse 1. It says that Pilate took Jesus and had him flogged. The King James Bible uses the words, "scourged Him." I prefer the word scourged, because I think most of us think of flogging as just simply whipping with a strap. Those among you who are cooks might remember scourging a roast while getting it ready for the oven. Do you remember that scourging it means to cut grooves in the top of it?

How many of you have seen the movie, "The Passion of Christ?" It did an excellent job of portraying the true nature of that scourging, but it didn't tell everything. When a prisoner was scourged the lash used was a long leather thong, studded at intervals with pellets of lead and sharpened pieces of bone. It literally tore a man's back into strips. Few remained conscious throughout the ordeal. Some died, and many went raving mad.

Jesus withstood that, and went on to be crucified. When a man was crucified, he was usually required to carry his own cross to the place of execution. Sometimes only the horizontal cross-piece rather than the whole cross was carried. The Bible accounts seem to indicate Jesus was made to carry the whole cross. Pictures often show Jesus struggling up the hill carrying that heavy burden, but it wasn't just a matter of carrying it. The bottom end of the cross would be dragging on the ground and hitting every bump along the way. Each time it hit a bump; there would be a terrible jarring on the shoulder of the condemned man. The rough edges of the cross would grind into his flesh.
Then, at the place of execution, the prisoner and his cross would be thrown to the ground. He would be stretched out on the cross and held while large nails were driven into his hands, or wrists, and feet to secure him to the cross. Then the cross would be pulled to an upright position where the bottom would drop into a hole with another terrible ripping jar to the poor being nailed to it.

Now came more torture. Hanging by their hands put great pressure on their chest so they could not breathe. They could relieve the pressure by raising up on the feet which were nailed to a block, but as soon as their legs tired they sank back down again. Eventually, if they did not first die of their injuries, they died of suffocation. Jesus, who being in very nature God, the son of God, went to that terrible scourging and the cross, because that was the only way to save us humans from the consequence of our sins— which is condemnation to eternal hell.

Whenever a sin is committed, a price must be paid to obtain forgiveness. Paying that price is called redemption. Under the old covenant, the price was paid with the blood of an animal that had no blemish. Jesus, the Lamb of God without blemish, established a new covenant in His own blood to redeem us from our sins.

He took our place on that cross.