He has the Whole World in His Hands {part 3]
by John Lowe
(Woodruff, S.C.)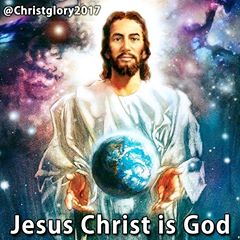 He has the Whole World in His Hands

6 Thy throne, O God, is for ever and ever: the sceptre of thy kingdom is a right sceptre.

Not only is the king a warrior; he must also rule and judge. He is going to rule in righteousness—His "throne" is eternal, and His "scepter" is righteousness. "Thy throne, O God" is interpreted as "Your divine throne" in the Revise Standard Version. The Messianic application in Hebrews 1:8-96 makes this an unqualified statement of the deity of Christ—one of the clearest proofs in the entire Bible. The royal throne stands for established authority of government, with a continuity which embraces not only the past but centuries to come. Those who deny the deity of Christ refuse to accept the translation "Thy throne, O God," because they want to make the psalm only Jewish history and not Messianic prophecy. But when they quote this verse in the Hebrews passage, it becomes "You're throne, O God, is for ever and ever." So, it is not only true that Christ's throne is divine, but also that He Himself is God.

The "scepter" stands for the personal authority of the reigning monarch. He alone can carry it. It is a straight staff and in its very form suggests the ideal uprightness of the legitimate ruler who "hates the evil, and loves the good, and establishes justice in the gate." "A right scepter" would be just and fair rule. Regarding His return to earth, the Lord Jesus Himself said, "When the Son of man shall come in his glory, and all the holy angels with him, then shall he sit upon the throne of his glory" (Matthew 25:31, KJV). Not until then will we have peace on this earth. That is the need of the world. When Betsy Ross made the first American flag, George Washington expressed the wish that it would wave for a thousand years. We celebrated our two hundredth anniversary, and already we are losing our just and fair rule and growing old as a nation. But the government of God is eternal. Christ's kingdom will last "forever." After His reign of one thousand years on earth, His earthly kingdom will merge into "the everlasting kingdom of our Lord and Savior Jesus Christ" (2 Peter 1:11).

7 Thou lovest righteousness, and hatest wickedness: therefore God, thy God, hath anointed thee with the oil of gladness above thy fellows.

Because He loves "righteousness" and hates "wickedness," He is "anointed . . . with the oil of gladness" more than any other. The "Anointed" One is Messiah, of which Christ is the Greek form. It is not a name, but it is His official title. The first time He came, He came as Prophet—the messenger and message of God—which refers to the past. In our day He is our Great High Priest at the right hand of God; that is His present ministry. But His second coming will be as King, the Messiah. This is for the future. The "oil of gladness" represents the eternal joy that belongs to the happy bride and Bridegroom (Isaiah 61:3).

When the founding fathers of the United States of American came across the western seas and sighted these shores, they determined to build a nation based on a love of righteousness and a hatred of wickedness. How miserably it has all failed! In the name of freedom and civil liberty the worst possible vices are now condoned, even encouraged. Pornography has become a billion-dollar business, the crime syndicates rules City Hall, lewdness and unbridled lust appear unblushing and unashamed. Not so the government of Jesus; it will be a perfect government.

"God, hath anointed thee with the oil of gladness." It is unfortunate that we tend to think of Him as a Man of Sorrows. He was the most joyous person on this earth when He was here. Here is the secret of perpetual joy— "the oil of gladness." The anointing makes the King gloriously happy to do God's perfect will. We shall share in His joy to the extent we enter Christ's spirit, a joy such as unbelievers cannot know. There have been many gloomy kings, sad kings, bad Kings, and even some mad kings, but few glad Kings. David came as close as any with his hymnbook and his harps, but many of David's great songs are drenched with tears. Jesus will be a happy king— "anointed with the oil of gladness above His fellows!" His reign will fill the world with sunshine and song.

"Above thy fellows" means God has exalted thee above all them that were ever anointed for priests, or prophets, or kings; or above all believers, who also have received this same anointing (1 John 2:20, 27) and are made priests and Kings unto God (Revelation 1:67). Jesus is the King-Priest "after the order of Melchizedek" (Hebrews 7-9). One day, His people will reign with Him and share His Glory (Revelation 5:108; 20:6).

In Old Testament times kings were "anointed"; David was hailed while still a youth as "the Lord's anointed" (1 Samuel 16:6; and see Psalm 2:2). Priests were anointed before they could execute their office (Leviticus 4:5). At Isaiah 45:1 the pagan King Cyrus of Persia is called His anointed (or Messiah!) Because God had chosen him to set free His people Israel, then in exile in Babylon, from servitude to a foreign power. So, there we read, "I call you by your name, I surname you, though you do not know me" (Isaiah 45:4).

That this is a messianic psalm referring to our Lord Jesus Christ is fully attested by the quotation of these two verses in the Epistle to the Hebrews: "But unto the Son he saith, Thy throne, O God, is for ever and ever: a scepter of righteousness is the scepter of thy kingdom. Thou hast loved righteousness, and hated iniquity; therefore God, even thy God, hath anointed thee with the oil of gladness above thy fellows" (Hebrews 1:8-9). The critic who attempts to apply this psalm to Solomon or some unknown king fails to note that He is addressed has God. It is not conceivable that Solomon or any other king would be addressed as God. The entire first chapter of Hebrews presents our Lord Jesus in His exultation, being the expressed image of God, far superior to angels, and seated at God's right hand.

8 All thy garments smell of myrrh, and aloes, and cassia, out of the ivory palaces, whereby they have made thee glad.

His "garments" are fragrant as He comes from "the ivory palaces" (It was not because the palaces were entirely made of ivory, but because they were adorned or covered here and there with it.). Solomon, at the apex of his prosperity and power, had a great throne of ivory. Who can tell what it cost in that day and age to trap and kill the elephants to yield ivory enough to make a throne? Jesus has an ivory palace; He has more than that, He has "ivory palaces!" When He reigns, all men will be rich, they will be increased in goods, and will have need of nothing. The world will echo His own words: "A greater than Solomon is here."

He came to this earth that our joy might be full. And it was for "the joy that was set before Him" that He endured the cross. O, how we as believers need to rejoice! The tribe of Judah, which means "praise," led the children of Israel in the wilderness march; yet they complained, they whined, they sang the desert blues when they should have been praising God. This is the same thing the church is doing in our day. My friend, believers should be praising God—not complaining! At Christmas time we sing the psalm, "Joy to the world! The Lord is come; let earth receive her King." That is not a Christmas hymn at all; it refers to Christ's second coming and should not be relegated to a seasonal section of our hymn book.

"Myrrh, and aloes, and cassia" were all sources of fragrant perfumes in ancient times. This may denote those glorious and sweet-smelling virtues, which, as they were treasured up inwardly in Christ's heart, they manifested themselves outwardly and visibly, and give forth a gratifying smell in the whole course of His life and actions (2 Corinthians 2:14-159).

"Whereby they have made thee glad" is literally, "Stringed instruments have gladdened thee." The king has been made the happiest of men on this his wedding day. In keeping with the customs proper to the occasion, his garments were saturated with the fragrance of ointments and perfumes. "All thy garments smell of myrrh, and aloes, and cassia": literally, "all your robes (royal garb) are myrrh and aloes," i.e., the garments seem to be fabrics of perfumery (heavily perfumed fabrics). "Cassia" is derived from the bark of laurus cassia of South Arabia; "aloes," from the bark of an Indian tree. From within the palace with its panels and furniture inlaid with ivory, stringed instruments send forth music to delight the king as the wedding procession reaches him.

Verses 9-17: In the first half of this psalm we are introduced to His Royal Majesty; now we are introduced to Her Royal Majesty. The Jews, of course, saw in this psalm a picture of Jehovah and Israel; they had no concept of the Church. But the Holy Spirit did; the Church lives concealed in this psalm as surely as it lies concealed in a score of other Old Testament Scriptures.