HE WHO LAUGHS LAST
by CHARLES ROBEY
(MOODY AL USA)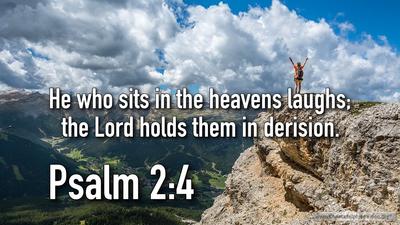 (Psalm 2:1-5) "Why do the nations conspire, and the peoples plot in vain? The kings of the earth rise up and the ruler's band together against the LORD and against His anointed, saying, "Let us break their chains and throw off their shackles." The One enthroned in heaven laughs; the LORD scoffs at them. He rebukes them in His anger and terrifies them in His wrath, saying, 'But as for Me, I have installed My King upon Zion, My holy mountain.'"

Growing up in my youthful years, I was known to be somewhat of a showoff, an occasional clown, especially when presented with a suitable audience. Oftentimes, when laughing at a joke or just for plain childhood attention-getting, I would take spells of uncontrollable, hysterical laughter.

Obviously, this strange childhood behavior didn't set right with my parents. Dad always got the last laugh to the tune of his painful, popping belt. As for me, my laughter always turned to tears.

According to the Internet prediction, "the expression 'he who laughs last, laughs best' is a saying that means the final winner will have more glory than someone who was winning in the beginning but ultimately lost." Can we say, hello, today's America?

How does this brief intro fit into today's politically charged blog world, one may ask. It's very simple. Now being older than dirt and twice as gritty, I feel very comfortable in that I've probably about seen it all so far.

I've seen our great Republic of America quickly progress from that of a faith-based civilization to that of today's ungodly mindset. I've witnessed our Sovereign Creator's hand in the development of America's Declaration of Independence and Constitution progress to a foolish intent to destroy such documents.

And most importantly, our nation has "progressed" from freely and openly worshiping God, reading the Bible and prayer to the unconstitutional and unlawful banning of such.

However, this evolution of America's people did not to take our all-powerful, all-knowing Creator God by surprise. He patiently awaits His time for correcting action. In the meantime, we know He is laughing at man's folly, according to His holy Word.

(Psalm 37:13-15) "but the Lord laughs at the wicked, for he sees that his day is coming. The wicked draw the sword and bend their bows. to bring down the poor and needy, to slay those whose way is upright; their sword shall enter their own heart."

In the meantime, it's a sad note, however, for America's ungodly powers-that-be to ignore the very principles of their living Creator in the enforcement of the affairs of the State.

The Scripture is very plain, our Creator places both good and evil in power, to affect His will on the people. (Daniel 2:21-22) Equally so, (Romans 13:1-7) also gives the same view of the God-fearing individual's proper attitude towards the state.

There's no authority except by God's will. Obviously, this does not mean that certain forms of government are ordained by God, although He allows rulers just so much rope before reeling them in. God establishes and upholds the principles of government, even though some governments fail to fulfill His desires. We see this in today's America.

According to Dr, David Jeremiah's best seller I Never Thought I'd See the Day, "Many people are blind to the destructive cultural trends of the day. At the same time, others see the dangers but are too quick to minimize the negative impact these trends are having on society. Then there are those who see the chaos all around them but believe that resistance to the prevailing culture is useless."

Where did it all start, you may ask? It's simple; it was in the Garden of Eden when Satan himself personally tempted our first parents into sin. (Genesis 3:1-7) Now all mankind is born with a sin nature, in need of Godly redemption. (Romans 3:23)

We are now in a unseen spiritual war of many battles for the very soul of America. " The believers' enemies are the demonic host of Satan, always assembled for mortal combat." (Dr. Charles Ryrie)

To enter this unseen war, we believers must put on the full armor of God (Ephesians 6:13-17) to combat Satan himself. (Ephesians 6:10-12) One of our weapons is prayer. (Ephesians 6:18)

How may we help? Is there a plan of escape for us as God's people? Yes, our living Creator God never leaves us alone. He will always give a plan of action, along with a promised reward.

"If My people, who are called by My name, will humble themselves and pray and seek My face and turn from their wicked ways, then I will hear from heaven, and I will forgive their sin and will heal their land." (II Chronicles 7:14)

Now, are you ready to do battle? If so, here are a few suggestions. When's the last time you submitted a faith-based editorial to your local newspaper? When have you attended a local city council meeting? Have you voiced a Christian opinion on your local talk radio? Have you witnessed to your neighbor across the back fence, referencing the Gospel and our patriotic duties? Have you recently helped a neighbor or friend register to vote? Yes, the fields are ready.

"Behold, I say to you, lift up your eyes and behold the fields that are white and are ready to harvest even now. (John 14:35)

AUTHOR'S POSTSCRIPT

Not only does our living Creator enthroned in heaven laugh, as He scoffs them, He rebukes. He also rolls up His big sleeves and says, "Step back out of the way a moment, and watch Me work."

(Isaiah 52:10) "God has rolled up his sleeves. All the nations can see his holy, muscled arm. Everyone, from one end of the earth to the other, sees him at work, doing his salvation work.'

Remember: His sleeves are only ever rolled up for good for His children! Since ancient times no-one has heard, no ear has perceived, no eye has seen any God besides you, who acts on behalf of those who wait for him. Referring (Isaiah 64:4)

I leave you with this thought-provoking Scripture:

(Ecclesiastes 9:10) " Whatever your hand finds to do, do it with all you might, for in the realm of the dead, where you are going, there is neither working nor planning nor knowledge nor wisdom.

According to Dr. Charles Ryrie "Solomon adds a new dimension to his counsel concerning life. Though much of life is futile, one must grasp its opportunities and use them to the fullest in serving God. There will be no such opportunities in the grave. Every man has a particular work, which is accomplished in his life or not at all."

To this postscript, I give a big Amen, and as far as America's current direction and future are concerned, we must all do our part to save our great Republic, the land of the free and the home of the brave.