Headship of Christ - Page 3 of 3 (series: Lessons on Romans)
by John Lowe
(Woodruff, S.C.)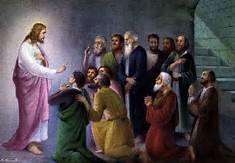 But where sin abounded, grace abounded much more. The Law did not save anyone from sin, but what it did do was to revealed sin in all of its awful character. But God's grace proves to be greater than all man's sin. What a contrast! No matter how great human sin becomes God's grace abundantly exceeds it. No wonder Paul wrote that God's grace "is sufficient"—"My grace is sufficient for you, for My strength is made perfect in weakness." Therefore most gladly I will rather boast in my infirmities, that the power of Christ may rest upon me" (2 Cor. 12:9). Where sin abounded, God's grace at Calvary abounded much more!


Grace did not set aside the law, but rather grace was able to completely satisfy it. As deep as sin goes, God's grace goes deeper. As wide as sin is, God's grace is wider. When sin abounded, grace super-abounded. God's grace is greater than all our sin—the grace which sent Jesus to be the Savior of the world, the grace which "made Him to be sin for us who knew no sin," the grace which "makes us to be the righteousness of God in Him."

The law entered. There is nothing wrong with the Law—"Therefore the law is holy, and the commandment holy and just and good" (Rom. 7:12). It made people more aware of their own sinfulness and their inability to keep God's perfect standard—"What shall we say then? Is the law sin? Certainly not! On the contrary, I would not have known sin except through the law. For I would not have known covetousness unless the law had said, "You shall not covet" (Rom. 7:7). The Law served as a teacher in order to drive men to Christ—"Therefore the law was our tutor to bring us to Christ, that we might be justified by faith" (Gal. 3:24).

21 So that as sin reigned in death, even so grace might reign through righteousness to eternal life through Jesus Christ our Lord.

This verse contains the double contrast between sin and righteousness and between death and life.

So that as sin reigned in death. From the very moment sin entered the universe it has reigned, bringing about physical and spiritual death. Its effect has been to separate mankind from his Creator and to cause his end to be death.

Even so grace might
reign through righteousness to eternal life through Jesus Christ our Lord. But through the blood of Jesus Christ, sin has been dethroned and righteousness now rules in its place. While death was the order of the day in Adam's society, now life eternal is the order of the day for those who have believed in Jesus Christ. The contrast is a great one. It is a contrast between man's sin and Christ's obedience, between the wages of sin and the gift of God.
Some have thought that universal salvation is taught in this passage, thinking that just because all were condemned, now all will be saved. Such is not the case. New birth is mandatory for eternal life and the expression, "they which receive" in verse 17, teaches that faith in Jesus Christ is absolutely essential for salvation.
Notice that grace reigns through righteousness to eternal life. Grace reigns with a goal in view—eternal life. Eternal life is a quality of life; it is living by God's life and for God. Believers have this life now. But eternal life means not only living with God, and for Him, but in an environment that He has made perfect—free from all sin. That's why eternal life is both the believers destiny and immediate reality. How will this life be attained? It will be attained through a person—Jesus Christ our Lord. All the demands of God's holiness have been met, and the penalty of the Law has been paid, so God can now grant eternal life to all who come to faith in Christ, their Substitute.
Perhaps we have in these verses a partial answer to the familiar question, "Why did God allow sin to enter the world?" The answer is that God has received more glory and man has received more blessings through Christ's sacrifice than if sin had never entered. We are better off in Christ than we ever could have been in an unfallen Adam. If Adam had never sinned, he would have enjoyed continued life on earth in the Garden of Eden. But he had no prospect of becoming a redeemed child of God, an heir of God, or a joint-heir with Jesus Christ. He had no promise of a home in heaven or of being with Christ and like Him forever. These blessings come only through the redemptive work of Jesus Christ our Lord.