Heart Cry for Revival Part 2
by John Lowe
(Laurens SC, USA)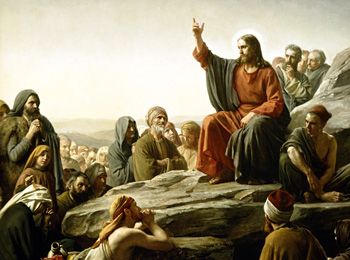 There are three reasons:
1. To bring judgment on his people.
Here's what God said in Isaiah, "And now, please let Me tell you what I will do to My vineyard: I will take away its hedge, and it shall be burned; And break down its wall, and it shall be trampled down" (Is. 5:5).
God says that He will remove their protection so that they will become easy prey to their enemies who will trample them under their feet.
2. Second, when He removes His protection from us it may be for the purpose of awakening our spiritual vigilance.
When troubles and problems begin to touch us, we are just like Israel; we will cry out to God for help.
It's sad that prosperity causes us to forget God, and troubles cause us to remember Him.
But that's the way we are.
So sometimes He will remove our hedge, just briefly, so we see that we need Him.
3. Third, He will remove the hedge to bring us to confession and repentance.
We are told that God chastens those He loves.
A child of God can expect to be taken to the woodshed if he gets too far out of line.
A holy God demands that we live a holy life.
Our second word to consider is "hope."
If God breaks down the hedges, is there any hope that He will rebuild them?
Yes, there is, if we understand the ways that God builds a hedge.
The first way God builds hedges is through godly people.
Ezekiel 22:30 says, "…I sought for a man among them, that should make up the hedge…"
Sin makes a gap in the hedge of protection that is around a person, and good things can run out of the gap and bad things can run in the gap.
But there is a way that men and women can stand in the gap and fill the breach against God's judgment.
The hedge can be repaired through repentance, prayer and turning away from sin and back to God.
Moses stood in the gap when he interceded for Israel to turn back the wrath of God.
It says in Psalms, "Therefore he said that he would destroy them, had not Moses his chosen stood before him in the breach, to turn away his wrath…" (Ps. 106:23).
Job was a godly man.
The Bible says that he was "perfect," not without sin but wholeheartedly devoted to pleasing God.
He was "upright"; that is, all his relationships were right--right with God, right with self, and right with others.
He "feared God," and he honored God, and "he hated evil and turned away from it."
His outward walk was like his inward relationships.
God lifted the hedge that was around Job but put limits on what the devil could do to him.
Later, He restored the hedge and blessed Job richly, so that the end of his life was better than the early years.
Sometimes God builds a hedge through His Word.
Ezekiel 13 teaches this truth.
Ezekiel was speaking against the false prophets of Israel, who were deceiving the people into a fake sense of security.
They did not have the vision the Lord gives to true prophets.
They promised God's blessing and a quick deliverance of Jerusalem.
Ezekiel was a true prophet of God, and he went into the gap to bring the Word of God to the people.
He didn't tell the people what they wanted to hear, instead, he spoke the Word of God, and called them back to God.
This example from scripture teaches us that God builds a hedge through His ministers who preach the Word.
As these servants of God proclaim His truth, God can build a hedge of protection around a person, family, church, city, or nation.
God can also build a hedge through the prayers of His people.
Ezekiel 22:30 says, "And I sought for a man among them, that should make up the hedge, and stand in the gap before me for the land, that I should not destroy it: but I found none."
God builds a hedge when His people engage in intercessory prayer.
We can't all be preachers, or Sunday school teachers, or sing in the choir, but anyone can pray for others.
That's intercessory prayer; one person praying for another.
Our prayers for another helps to build a hedge around that person because God wants to see us express our love and concern for others.
Remember, Jesus prayed for His disciples; Paul prayed for the churches he started; Jonathan prayed for David; Abraham prayed for Sodom; Jacob prayed for his children; Job prayed for his children, and Moses prayed for Israel.
We should pray for others out of a genuine concern for their needs and for their salvation.
Soon after the colonists came to America, many of them turned away from God and the nation experienced a moral slump.
The people were poisoned by greed, the churches were almost empty, and European atheism filled the vacuum.
In New England, some people began to pray for revival.
In 1734 in Northampton, Massachusetts, Jonathan Edwards preached his famous sermon, "Sinners in the Hands of an Angry God," and in one service hundreds of people repented of their sins and turned to the Lord.
Unbelief was sidetracked, righteous living returned, and in a short time, one-sixth of the population of this new country was won to Christ.
Churches were filled with worshipers.
In 1849 revival again came in answer to prayer.
The Lord always works in response to prayer.
God builds a hedge of protection when we pray.
The last words that I want you to consider are "heart cry."
When the psalmist Asaph realized what was happening in the hedges of protection, he wrote this heart cry for revival: "Return, we beseech thee, O God of hosts; look down from heaven, and behold, and visit this vine (v. 14).
Can we say together, "Lord, visit this nation?"
You have broken down the hedge that protected our country, but we know you want to bless us again.
Turn us to you!
This is our heart cry!
"Lord, visit your church!"
You birthed it.
You are building it.
It belongs to you.
It exists for your purpose.
This is our heart cry for revival and for souls.
"Lord, visit our families!"
Many are suffering.
There are so many divorces, so many broken homes, and so many children being raised without fathers.
We need help.
Restore the hedge around our families.
Visit our homes with revival!
"Lord, visit our lives!"
Get our attention.
We are being overcome with evil.
We have sinned.
Protection is gone.
Lord, visit our lives!
A while back a young seminary student was preparing to preach the evening service at a church one Sunday.
The elderly pastor had witnessed some glorious outpourings of the Spirit in his early years.
He longingly told the seminary student that he and his wife had prayed every morning for ten years to see one more mighty moving of the Spirit.
The young student had hardly started his sermon when a woman began to weep, and then another and another.
Soon the entire congregation was on its knees.
In the midst of prayer and weeping, people were accepting Christ as Savior, old animosities were being healed, broken families were being united, and new spiritual commitments were being made.
The pastor walked slowly down the aisle and whispered, "He did it one more time."
Lord, visit this vine!
Christ is the only hope!
Please join me in praying for families, for churches, for America.
Let's pray for revival.
And let's pray that the revival will begin in our hearts.
But you can't have revival in your heart unless you have Jesus in your heart.
Jesus said, "Behold I stand at the door and knock…"
Jesus wants to come into your heart.
You will be happy if you are saved, but you will not be half as happy as He is.
And the angels will be happy that you are saved because the angels celebrate in heaven over every sinner who repents.
And other Christians will rejoice with you when you are saved.
And those of you, who are already saved, pray that God will build a hedge around you, and your family, and your church, and your country.
Amen.