HEAVEN'S GRAVEYARD
by CharlesRobey
(Trussville, AL USA)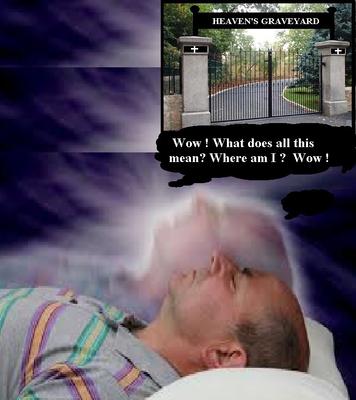 "But as it is written, Eye hath not seen, nor ear heard, neither have entered into the heart of man, the things which God hath prepared for them that love him." (1 Cor 2:9)


I had just settled down, for a long winter's night sleep when suddenly, out of nowhere, came this unique looking character sitting casually on my bedside. To attempt to describe this individual would be a waste of time, for he was unlike anyone I had ever seen before in my lifetime. If you could blend the Apostles Peter, Paul, and John all into one and dress them in a three-piece business suit, you might just come close to describing this individual.

My, immediate questions to him were, "Who are you, where did you come from, and what do you want?"

He answered not a word, but simply took my hand and away we went, through my bedroom window and up into the sky. Superman would have nothing on us that night I can assure you. No, he was not one of the Christmas ghosts visiting Mr. Scrooge. So away we went, for what seemed like an eternity.

Then all of a sudden, we landed back down on earth, and straight ahead was a large archway with a posted overhead sign, which read "Heaven's Graveyard." This character then motioned for me to follow him through this entrance, and lo and behold, what I saw there was mind-boggling!

I found myself inside this a unique graveyard. What was so strange about this location was that it was filled with unusual tombstones. Each marker displayed the usual death information but in addition, each marker had different inscriptions which read:
"No Need of Faith Anymore"
"No Need of Repentance Anymore"
"No Need of Witnessing Anymore"
"No Need of Helping Others Anymore"
"No Need of Church Anymore"
"No Need of a Pastor Anymore"
"No Need of Prayer Anymore"
"No Need of Reading the Bible Anymore"

This list seemed to repeat these traits over and over again as all the tombstones were covered with these phrases and then some.

"Wow, what do all these signs mean, and why here in a graveyard?" I asked myself.

I must have commenced to shouting, for all of a sudden, my new-found friend started a big speech, or should I say his sermon. And away he went.

"God wants us to set our hearts on being ready for heaven, while still on this earth. (Luke 12:34) You see, if you were to research history you would probably find that the Christians who did most for their present world were just simply thinking of the world to come, Heaven." (Matthew 6:10)

"So, just imagine that your life is suddenly over and you found yourself in Heaven and in the company of the living God, His Son Jesus Christ, and His Holy Spirit, simply seeing, feeling and realizing the treasures of heaven. These are treasures that you would never have comprehended or understood here on earth."

"Like what?"
I asked.
"It's simple, for, in Heaven, you will instantly see what you feel, and what you believe in. No more exercising your faith just to please God. (Hebrews 11:1, 6) And no more need of those other heavenly traits listed on the markers," he explained.
"Oh, I get it now! Just as the entrance sign displayed, all of these people are now in heaven. No more need of those habitual or characteristic traits displayed on the tombstones. Once in heaven, I would never again be able to do them, or have need of them."
This new-found friend then continued with his sermon, "Heaven is no place to overcome. When there, you have already overcome. It is a place of victory over all our sinful habits. The time to correct all these sinful mistakes is not there but is here and now. (I John 1:9) Simply put, every minute of your earthly experience is a most precious gift of God, a gift you will never again have, once you enter God's heaven." (Isaiah 65:17)
"So, I suppose my prayer might be, Lord, please, give me some more time. There are things I must do because I'm not yet ready for heaven. And may I live this day as if it were my last. Please just give me a chance to go and do now what I could never do in heaven," I replied.
"You are absolutely right," he said.
"Let me just take the time to briefly kneel in prayer," I concluded.
However, my dream suddenly reached a conclusion without any time of prayer as best I can remember. My dream, vision or whatever this experience happened to be, was over as quickly as it started. And along with the termination of this experience went my relationship with the strange individual, whose timely appearance ended as suddenly as he arrived.
What an impressive experience, one I'm not likely to forget the rest of my life here on earth! Who was that unusual Biblical personality who visited me? I'm not rightly sure. However, one thing I am sure of, I'm glad I bestowed on him the hospitality that I did. (Hebrews 13:2)
And yes, I did follow God's gospel message this person gave me on this particular occasion, for I am now living each day as if it were my last. I am now doing what I could never do in heaven, presenting the gospel (1 Cor 15:1-4) here on earth. Amen!
Author's Postscript
I'm sure if you have followed my most recent Christian blogs, you will see that I have been concentrating on the writing style of Christian parables, which is simply defined as an earthly story with a heavenly meaning. This is how I've written up these dreams, visions, or the like.
I trust that you will enjoy this writing style, which I hope will encourage your personal Christian lifestyle.
Remember, in Heaven, there will be no opposition, for opposition will be buried forever. Thus, my vision of "Heavens Graveyard." Amen!