His Concern Part 1 of 2 (series: Lessons on 2 Co.)
by John Lowe
(Woodruff, S.C.)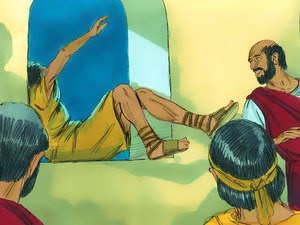 Paul said that three judges assess his conduct: (1) his conscience; (2) God; (3) the world and Corinthians (you).
Tom Lowe


The Second Epistle of Paul to the Corinthians

Lesson: His Concern. (1:12–14)


2nd Corinthians 1:12-14 (NKJV)

12 For our boasting is this: the testimony of our conscience that we conducted ourselves in the world in simplicity and godly sincerity, not with fleshly wisdom but by the grace of God, and more abundantly toward you.

13 For we are not writing any other things to you than what you read or understand. Now I trust you will understand, even to the end

14 (as also you have understood us in part), that we are your boast as you also are ours, in the day of the Lord Jesus.

Introduction

To paraphrase Paul's words: "I dare to ask for your prayers because my conscience assures me that I have always acted honestly, especially where you are concerned (12). I am sincere in all I write; I hope you will give me credit for this (13)—you have to a certain extent done so already—and realize that there is nothing in my conduct you need be ashamed of. By God's grace I will be able to be just as proud of you at Christ's judgment seat (14).

Paul is responding to a question raised in the minds of the Corinthians about Paul's lack of commitment to the Church in Corinth or his supposed lack of sincerity. No one knows for sure who broached the subject, but a reasonable conclusion is that the idea was proposed by the false apostles (vv. 11:4, 13) who hoped to discredit their chief rival. Though Paul reserved his open confrontation with these opponents for the conclusion of this letter, the controversy pervades even these early chapters.

Commentary

12 For our boasting is this: the testimony of our conscience that we conducted ourselves in the world in simplicity and godly sincerity, not with fleshly wisdom but by the grace of God, and more abundantly toward you.

Here we begin to catch the undertones of the accusations that the Corinthians were leveling against Paul and of the slanders with which they were trying to besmirch him. They must have been saying that there was more in Paul's conduct than met the eye. Happy is the man whose every action will bear the light of day and who, like Paul, can claim that there are no hidden actions in his life.

For our boasting is this: the testimony of our conscience. Paul often used the word boasting, and it can also be rendered "proud confidence." Used negatively, it refers to unwarranted bragging about one's own merits and achievements; but Paul used it positively to denote legitimate confidence in what God had done in his life (see Jer. 9:23-24; Rom. 15:18; 1 Cor. 1:31; 15:9-10; 1 Tim. 1:12-17). He had to counter the boasts of his opponents in Corinth.

Paul faced his critics' many accusations against his character and integrity (they had accused him of being proud, self-serving, untrustworthy, and inconsistent, mentally unbalanced, incompetent, unsophisticated, and an incompetent preacher) by appealing to the highest human court, his conscience. Paul might have spoken of his conscious here because it was a term frequently used by the Corinthians. The Stoics* were known for referring to their conscience as the voice of God within them. Conscience is the soul's warning system, which allows human beings to contemplate their motives and actions and make moral evaluations of what is right and wrong. But Paul made it clear that even his conscience was judged by God (see 1 Cor, 4:4-5). In the end, a person's conscience will not justify him or her before the Almighty. God—and God alone—will judge each person's actions. In order to work as God designed it, the conscience must be informed to the highest moral and spiritual level and best standard, which means submitting it to the Holy Spirit through God's Word (see Rom. 12:1, 2: 1 Tim. 1:19; 2 Tim. 2:15; Heb. 9:14; 10:22). Paul could ask for their sympathetic prayers with a clear conscience, for with God's help his conduct in Corinth before pagan and Christians alike had been irreproachable. Paul's fully enlightened conscience exonerated him completely (see Acts 23:1; 24:16; 1 Tim. 1:5; 3:9; 2 Tim. 1:3). But ultimately, only God can accurately judge a person's motives (1 Cor. 4:1-5). If we are honest, we will have to admit that we rarely do anything with absolutely unmixed motives. Even when we do something good, there may be entangled with it motives of pride, of prestige, of self-promotion, of fear, of scheming. Men may never see these motives, but God sees every intention. Purity of action may be difficult, but purity of motive is more difficult.

*Stoic: a member of a school of philosophy
founded by Zeno of Citium about 300 b.c. holding that the wise man should be free from passion, unmoved by joy or grief, and submissive to natural law. One apparently or professedly indifferent to pleasure or pain.
That we conducted ourselves in the world in simplicity and godly sincerity. Paul means that three judges determine his conduct: (1) his conscience; (2) God; his conduct was in simplicity (holiness, ASV) and sincerity, therefore, it could stand the closest scrutiny; (3) the world and Corinthians (you). His conduct was not in keeping with worldly (lit., "fleshly," i.e., human) wisdom, for that is ultimately self-serving. Instead, it was according to God's grace, that is, he was guided by a love for others and sought what was in their best interests. No matter what his accusers might say, Paul stood firm because he had a clear conscience. When you have a clear conscience, you glorify Jesus Christ (2 Cor. 1:19-20). You cannot glorify Christ and practice deception at the same time. If you do, you will violate your conscience and erode your character; but eventually, the truth will come out. The Corinthians were saved because Paul and his friends preached Jesus Christ to them. How could God reveal truth through false instruments? The witness and the walk of the minister must go together, for the work that we do. One of the blessings of a good conscience is that we are not afraid to face God or men, or to claim the promises God gives in His Word.
Paul did not want to bring reproach on the Gospel with his behavior. For this reason, he was extremely careful. Paul tried to be completely sincere, and he tried to act in a way that was beyond criticism. In this way, he would draw attention to the truthfulness of his message instead of his own behavior. In the first century, there were many wandering preachers. Some of them used despicable ways to garner financial support. Paul tried to distance himself from such messengers by supporting himself in Corinth, working alongside Aquila and Pricilla as a tent maker. Paul was reminding the Corinthians of this kind of ethical conscientiousness.
Godly sincerity is literally "sincerity of God"; that is, sincerity in the presence of God. Paul says, "We boast in 'godly sincerity' in spite of all our adversities." Sincerity in Greek implies "purity," that nothing irrelevant or false has been mixed in. He had no sinister or selfish aims (as some insinuated) in failing to visit them as he had promised; such aims belonged to his adversaries, not to him—"For we are not, as so many, peddling the word of God; but as of sincerity, but as from God, we speak in the sight of God in Christ" (2 Cor. 2:17).
Fleshly wisdom suggests a devious and insincere course of action; but the grace of God which influenced him by God's gifts (Rom. 12:3; 15:15), suggests holy straightforwardness and sincere faithfulness to promises (vv. 17-20), even as God is faithful to His promises. The shrewdness which promotes selfish interests, or employs unchristian means, or relies on human means more than on the Divine Spirit, is fleshly wisdom. Paul did not stoop to the methods of fleshly men but acted openly before all with the undeserved strength (grace) which God supplied. This should have been apparent in a special way to the Corinthians. During his eighteen months of ministry among them, Paul had proved himself faithful, and he had not changed.
The grace of God is expressed in the love of Christ—"For the love of Christ compels us, because we judge thus: that if One died for all, then all died (2 Cor. 5:14). Grace means God's undeserved favor. In this context, it means God's gifts that enabled Paul to preach the Gospel. In other words, Paul wasn't relying on wisdom and knowledge when he visited Corinth with the truth of the Gospel. Instead, he was relying on God's enabling power—something that should have been clear to all the Corinthians.
In the world refers to the world at large, which is full of dishonesty.
More abundantly toward you expresses the apostle's great love for these Corinthians, which would lead him to manifest, especially to them, proofs of his sincerity, which were greater than he would manifest toward the world, because he did not have a close connection with worldly people. But his close relationship with the Corinthian believers led him to openly express his feelings: "For out of much affliction and anguish of heart I wrote to you, with many tears, not that you should be grieved, but that you might know the love which I have so abundantly for you" (2 Cor. 2:4)