His Concern Part 2 of 2 (series: Lessons on 2 Co.)
by John Lowe
(Woodruff, S.C.)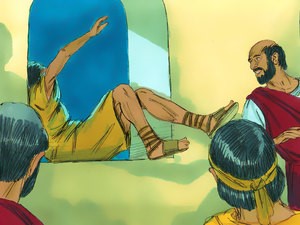 13 For we are not writing any other things to you than what you read or understand. Now I trust you will understand, even to the end

This may be paraphrased as, "We do not write anything in this Epistle that you do not read in my former Epistle." It appears that his first Epistle to the Corinthians was still being read in the church as a means of apostolic instruction. Some Bible scholars think that Paul had been accused of writing privately to some individuals in the Church in a different tone and with a different meaning, from what he wrote in his public letters. In other words, his letters lacked sincerity and truthfulness; he wrote one thing and meant another. This verse may, therefore, be translated, "I write nothing else to you than what you read openly the Greek meaning is, "ye read aloud," which alludes to the reading of Paul's Epistles in the congregation: "I charge you by the Lord that this epistle be read to all the holy brethren" (1 Thess. 5:27).; and what you acknowledge inwardly." His letters mean just what their recipients read and understand by them; there is no reason to read between the lines. His letters were like his conduct: simple, sincere, not in man-made wisdom but in God's grace. He was aboveboard and straightforward in person; and he was the same way in his letters. He hopes that they will not only understand his letters but also fully understand or realize that they can be proud of his integrity. They have already shown their partial understanding of this by the punishment of the offender (v. 2:9) and their reception of Titus (vv. 7:7, 11, 15).

Even to the end means "as long as they live."

This verse broadly answers the accusation that Paul had engaged in deceptive personal relationships (see 7:2; 11:9). His continuing flow of information to the Corinthians was always clear, straightforward, understandable, consistent, and genuine. Paul wanted them to know that he was not holding anything back, nor did he have any secret agenda—"Let such a person consider this, that what we are in word by letters when we are absent, such we will also be in deed when we are present" (2 Cor. 10:11). He simply wanted them to understand all that he had written and said to them.

His critics had also brought up his failure to carry out his expressed intention of visiting Corinth, and Paul deals with their criticism in the following verses.

14 (as also you have understood us in part), that we are your boast as you also are ours, in the day of the Lord Jesus.

The majority in Corinth had shown a willing compliance with Paul's directions in the first Epistle, but some were still not complying. This led Paul to express himself in different tones in different parts of the Epistle.

In part—As the Corinthians read and heard Paul's unfolding instructions to them, they continued to understand more. He was confident of the genuineness of their conversions (see 1 Cor. 9:1-2). And he felt they would eventually come to vindicate him and even boast of him.

That we are your boast as you also are ours. Are (not merely shall be) implies the present recognition of one another as the subject of mutual boasting. A better translation: "We are your reason to be proud." But he is concerned not only in justifying himself (v. 13:7), but also to be able to reciprocate their pride in him. Boasting (or glorying) will be realized in its fullness "in the day ('of the coming,' or 'return') of the Lord Jesus." On that day of the Christ's appearing and of His judgment seat (v. 5:10), the value of the Corinthian's lives and of Paul's work as an apostle, will be tested—"Now if anyone builds on this foundation with gold, silver, precious stones, wood, hay, straw, each one's work will become clear; for the Day will declare it, because it will be revealed by fire; and the fire will test each one's work, of what sort it is. If anyone's work which he has built on it endures, he will receive a reward. If anyone's work is burned, he will suffer loss; but he himself will be saved, yet so as through fire" (1 Cor. 3:12-15). Paul eagerly longed for the Lord's coming when they would rejoice over each other in glory—"For what is our hope, or joy, or crown of rejoicing? Is it not even you in the presence of our Lord Jesus Christ at His coming? For you are our glory and joy" (1 Thess 2:19-20). Paul and the Corinthians would rejoice to discover how much each had in fact profited each other.

Whatever misunderstandings there may be today, when we stand before Jesus Christ, all will be forgiven, forgotten, and transformed into glory, to the praise of Jesus Christ.