His Joy in Suffering for Them - Page 2 of 2 (series: Lessons on Colossians)
by John Lowe
(Woodruff, S.C.)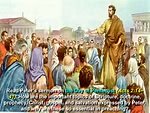 And then He suffered as the sacrifice for the sins of the world. He is the Lamb of God who takes away the sin of the world, and none of us can enter into that suffering at all. He went to the Cross alone. He was forsaken by God and forsaken by man. His was not the blood of martyrdom; His was the blood of sacrifice. The Cross became an altar on which the Lamb of God was slain to take away the sin of the world. That's a suffering that you and I cannot bear; he could not share that with anyone else.


2) On the other hand, there are the sufferings Christ endured which we can share. These are the sufferings which Paul refers to in verse 24.

There is the suffering for righteousness' sake. He suffered for righteousness' sake, and we are told very definitely that we will do the same: "But and if ye suffer for righteousness' sake, happy are ye . . ." (1 Peter 3:14). Paul wrote to young Timothy: "Yea, and all that will live godly in Christ Jesus shall suffer persecution" (2 Timothy 3:12). If you stand for the things that are right in this world, you will suffer for righteousness' sake. Paul understood this and he wrote, "As it is written: "For your sake we face death all day long; we are considered as sheep to be slaughtered."
(Romans 8:36). That will be the fate of anyone who stands for God.

Then there is the suffering which is according to the amount we identify ourselves with Christ for the proclamation of the Gospel. John wrote, ". . . In this world we are like Jesus. (1 John 4:17). The Lord Jesus made it very clear, "If the world hates you, you know that it has hated Me before it hated you. "If you were of the world, the world would love its own; but because you are not of the world, but I chose you out of the world, because of this the world hates you." (John 15:18-19). If you
are not of the world, the world will hate you. Paul was in prison and in chains for a reason—God put him there "for you"; not in your place, but in your interest, on your behalf, for your benefit, and for your advantage.
Do you remember when the Lord Jesus appeared to Saul on the road to Damascus, He said, ". . . Saul, Saul, why do you persecute me?" (Acts 9:4). Saul of Tarsus thought that he was persecuting Christians. He was shocked to learn that he was actually persecuting the Lord Jesus Christ.
This is what Peter wrote about our suffering: "Beloved, do not be surprised at the fiery ordeal among you, which comes upon you for your testing, as though some strange thing were happening to you; but to the degree that you share the sufferings of Christ, keep on rejoicing, so that also at the revelation of His glory you may rejoice with exultation" (1 Peter 4:12-13).
There is one thing for certain: if the Gospel is to go forward today, someone must suffer. All of us would like to see revival. We talk convincingly about witnessing and about living for God and all that sort of thing. My friend, may I say to you that if the Gospel is going to go forward today and if people are going to be saved, someone is going to have to pay a price. How much are you paying to get out the Word of God? What is it really costing you? Are you willing to suffer for the sake of the Gospel?
_______________________________
The sacrificial sufferings of Christ are over, but His body, the church, experiences suffering because of its stand for the faith. The Head of the church in heaven feels the sufferings that His people endure. ("Saul, Saul, why persecutest thou Me?" Acts 9:4). Paul was taking his turn in sharing these afflictions, and others would follow and suffer as he did. But Paul did not complain. "For as the sufferings of Christ abound in us, so our consolation also abounds by Christ" (2 Corinthians 1:5).