I Am Come To Call Sinners Part 1
by John Lowe
(Laurens SC, USA)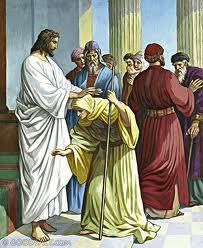 I Am Come To Call Sinners

Matthew 9:9-13


Introduction
As we get started this morning, I want to begin with a question.
If Jesus were walking among us today, would He eat at Lauren's sports bar, "Goony Birds?"
If you're thinking that I'm being disrespectful or irreverent, I want you to hold that thought – the Lord has something for you today.
What would you think of me if you saw me hanging out with folks at Goony Birds?
I don't mean church members; I mean hanging out with the guys.
You know the ones that gawk at the girls and talk vulgarly.
Would you think less of me?
Would it bother you if Jesus liked to eat the hot wings down there?
It bothers some for me to talk about Him doing it.
You might think to yourself, "Jesus would never go in a place like that."
Or you might try to justify Jesus' actions.
"Well, Jesus might go in a place like that. But if He did, it would be to win the lost."
What if I suggested to you that Jesus might go in a place like that simply because He enjoyed the company?
In our text this morning, Matthew is going to relate to us the account of his personal call and the feast that follows that call.
You won't find the word feast in Matthew's account – but Luke uses that word.
He says that a feast was thrown for this event, and in the process of the feast, the Pharisees and scribes take occasion to attack Jesus' association with the guests.
Jesus was hanging out with some folk who were not well-respected.
In fact, they were religious and social outcasts – and Jesus is not only eating with them, He is enjoying their company.
Let's read Matthew 9:9-13:
"And as Jesus passed forth from thence, he saw a man, named Matthew, sitting at the receipt of custom: and he saith unto him, Follow me, And he arose, and followed him. And it came to pass, as Jesus sat at meat in the house, behold, many publicans and sinners came and sat down with him and his disciples. And when the Pharisees saw it, they said unto his disciples, Why eateth your Master with publicans and sinners? But when Jesus heard that, he said unto them, They that be whole need not a physician, but they that are sick. But go ye and learn what that meaneth, I will have mercy, and not sacrifice: for I am not come to call the righteous, but sinners to repentance."
We are dealing here with our Lord's purpose for coming to earth.
Why did He come?
Here He says specifically that He came to call sinners to repentance, but it is this conflict with the Pharisees that grabs our attention.
You see, here are two distinct groups of people: the publicans and sinners on the one hand with whom Jesus has chosen to accept and associate with, and the Pharisees on the other hand with whom He has not.
What I want you to see today is that Jesus also wants to have a close relationship with you today.
He longs for your fellowship.
He has a great desire for you to sit and feast at His table.
His desire is for you to delight in His presence; not just to sit in His presence, but to delight in it: to enjoy it and to celebrate it.
When was the last time you celebrated the presence of God?
How long has it been since you delighted in your relationship with Christ?
Perhaps you have never experienced what I am talking about.
Regardless of whether you have or not, I want to give you three ideas to consider in hopes that your relationship with Jesus Christ will move from formal to fondness and from duty to delight.
It is my hope and prayer that if you have never placed your faith in Him that you will do so today.
You Were Created for Communion with Him, that is, to have a close relationship with Christ.
Are you aware of the fact that God created you for communion with Him?
If you'll look around you every day, you will see the evidence of what is at the heart of man: it is a desire to feel close to people and fellowship with them.
It happens every day in coffee shops around the world, at sports bars and clubs, at lodges, honkytonks, pool halls, shopping malls, and right here at__________________and everywhere else.
What do you think is behind the explosion of cell phones and the internet?
Lonely people all over the world are engaging people they've never met because they're starving for fellowship, but all that desire for fellowship began in the garden.
God created man to glorify Him, and man was to glorify God by delighting in and enjoying God's presence.
As God and Adam walked in the Garden, I hope you don't get the idea that God was giving Adam lessons in theology.
I can imagine that God would come alongside Adam and say something like, "Adam, what did you do today?"
"God, you won't believe what I saw!"
Is it so hard to believe that Adam, like a child, reveled in the wonders of God's creation?
Is it difficult to believe that the God of the universe would spend time walking with
Adam in such a way?
Why would He do it?
Because it made Him happy.
Listen, that's all there is to it!
Communion and fellowship with God are about us enjoying and delighting in the presence of God.
When we are happy in God we make God happy, and when God is happy in us He makes us happy.
It is a wonderful, mutual relationship.
However, a great injustice has been done in our time, in that we have reduced God to some great sugar-daddy in the sky, constantly coming to Him for a handout when what He longs for from you is for you to express to Him that all you really want is to enjoy His presence.
You are no different with your children.
Some of you have kids who only come around when they need something.
When they run out of money, they come to you.
When the car breaks down, they want yours.
When Christmas gets closer, they start calling more often, and you know how aggravated you get because you know that they treat you like that.
What you really want is to know that they call you and come by to see you simply because they love and enjoy you.
Look at our text.
In verse 10, Jesus is not sitting with an open scroll preaching to these men from the Old Testament.
He is not instructing them on the finer points of doctrine and He is not teaching them about the social ills of tax collectors.
There will be a time for all of that – but at this particular time He is simply enjoying fellowship with these men, and they are enjoying it with Him.
Look at what it says, "many came and sat down with him…"
They wanted to be with Him, to be close to Him.
They were created for that purpose – and so are you.
Jesus Is Not Who You Think
If there was anything that kept the Pharisees from being able to accept Christ, it was their misconceptions about who and what He was.
Verse 11 shows their astonishment and disgust with Him.
They asked the disciples, "Why is your Master eating with those people? What kind of spiritual leader is He? Some kind of a holy man? He is hanging out with those sinners."
How could Jesus possibly be the Messiah when He seemed to be condoning sin?
How could He be the Son of God when He consistently made Himself ceremonially unclean?
When He violated Sabbaths and disrupted Jewish traditions?
He wasn't the Savior – He was a blasphemer!
If you haven't done it, you ought to step back sometimes and examine the way we have used Jesus today.
We have made Him into something He is not.
Jesus never condemned the people that man condemns.
Jesus never drew the boundaries that man draws.
He never evangelized along the lines that we choose to use today.
Race meant nothing to Jesus.
Jesus was not the Savior of the rich or poor or the middle class.
Jesus was not a Republican or a Democrat, and probably would not be either one if He lived today.
We fight over Jesus' stance on the Ten Commandments in our courts, over prayer in public schools, over abortion rights and all sorts of other social ills.
Jesus sells our t-shirts and bumper stickers, and He only listens to Christian music and reads Christian books.
Jesus is not your homeboy.
He is not your "big daddy in the sky."
He is the Savior; the Son of God; the holy and righteous Lord of all life.
So as you consider that you were created for communion, don't get the wrong ideas about Jesus…
You Must Come on His Terms
This wasn't just a feast for feasting sake.
Jesus was feasting and fellowshipping with men who had accepted His terms of fellowship and the Pharisees were looking in from the outside because they had not.
Now, there are three things that keep people from coming to Jesus and enjoying His presence.
These three things will keep a lost person from accepting Christ, and they will keep a saved person from enjoying Christ.
Ignorance is one.
Paul said in 2 Corinthians 4:3 & 4 that…
"If our gospel be hid, it is hid to them that are lost: in whom the god of this world hath blinded the minds of them which believe not, lest the light of the glorious gospel of Christ, who is the image of God, should shine unto them."
In Romans 10:3, speaking about his fellow Jews, Paul said,
"For they being ignorant of God's righteousness, and going about to establish their own righteousness, have not submitted themselves unto the righteousness of God."
The fact of the matter is that many people are ignorant of the fact that they were created to have a relationship with God through faith in Jesus Christ.
Ignorant isn't a bad word – it just means that you don't know something.
Listen, the people "out there" don't know they need Christ!
They don't know they were created for His glory!
They don't know they were created for communion and fellowship with God.
That's why it is so important that we tell them.
But listen, it's not just lost people – multitudes of believers, people who have placed their faith in Christ are ignorant of His desire to enjoy fellowship with them.