I Am Come To Call Sinners Part 2
by John Lowe
(Laurens SC, USA)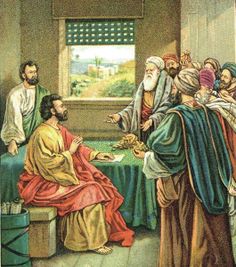 They go to church, perform their duty, drop a tithe in the plate and never realize that Christianity is so much more than that.
I believe that this is one of the primary reasons people are not being influenced for Christ today.
If we who do know Christ don't really know Him or understand what He wants from us, then how can we rightly lead others to Him?
Pride is another thing that keeps people from coming to Christ.
It is the second thing that keeps people away, and it is what the Pharisees were guilty of.
They knew that they were created to be God's people.
They knew that God wanted to enjoy a relationship with them, but they were so filled with pride they would never experience it.
They thought they were enjoying His presence and His blessings, but in fact, they were far from Him.
Listen to their arrogance – "How can your master eat with sinners?"
Jesus responded by saying, "They that be whole need not a physician, but they that are sick. But go ye and learn what that means, I will have mercy, and not sacrifice: for I am not come to call the righteous, but sinners to repentance."
It was a slap in the face.
Jesus wasn't saying that there actually were righteous people – only those who thought themselves to be righteous.
The Bible declares emphatically…
"There is none righteous, no, not one: there is none that understandeth, there is none that seeketh after God. They are all gone out of the way, they are together become unprofitable; there is none that doeth good, no, not one."
Oh, but they thought they were righteous.
They thought that their righteousness was going to impress God and gain His favor.
God surely would be impressed by their dedication and by their law-keeping.
But God is not impressed by pride.
In fact, He hates it.
The very thing these people think will draw them near to God actually drives them farther away from Him.
The third thing is Shame.
The opposite of pride is shame, and it equally keeps people from coming to Christ.
So many are afraid that God cannot accept them because of their sinful past, or because of something in their life.
Even believers fall out of fellowship with God because of their sin.
In their guilt and shame, they shy away from praying, from coming around.
"God could never forgive me for what I've done."
"How could God want to fellowship with someone like me?"
Tragically, all three of these things keep people from enjoying the communion with Christ that is offered to them.
In fact, some of you are not enjoying fellowship with God because of one of these things.
Pride in any form drives you away.
Shame keeps you away.
But Jesus wants to draw you close to Him today, and here are His terms.
First, Admit Your Need.
I don't care if you are lost or saved, your greatest need is fellowship and communion with Jesus Christ, but you've got to come to the place in your life where you are willing to admit first of all that you have that need, and second of all that Christ will meet that need based on His righteousness and forgiveness, and not on anything you bring to the table.
You see, your goodness doesn't impress Him one bit, so, drop the act.
Your messed up past doesn't frighten Him away either.
Admit that what you need is healing and restoration from the Father: from the Great Physician.
Salvation and continued abiding fellowship begin with being honest about yourself: about who and what you are.
In these verses, we find the fact that Jesus saw a man.
Jesus Christ did not see a publican or a tax collector, nor did He see the color of his skin or this man's social standing.
He did not see a tax collector, a race, a plumber, a minister, a teacher, or a trash collector.
He did not see occupations or reputations.
The question is whether we can look past all of that in our lives and be honest about our need for a relationship with Him.
Admitting that we have the need is the first step, and it is the biggest step.
It is the hardest step.
We don't like to admit that something is wrong with us, or that we need something.
I don't know about you, but I don't like going to the doctor.
When I get sick, I'll go on for days in denial.
"I don't feel bad. This will go away in a few days."
I'll say things like that and will be on the verge of something serious before I'll finally give in and go to the doctor.
We might get by with that with our physical bodies, but we can't afford to do that concerning our spiritual state.
After you admit your need, the next thing is to Accept The Doctor's Care
After we admit that we need Christ we have to accept the care He offers.
He offers healing for the hurting soul.
He offers restoration for the broken marriage.
He offers forgiveness for the sinful heart.
Perhaps most importantly Christ offers acceptance to you based on His sacrifice on Calvary.
You don't have to earn God's acceptance; you don't have to work for it – just admit you need it and ask for it – and He gives it freely.
Finally, after all that, you must Allow Others To Experience The Same.
Now, this is where so many of us have a problem.
Once we find forgiveness and restoration, we forget where we came from.
Now admittedly, when we forget we are revealing that we are not in fellowship with God, but all too often we find ourselves in this boat and like the Pharisees, we stand in amazement at the people who want to come to Christ.
It is very difficult for those who are on the outside to believe that God loves them when we who are inside, don't even like them.
We need to remind ourselves every day that God loves the outsiders, the outcasts, the dregs of society.
Romans 5:8, reminds us that all of us were outsiders until someone told us about Jesus.
It says, "But God demonstrates his own love for us in this: while we were still sinners, Christ died for us."
Like Jesus, we can issue a call to everyone who cares to listen.
Our testimony should be like that of the woman at the well – "Come meet the man I've met…"
This week I read a story about a lady, and I want you to hear it.
The testimony was given by a woman who had come out of a Lesbian lifestyle.
I think her story illustrates what we should be.
One Sunday, this young woman got the urge to go to church.
Since she'd grown up as a Presbyterian, she chose a Presbyterian congregation nearby.
When she and her partner walked in the church door she realized she'd made a big mistake.
The church was full of gray hair, blue hair, or no hair.
It was a small congregation of mostly elderly people with a few middle-aged couples sprinkled in.
She and her partner stood out like two sore thumbs.
But that congregation greeted her with such warmth and acceptance that she was drawn to come back again and again.
She was invited to potluck dinners.
She was urged to join a small group Bible study.
And eventually, she accepted Jesus Christ as her Savior.
Through her Bible study, she came to see her lifestyle as harmful and as sinful.
But she did not leave the Lesbian life right away.
She said the congregation was unfailingly patient with her as --- over and over --- she took two steps forward and one step back.
Her little church family waited and let the Great Physician do His careful work.
Gradually, gently, and with great Mercy, Jesus healed and transformed her --- from the inside out.
Am I suggesting that we should accept everyone to worship with us regardless of their lifestyle?
No, but I am suggesting that all too often we can be guilty of what the Pharisees were doing.
They were performing their religious duties and all the while they were being harsh and condemning of people who were just as spiritually sick as they were.
Conclusion
It has been said that the trouble oftentimes with religious people is that they try to be more spiritual than God himself.
I don't really know where you stand with Christ today, but I suspect that you know whether you are enjoying the communion with Him that He desires.
Do you delight in His presence?
Or has spiritual pride gotten in the way?
Are you enjoying your relationship with Him?
Or has guilt and shame over something in your life separated you from Him?
Have you ever called on Him to save you?