I BLEED RED, WHITE, AND BLUE
by CharlesRobey
(Trussville, AL USA)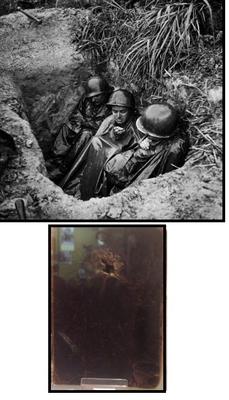 ("What a cruel thing is war: to separate and destroy families and friends, and mar the purest joys and happiness God has granted us in this world; to fill our hearts with hatred instead of love for our neighbors, and to devastate the fair face of this beautiful world." ~ Robert E. Lee, letter to his wife, 1864)

World War II had come to an end and amidst all the hustle and bustle, the word was out, our Soldier Boys were coming home. Dad was so excited. He hardly missed the nightly radio newscast, the local one which gave a rundown each night of the units that were coming home. For you see, George had been serving his country overseas going on two years.

"Dad, Dad!" I exclaimed. "When will George be coming home?" George was my oldest brother and had always been my hero. He had excelled in every sport he undertook. I remember Mother telling me one day that she had found all those medals tucked away in his clothes drawer when she was cleaning George's room. But that too didn't surprise me as that was just the way George was, kind of private.

"If only George would get up on Sunday morning and go to Sunday School with his brothers and sisters," Mom would often say. Mom would then follow her remarks by questioning why George chose not to attend church since he was such a good boy.

Well, as time marched on, George grew up and answered his country's call for service. And as Mom always did, she prayed for him constantly.

On one occasion, as we were talking about George being over there, so far away from his family, Mom shared with us how she had sent George a New Testament, the type the Gideons were giving out with the heavy metal jacket. Then Mom concluded by sharing that George had not written back in several months. She felt it may be because she would always include a Bible verse at the end of her letters. Anyway, as Mom brushed away the tears, she reminded us that she just knew George was still all right, as God had given her perfect peace.

Time passed on. Days seemed like weeks, and weeks like months. Then one evening, as Dad was listening to the nightly news, Dad let out a big roar. We all rushed to his side, as we didn't know what had happened. You see, the doctor had told Dad, he needed to get his weight down and do some exercise.

Dad then exclaimed that the news had just broadcast that George's unit was on their way home and would arrive Saturday afternoon by troop train. You've never seen such dancing and singing in all your life. Mom even got religiously happy and started shouting for joy. The group hug just had to be some type of world record, as even the neighbors joined in to celebrate. What seemed like a lifetime finally became Saturday afternoon.

Then the time came. "Does this dress look all right? Is my hat on straight?" Mom asked.

"Oh, come on Mother, we'll be late," Dad answered.

So off we went. What a festive day! I have never seen such a crowd in our little town as was gathered around the train stop that day. Flags and signs were displayed everywhere.

Why Mom, yes, our conservative laid-back Mom, even had her homemade sign. Standing proudly in the front of the crowd, Mom unfurled her sign. What a thrill to see. A flag sign bearing the caption, "I bleed red, white and blue."

"Here he comes … no, that's not him. That's Brother John's boy. You know John, the Elder from the church."

About that same time, I looked up and saw George running at full speed. The first thing he did was grab Mom up and spin her around. "George wait, you're messing up my hat," Mom shouted with a big smile.

Well, we all settled in back home. And oh yes, I almost forget. George had told us he had something important to share with us but he said it would wait till after supper.

You wouldn't believe the supper Mom cooked that night. Why the whole table was crammed full with Mom's famous pot roast, vegetables galore, a salad, two pies and her homemade bread. When asked how long the supper took to put together, Mom just smiled, giving her classic answer, "Tis nothing, I just threw some things together."

When we all had eaten and Dad had loosened his belt, it was George's turn to speak. George stood up, came over and hugged Mom, as he pulled what resembled a New Testament Bible from his pocket. With tears streaming down his face, George began to speak.

"Thanks, Mom, for all your prayers. See this New Testament? One night, while napping in the foxhole, our group suddenly came under heavy enemy fire. As we started responding to the attack, I felt a heavy blow hit my chest. Instinctively, I reached into my pocket and to my surprise this metal jacket New Testament, that you had sent me, had taken the bullet that had been meant for me. I immediately pulled out the bullet and the book opened, as by divine instruction, to one of your favorite Bible verses.(John 3:16)

Holding back the tears, Mom then asked George if she could see his New Testament Bible. "Why George, I can't even read the word "whosoever" as it was damaged by the bullet," she remarked.

"Don't worry, Mom," George replied. "That bullet was meant for me as was the word "whosoever." And now not only am I a member of the U.S. Army but I'm a lifelong member of God's Army. For you see, there are no unbelievers in fox holes."

And guess what? About that time we had a knock at the door. It was Pastor Smith. Pastor Smith just wanted to welcome George home and also welcome him into our church family. How Pastor Smith knew what had occurred, I'll never know.

"What a Hallelujah Homecoming!" Mom shouted. And we all, including Pastor Smith, chimed in around our old piano, as Mom played her favorite hymns.

Well, Mom is no longer with us, but when I close my eyes and stroll off into memory lane, I can still see Mom waving her homemade flag that day, and shouting above the crowd, "I bleed red, white and blue!"

AUTHOR'S POST SCRIPT
I was never able to serve my country, due to a medical referral, but I had a number of kinfolks serve in World War II. To my memory all came back home safely, and every chance I get, I give honor to those who served.

One memory stands out among all the rest. I was visiting Grandma, when I happened to see my Uncle Carl walking up the sidewalk, dressed in full uniform with a large duffle bag draped over his shoulder. As he arrived, and after he had hugged Grandma, he opened his bag and handed me a small object, which he identified as coming from an enemy glider.

Boy, was that little piece of woven dark gray cloth exciting! I even took my new-found relic to my school's "show and tell." I was an instant hero to some, while others just broke out in laughter. It didn't matter, however, as my uncle was my hero and that was that.

I also remember my Uncle Bill, the war hero, the one who was an all-star in all sports, who had logged numerous successful World War II missions as a top tail gunner, which was the most dangerous position of the fighting squadron.

However, times have surely changed over the years. When I read and see all the negative media press these days with respect to our great country, I just choke up inside. What has happened to patriotism? And where are those attributes such as loyalty, nationalism and devotion, when describing our great God-given country?

Let us not resort to such practices as apathy and ignorance which can be subtle forms of rebellion against God's principles. We should always seek the truth and make assessments based on Biblical standards, and not be swept along by every wind of the false convictions or opinions. (Romans 13:1-7)

I'll just leave it at that. Just put on your "thinking caps" and you be the judge. As for me, I will always bleed Red, White and Blue.