I UNDERSTAND JUST HOW YOU FEEL
by Charles Robey
(Trussville, AL)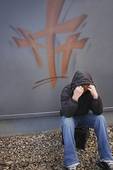 Jesus Still Saves
I understand just how you feel
Seeing churches that seem unreal
Watching believers with lives astray
For evil deeds they do not pay
With religion you say you're through
To help you to know what can I do
I pray the Lord will show you how
To seek His will on knees to bow
If you ever change your mind
Just turn to Him and you will find
By your faith just make your plea
His free grace will set you free
Of your life He'll take command
Of His love you'll know firsthand
Remember life can be so short
Don't allow the evil one to distort
To the Savior come without delay
You are not promised another day
I understand just how you feel
Evil misleads but the gospel is real

Do you ever feel "not saved"? In this topsy-turvy world, that's very easy to do. Just getting up, and having to face another day, sometimes just seems to take it all out of us. So, where is the church, in all of this? And, where are the church believers?

If we would only avert back to the beginning of the New Testament Church agenda. The early church had one central purpose, to tell people about Jesus. And they were commented to the true gospel. So, have we as a body of believers, veered off course here?

You see, Jesus taught us, "No one can serve two masters." (Matthew 6:24) However, we who name the name of Christ, seem to have forgotten this teaching, as we have spent the better part of the last 2000 years progressively proving Jesus wrong.

Yes, we have told ourselves that we can enjoy both the spiritual behavior and the worldly qualities simultaneously. However, the sad component of this thinking is that often times the material thinking wins out, over the spiritual way of life.

Many of us tend to live our lives no differently than do the traditional unbelievers. The only positive trait is that we all probably attend church regularly each week. We both watch the same TV channels, listen to the same hard-rock radio stations, tell the same off-color jokes, and keep the same company.
Thus, the old cliché, "not of this world" is only a speculation.

And be not fashioned according to this world: but be ye transformed by the renewing of your mind, and ye may prove what is the good and acceptable and perfect will of God". (Romans 12:2)

So, what will it take to get back to the "old time religion", so to speak. Or, hold to the same philosophy, as did the early church? This early church doctrine was rather simple, The church started by:
Members repenting and being baptized, thus receiving the Holy Spirit.
Members continued devoting themselves to the Apostles teaching and to fellowship.
Members continued the breaking of bread and prayer.
Members continued being together and having all things in common.
Members continued selling their property and possessions and were sharing them with others, as anyone might have need.
Members continued day by day with one mind.
Members continued taking their meals together with gladness and sincerity of heart.
Members continued praising God and having favor with all the people.

A far cry from most churches today, would you not say?

And guess what? The Lord was adding to their number day by day those who were being saved. (Acts 2:41-43)

Paul summed it up this way: "I have been crucified with Christ; it is no longer I who live, but Christ lives in me; and the life which I now live in the flesh I live by faith in the Son of God, who loved me and gave Himself for me." (Galatians 2:20)

However, the early church was not without problems. The church had grown so fast, that the Greek speaking believers were complaining about the Aramaic speaking believers. So they called a "church conference".

As a result, they appointed seven leaders to handle the situation, while they continued doing as they were, under the guidance of the Holy Spirit. Many modern day churches would have probably split.

"It is not desirable that we should leave the Word of God and serve tables." (Acts 6:2)

What about your church and your faith? If your church does not hold to the "New Testament" full gospel, maybe you should seek elsewhere. What do you think?

"For what I received I passed on to you as of first importance: that Christ died for our sins according to the Scriptures, that he was buried, that he was raised on the third day according to the Scriptures". (1 Corinthians 15:3-4)

Amen!