I WONDER-YES I WONDER
by CharlesRobey
(Trussville, AL USA)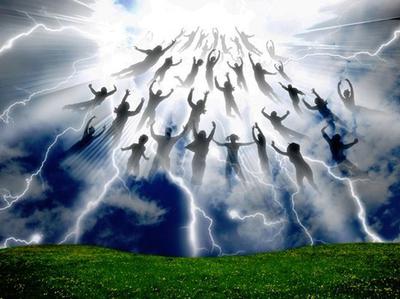 I wonder, I wonder, Yes I wonder
About all the secrets away up yonder
If He happen to come down to earth today
How many would still be at work or at play
If He happened to come to earth tonight
How many would be caught up in fright
If he happened to come now without a sign
How many would be left on earth behind

I wonder, I wonder, Yes I wonder
About all the secrets away up yonder
You see no one knows the day or the hour
When with a shout He will bring His power
When the angels trumpet sound will blast
When on all of earth His word will be cast
When all His people will all leave this land
When His people will all join the big band

I wonder, I wonder, Yes I wonder
About all the secrets away up yonder
I'm now ready to take that quick heavenly ride
I'm now ready to swiftly move up by His side
I'm now ready to suddenly smell heavens air
I'm now ready to sense His blessing up there
I'm ready to meet and greet Him face to face
I'm ready to give thanks for mercy and grace

I wonder, I wonder, Yes I wonder
About all the secrets away up yonder
Will you be there or left behind in the crowd
To suffer on earth with the pompous proud
To seek one left who will help hope and pray
To just help take way the misery of the day
To seek His forgiveness though it be too late
To bear the suffering that will now be your fate

" What is more, I consider everything a loss because of the surpassing worth of knowing Christ Jesus my Lord, for whose sake I have lost all things. I consider them garbage, that I may gain Christ9 and be found in him, not having a righteousness of my own that comes from the law, but that which is through faith in Christ—the righteousness that comes from God on the basis of faith.10 I want to know Christ—yes, to know the power of his resurrection and participation in his sufferings, becoming like him in his death,' (Philippians 3:8-10)

I trust you will enjoy this little poem on the Bible Rapture. What is this event, called the Rapture, one may ask ? And when will it occur ? The Rapture in its reality, is the return of Christ in the clouds to remove all believers from the earth before the seven year Tribulation period, which will be a time of God's wrath. And no one knows when this event will occur. (Mark 13:32) (Acts 1:7-8) However, there are no pending prophecies that need be fulfilled. It could happen at any time. (Revelation 4:1-2)

The word "Rapture' doesn't actually appear in the Bible. However, the event is described in ( 1 Thessalonians 4:13-18 ) and (1 Corinthians 15:50-44). At the time of the Rapture, believers who have died will have their bodies resurrected and, along with believers who are still living, will meet the Lord in the air. This will all occur in a moment, in a twinkling of an eye.

" The study of the End Times and the rapture can cause questions, apprehension, and fear. "Why do I need to study prophecy?" "It is too complicated, and I don't understand what it means." "It makes me anxious and nervous." I will not argue with the fact that studying prophecy can be complex and overwhelming. It is difficult to see how these obscure passages can have any significance for us today. They appear to lack relevance to what we are going through right now. If we continue with this mindset, we will miss the rich truth God has provided for us. We cannot understand where we are now if we don't understand where we are going." (Dr David Jeremiah)

So what about you, my friend ? Do you wonder ? And are you ready to take that flight ? I trust you are. Amen !