If Life Was A Pumpkin Patch ~ Fruit Of The Spirit
by Susan Nikitenko
(Ohio)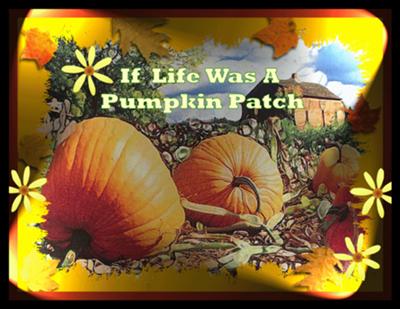 October 19th, 2011

If life was a pumpkin patch;
And fruit our good deeds.
I pray my fruit would shine forth;
God's love in every seed.

Love and grace, peace, endurance;
Let this fruit grow big and round:
So when you inspect my fruit;
Let your glory be what's found.

Temperance and self control;
Let this fruit grow big and strong.
Fertilize them with your care;
Keep them from the blight of wrong.

Your gentleness and kindness;
Let others see them in me;
So when my life is over;
Your fruit would sprout fourth seed.

In my pumpkin patch of life;
Let your goodness be a light.
Let my largest fruit be faith;
With a heart that is upright .

Though I know my patch is not perfect;
It's suffered blight that costs.
I won't leave empty handed;
I have reached some, who were lost.

A meek and humble spirit;
Make this fruit bloom and grow.
So others all around me;
Won't see me, but your love know.

Lord as I pick my pumpkins;
From my patch with pumpkins filled.
Let your joy be present Lord:
As I see the fruit it yields.

When bringing in the Harvest;
I'll set my pumpkins here and there.
That they would be a blessing;
To observers everywhere.
Join in and write your own page! It's easy to do. How? Simply click here to return to Your Poems.
© 2008-2028 - All rights reserved.

No content on preachology.com may be printed or

copied to any other site without permission.