If Noah Were Here... Part 2
by John Lowe
(Laurens SC, USA)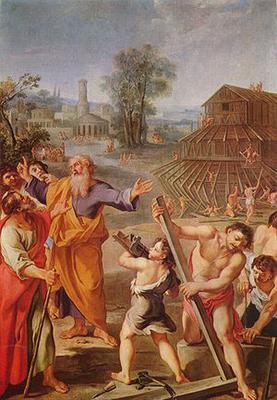 Can there be any doubt that we are living in the days that Jesus spoke of? If there was ever a time when all these things are happening, it's now! Our daily newspapers are filled with news that carries shock waves that God is using to try to wake us up! The preaching of the gospel has spread around the globe to every nation through the power of satellite broadcasting. There is no place on the face of the earth that cannot be reached with the gospel at any given moment.

All of these other signs are visible as well. There are battles being fought all over the globe as nations, religions, ethnic factions and races rise against one another to commit genocide of those who are different. Famines have been and continue to sweep across the third world nations as 90% or more of the world's population goes to sleep hungry every night. Earthquakes and other natural disasters are more intense and more frequent than any other time in the history of man. Pestilences, like aids; venereal diseases that are resistant to any drugs; viruses that don't respond to treatment; and then things like chemical and biological warfare (anthrax) that threaten to destroy people by the millions are a constant topic of discussion and concern. False preachers, false religions, false prophets and false, self-proclaimed saviors abound as men try to gain power and influence over the lives of others.

Christians are becoming more and more the target of all the world's religions as they attempt to lay the blame for fear and guilt upon the teaching of the truth of Christ's Word. Sin has caused Love to disappear as mothers kill their own children; children kill their own parents and turn them in for trying to discipline them.

Families have fallen apart because love has grown cold and we are more concerned about what we want instead of what is right and good for everyone. Mothers turning their kids out to fend for themselves as they chase after immorality that makes them feel good no matter what it takes. Fathers who refuse to accept their responsibility for the children they bring in to this world and who become effeminate and even turn to homosexuality and perverseness with those same children.

In the midst of this sin and corruption, there is still a voice crying out for man to turn back to God, but that voice is seldom heard anymore! Noah would say to us – get in the ark! Judgment is coming! Death lurks at your very doorstep and he waits for no one! The floodtide of sin is rising! The rain of God's judgment is already falling and will soon become greater!

Listen and obey for there is little time left! Each passing generation since Noah has only gone deeper into sin. Each passing generation looks upon the next to wonder just how bad things can get and man still survive! God has already promised that He would come back after a remnant just as He did for Noah.

Some have said that they don't believe God would condemn every sinner to the Lake of Fire forever. Tell that to those who drowned in the flood! Every living soul except for 8 people died and went to Hell. What makes us think that sin, God's holiness and His justice won't do the same thing again?

If Noah were here, he would be shouting at the top of his lungs – Repent – Get Ready – God's judgment is coming and it won't be long! Don't wait – there is no promise of tomorrow! Jesus could return to catch away His remnant today - then where will you be?

We don't have to drown in our sin! We don't have to spend eternity with those drowned victims of the flood in Hell! We can accept the invitation into the Ark of Salvation through Jesus Christ! We can enter in because the door is still open, but I fear it has begun to close. Once the last soul has come in that Jesus knows will accept Him the door will close and there will be no more chance for salvation.

All of us have to listen, hear and obey the message of the gospel. There was only one door into Noah's Ark and there is only one door into salvation today. That door is "Jesus Christ". He is the way; the truth and the life and no one can enter except through Him!

There is no life that is "good enough", there is no sacrifice that we can make that can "pay the price". Jesus is the only way and His blood is the sacrifice that is good enough.

1 Peter 3:20-21 says, "Which sometime were disobedient, when once the longsuffering of God waited in the days of Noah, while the ark was (being prepared), wherein few, that is, eight souls were saved by water. The like figure whereunto even baptism doth also now save us (not the putting away of the filth of the flesh, but the answer of a good conscience toward God) by the resurrection of Jesus Christ:"

There is your way into the Ark of Safety. There is your door into the Kingdom of God – it is only by having a good conscience and a clean heart before God by believing in the death, burial, and resurrection of Jesus Christ. Be part of the remnant, not part of the crowd that will suffer eternal death. Be a part of the remnant that will live eternally in Heaven! Accept the Lord Jesus Christ as your Savior! Surrender your heart to Him! Repent of your sin today! Jesus will bring you in through His blood and make your life count for something good! Do it today, while there is yet time to enter in – the door is open but it won't be long until it begins to close forever.

Amen.