I'll Keep You In My Prayers
by Susan Nikitenko
( Ohio)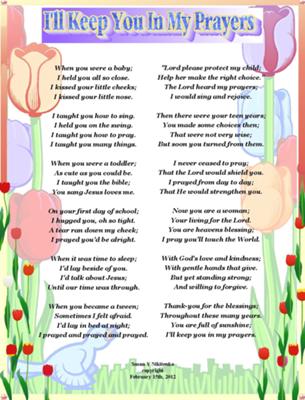 When you were a baby;

I held you all so close.

I kissed your little cheeks;

I kissed your little nose.



I taught you how to sing.

I held you on the swing.

I taught you how to pray.

I taught you many things.



When you were a toddler;

As cute as you could be.

I taught you the bible;

You sang Jesus loves me.



On your first day of school;

I hugged you, oh so tight.

A tear ran down my cheek;

I prayed you'd be alright.



When it was time to sleep;

I'd lay beside of you.

I'd talk about Jesus;

Until our time was through.



When you became a tween;

Sometimes I felt afraid.

I'd lay in bed at night;

I prayed and prayed and prayed.



"Lord please protect my child;

Help her make the right choice."

The Lord heard my prayers;

I would sing and rejoice.



Then there were your teen years;

You made some choices then;

That were not very wise;

But soon you turned from them.



I never ceased to pray;

That the Lord would shield you.

I prayed from day to day;

That He would strengthen you.



Now you are a woman;

Your living for the Lord.

You are heavens blessing;

I pray you'll touch the World.



With God's love and kindness;

With gentle hands that give.

But yet standing strong;

And willing to forgive.



Thank-you for the blessings;

Throughout these many years.

You are full of sunshine;

I'll keep you in my prayers.



Susan Y Nikitenko

February 15th, 2012
I Love You!

Join in and write your own page! It's easy to do. How? Simply click here to return to Your Poems.
© 2008-2028 - All rights reserved.

No content on preachology.com may be printed or

copied to any other site without permission.