I'M SIMPLY BURNED OUT ON CHURCH
by Charles Robey
(Trussville. AL USA)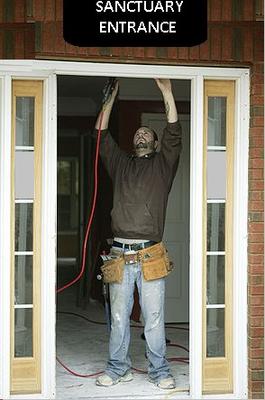 "Let us not lose heart in doing good, for in due time we will reap if we do not grow weary." (Galatians 6:9)


I surely am tired from last week's most difficult contracting job. What an ordeal! I know the portals of providence will understand if I skip my nightly devotion, Let me just indulge in my usual relaxing concoction of chocolate cookies dipped in warm milk. Then, off to bed I go.

I must have really dozed off into dreamland again. In a wink of an eye, it happened. I was suddenly, and without warning, carried off into another of my life-related dreams, one that I will never forget. The distress of my emotional memory processing certainly seemed to be in high gear.

This nice elder gentleman was standing at the foot of my bed, all decked out in an old time pastor's garb. Before I had a chance to speak, the stranger overrode me in sheer desperation.

"Wake up, my son, and hurry to get dressed. It's Sunday, don't you know. It's time to start for church. There may just be something that needs fixing." he said hastily to me.

"Well, to be frank, I'm not in the mood for church. I have been thinking along the lines of quitting this church, and starting anew. You see, I'm simply burned out on church. Not so much on that religious stuff, even though our pastor does get a bit long-winded at times with his sermons. It's just all that maintenance work. Being a licensed building contractor, I'm called on for every little church fix-it job imaginable. Fix this and fix that, not even asking please or giving me a thank you when finished, most of the time, I responded. "In fact, now the preacher has resorted to calling on me for the little maintenance jobs around the parsonage."

With no verbal response, and as if by some divine direction, we were off. Taking me by the hand, we were there in a blink of an eye, standing in the back of my old church sanctuary. This was the one that had long since been destroyed.

"Why did I open my big mouth, back there in my bedroom?" I thought.

Then again, as if by divine imperative, he spoke up, "Do you not see what I see here? These are worshipers, worshiping in genuine faith. The younger ones are raising holy hands and moving to the beat of the Praise and Worship music. The older ones, sitting there in quiet stillness are enjoying the old time hymns. There's a group over in the corner, holding hands in prayer. And those church Elders are apparently laying hands on the sick. And through it all, do you not see those nice, older women, helping that young Mom clean up the mess her small child had made. So, what's wrong with this picture, my son?" he followed up.

Then, suddenly, one of the men jumped up from his pew and started testifying.

"I know that man. He's my neighborhood grocer, the one who cheated me out of my change, a couple years back. What on earth can he say, having his past?" I wondered to myself.

Nonetheless, the more he talked, the more he made perfect sense and the more our spirits seemed to automatically blend. Just where did he get that Scripture he quoted, I think it was (I John 1:8-9).

My new-found friend didn't waste any time, as he chimed back in. "You see, these people are all just like you and me, plain, ordinary people who love being in a Spirit-filled worship service. Chipping in when and where the Spirit leads."

"But Sir, these parishioners are all dressed in the fashion of their day. It was a day when the "Old Time Religion" concept was prevalent. Not like our current society." I thought my comeback was legit.

"Not so fast, Christianity hasn't changed from its very conception." Taking out his Bible, he commenced to read (Acts 2:41-47), illustrating the concept of the first church.

"And the Bible also tells all us church members that we are all a part of the true body of the church. All have a duty to perform." Taking out his little New Testament, he began to reading again." (I Corinthians 12:7-11)

When he finished, he gave a rather stern interpretation of the Scripture he had just read.

"You see, my son, here the Apostle Paul deals with the subject of spiritual gifts against the background of division and moral laxity in the church. Our spiritual gifts are just that, a gift given to us so that we may all serve the Body of Christ. Every Christian has at least
one gift. In (I Peter 4:10) we see these gifts referred to as being spiritual gifts. And in (I Peter 1:9) we see that we should not complain about our gifts."
"So you may not be able to sing like an angel, play the piano like Liberace, or preach like Billy Graham. Notwithstanding our church shut-in members are constantly in home prayer for the church and its members," he added.
"But you have a special talent, probably like no one else in your church. Just take advantage of your building trade gift and simply shout a big "Amen" when your church projects are done. After all, if you quit this nice church, who else would be able to get these sorts of jobs done right?"
"Well, you're right again, Sir," I answered.
"Now, my son, I have to ask you again. You may or may not want to answer. But just why did you actually want to leave your church? As this service seems to be getting rather Spirit filled, I can feel the Spirit working, from way back here where we are standing," he remarked.
"Well, I'll just tell you. One day as I returned home from yet another of what I thought was a fruitless service, I felt like my church relationship had just about reached an impasse. It just seemed that I couldn't connect with the mood of the service or the root of the sermon. I guess I have just seemed to distrust the hierarchy of the church," I answered.
"Then finally a still small voice seemed to tell me I needed to try something different, perhaps a more in-depth Scriptural study on my own. That's when I stopped talking publicly about my faith. I did, however, discuss my faith on social media. But I didn't want anyone to get the idea that I was a "holy-roller," I explained.
"Maybe, my son, you should have spent more time listening to the sermons, rather than scrolling through the social media, or playing those Candy Crush games on your iPhone during the service," he said. "Sad to say, you're not alone here. People, even people who have grown up in a particular church, leave the church for a number of reasons."
"You may be computer savvy, but I suggest that you first check out the following scriptures. I surely feel it will help you, in your struggles". (II Timothy 3:16-17) (I Peter 1:20-21)
"You see, the devil knows just how to approach us humans. His evil maneuvers started eons ago with our first parents and has continued down throughout the ages. Again he backed up his comment with Scripture. (Genesis 3:1-7) (II Timothy 3:1-5, 7, 9, 13) (II Timothy 4:3-4)
"OK, say no more kind Sir. You really know your Bible. It's just like my pastor's sermon series, which he entitled, "The Personality of the Evil One." If only I had paid more attention, rather than checking out the social media during the messages."
"I don't know exactly who you are. But again you seem to be well versed in the Scripture. Can you now help me, kind Sir? Sir, Sir, where did you go?"
As I looked around to talk with him, however, he was nowhere in sight. He had simply disappeared, as he first arrived in my bedroom earlier that night. And along with his disappearance went the entire church surroundings.
For you see, I found myself lying in my bed, fully awake. But that was nowhere near the end of my encounter with the living God.
For lying on the foot of my bed was Dad's old fashioned Bible. And stuck slap in the middle of the pages not only was my youthful Baptismal certificate but my signed church "New Member" pledge, both important documents that I had long forgotten.
What did I then do? Well, let me just say this. I can't stop to talk now, for I must get dressed. I surely don't want to be late for church, especially as I'm the newly-elected member of the Elders Board. Amen!
Author's Postscript
Just who was this nice gentlemen in our main characters dream? (Hebrews 13:2)
Sad to say, if you have been in Christian service for any length of time you have probably suffered the good and bad of church work, as well as our friend here.
So, do you ever feel like you are just being used or that you are just being taken advantage of in your church? Well, human nature being what it is, I'm sure we have all have had such a feeling at some time or other. It's called church "Burn Out." However, I'd rather wear out than burn out for the Lord. Amen!