IN HIS WILDERNESS
by CharlesRobey
(Trussville, AL USA)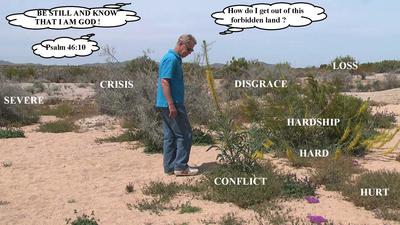 "Behold, I am doing a new thing; now it springs forth, do you not perceive it? I will make a way in the wilderness and rivers in the desert." (Isaiah 43:19)


Another week, another few dollars. Is it my imagination, or is my profession actually getting harder as time rolls by? Why did I major in archeology anyhow? After all, I had really wanted to go to Dad's seminary, and someday become a church pastor.

Nonetheless, hindsight is always 20/20. My profession does pay well. It's just so taxing on the old nerves. There's so much to consider, especially for an old bachelor like myself. I guess over the years the profession has become mildly disappointing, but not enough to obsess about. I am thankful for what I have accomplished.

After all, it is the weekend. I'm certainly not going to let the cares of my work spoil my weekend fun. I'll just call up my fishing partner, maybe we can go to the lake. Oh, I forgot, he has gotten religion and his Sundays are all now wrapped up now in his church. I can't seem to understand why he would prefer going to church when he could be out on the water enjoying himself. Oh well, to each his own, to bed I go.

Subsequent to my falling asleep, I suddenly found myself walking in the middle of a wilderness. Not just any wilderness, but a hot, dry, barren place, graced with miles and miles of sand dunes.

"How did I get here?" I shouted silently to myself. "And how can I get out of here?"

Almost instantly, a figure of a man appeared. Must be a desert mirage, I thought, as this figure took on the appearance of a man swirling in the wind. So I didn't give the apparent optical illusion a second thought, as I kept on walking.

However, as I moved on in the sand, so did this character. Then as if by a miracle, this man seemed to come to life. He was dressed in the typical desert garb, headdress and all. His dress was followed by a foreign dialect, like that of an old-time Bible character.

"What are you doing here, in this dry, barren wilderness?" I asked.

"What thoughts come to your mind, when you look around you here?" he responded.

"Really not much of anything, this is such a barren landscape," I responded.

And then, seemingly by some divine imperative, he took my hand and off we went, not in the sand but through the air. And when we finally landed, we were smack in the middle of a wilderness thicket. What was so strange was that each bush in this undergrowth was labeled with such captions as bankruptcy, hurt, crisis, tragedy, loneliness, conflict, hardship, problems, loss, disgrace, and on and on.

As we landed on the ground, the stranger asked, "How will you get through this wilderness thicket, my son? How can you conquer such adversity?

I had no answer. Before I could respond, he continued. "My son, the Bible speaks of our Creator using the wilderness to create peace among His people."

"How's that possible?" I asked.

"You see it was in the wilderness that our Creator gave His laws to Moses. It's where he spoke and revealed His presence to His people. Do you know why, my son?"

"No, I don't, sir," I replied.

"You see, the wilderness was a holy place, and to get through hard times we must count on a Holy God, as well."

He continued, "The desert of your life is where God speaks to you. Like God spoke to Moses through a burning bush, He is waiting to speak to you through your life's hard times. Now if you are ready to hear Him, simply pick out the bush of your choice and jump into it.

"OK, I get the message alright. But you still haven't told me who you are. You must be some sort of a prophet. The point you have driven home to me hit right straight between my eyes.. You see, I must confess, I am in deep conflict in my profession, for I have missed out on my professional calling in the ministry. And I've been miserable ever since," I concluded.

He then continued with his little sermon, "You see, my son, Providence has brought me here to teach you a lesson. You see, oftentimes
God may be speaking and you just don't listen. You are too much distracted with the cares of the world over your spiritual needs. Here in this wilderness, there are no such distractions, only you and your Maker. So take advantage of the situation and embrace God's leading for your life. Listen to what He has to say. Then go ahead and pick your poison by jumping through the bush that serves your needs. Go ahead, jump in!"
And with that bizarre challenge this stranger just up and disappeared, in like manner as he arrived, in a whirlwind of swirling fog.
Moreover, basically by some unknown phenomenon, or may I say marvel, I suddenly came to my senses. I awoke from this revealing dream. Yes, it had to have been a dream, for there is no other explanation for such a happening.
Nothing new, I thought, for I have been having a lot of such dreams lately, and this one was just the Grand Finale, so to speak.
Then the most outlandish real life miracle occurred. Was this a dream carry-over or was this a taste of reality?
You see, as I was hurriedly arranging myself back into bed, a bright light suddenly shone through my bedroom window and on to my bed table, as if being guided by an unknown supernatural source.
When I turned to take a look, lo and behold, on the table was a Bible. Not just any Bible, but Mom's old, tattered Bible. Moving in closer, I saw that her Bible was turned to a certain Scripture verse.
"Then you will call on me and come and pray to me, and I will listen to you. You will seek me and find me when you seek me with all your heart." (Jeremiah 29:12-13)
Alongside this Scripture passage was a note; not a handwritten note, but a professionally printed note blending in with the Bible side-bar notes. This note drew my attention, as it was printed in red. The note plainly stated, "Put away all doubts. Go now into the wildness of life and seek the voice of your Creator." (Psalm 46:1)
As I continued to look at this open Bible, I saw a small handwritten note. It was Mom's handwriting alright, no doubt about it. This note simply stated, "praying for my son." Wow, did that ever shake me to no end!
So what did I do next, you might ask? Well, let me clearly and simply say that there were no more Sunday fishing trips, as I was too busy performing the duties of Deacon. Thanks Mom, for all your prayers!
And who was that strangely helpful man, you might also ask? Well, I don't rightly know. However, as he left me in the wilderness dessert, I happen to look down and there written in the sand was a particular Scripture verse. (Hebrews 13:2)
Author's Postscript
Several years ago, as we had just moved into our new home, we had a slight glitch in our phone system. In checking out the various numbers, I dialed 9-1-1 by mistake. The police officer was understanding; it was not his first false call.
So have you ever wondered if our many prayers for help sound frivolous to God? Have we called His 911 number too many times? Well, I've been there, done that.
And that's one of those GOK (God Only Knows) questions. Of course, we cannot know. But one thing for sure that we do know, taking Scripture to heart, our Lord not only hears our pleas, He is ever present with us. So fear not. (Psalm 46:11)
So what does it mean to have a wilderness experience? (Taken from got questions. org)
Answer: A "wilderness experience" is usually thought of as a tough time in which a believer endures discomfort and trials. The pleasant things of life are unable to be enjoyed, or they may be absent altogether, and one feels a lack of encouragement. A "wilderness experience" is often a time of intensified temptation and spiritual attack. It can involve a spiritual, financial, or emotional drought. Having a "wilderness experience" is not necessarily a sign that a believer is sinning; rather, it is a time of God-ordained testing.
A "wilderness experience" is often linked to a "mountaintop experience"; that is, the struggle follows a success of some kind. The period of trial comes on the heels of a period of accomplishment or achievement.