IN THE BEGINNING
by Charles Robey
(Trussville AL)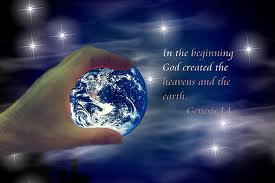 When I Behold Your Wonders, Oh Lord.
Have you ever given much thought to the phrases " In the beginning" ( Genesis 1:1 ). Well, leave it to me and my weird sense of homilist reasoning.


The scriptures confirm that God has always been and always will be. So, when did "in the beginning"' occur ? And why did God choose a particular stage to start the beginning of time as we know it ? You see, history just didn't start with God's creation. For if God had no beginning, then the creation was not the beginning. In other words, one of God's attributes is "infinity", meaning without a beginning or end.( 1 Kings 8:27 )

This great universe was an effect which required an adequate cause, and the only sufficient cause was God. ( Psalm 19:1 ) This universe not only provided a maker but also had to a designer. ( Romans 1:18-20 )

In ( Genesis 1:1 ) the form translated " beginning" is in the absolute state rather than the construct state. Meaning, "in the beginning of what", "when God created". In other words, this clause in verse 1 is a main clause.

And in ( Genesis 1:2) we have three clauses that are descriptive and give background information, that being, (1) the world was without shape, (2) the world was empty, and (3) and darkness was over the surface of the water deep..

Then, (Genesis 1:3 ) starts the narrative sequence. The reference to the word "beginning" has to be defined from the content since there is no beginning or ending with God.

There are two ways that we may interpret ( Geneses 1:1 ). (1) It may be taken to refer to the original act of creation with the rest of the events on the days of creation completing the remaining verses. Or, (2) it may be taken as a summary statement of what the chapter will record, that is verses ( Genesis 1: 3-31 ) are about God creating the world as
we know it. Whichever view you prefer, it still relates that God created everything out of nothing. ( John 1:3 )
You see, the beginning, as we know it, had to start when time started. And time did not start until creation, when the days, seasons and all other things were created. ( Genesis 1:5, 8, 13, 19, 23, 31, ) ( Genesis 2:2 )
So, what was taking place, way back in eternity past? The scripture fails to give this information, Probably because, these events were beyond our human comprehension or conception. We just do know, however. However, from scripture we see the complete "Trinity" at work for our good. Before creation there was love ( John 17:24 ), there was God's glory ( John 17:5 ) and there was eternal life. ( Titus 1:2 ).
We know also, from the scriptures, that the "Trinity" ( the three persons of the Godhead (2 Cor 13:14 ) have always been ( John 1:1 ) ( Hebrews 9:14), ( Genesis 1:26 ).
What about the creation of humankind, on the sixth day, as related in ( Genesis 1:26) Since man is a moral and intellectual being, he must have had a maker who is also a moral and intellectual being. ( Acts 17:29 ) Thus, mans moral nature, religious instincts, conscience, and emotional nature argue for the existence of God.
Yes, praise God, mankind had a beginning but will never have an ending. All mankind, who have ever lived since the beginning in the Garden of Eden, will now live forever, either in God's Heavenly presence or separated from God, in Hell. ( Luke 16:19-26 ) ( 1 Cor 3:8 ) ( 2 Cor 5:10 )
One day Jesus will be coming back to take all believers up to heaven. (1 Thess 4:13-18 ) What about you, dear friend, Have you trusted the redemptive work of the cross, to save you ? It's simple your faith in God's free grace. ( Ephesians 2:8-9 )