IN THE STILL OF THE NIGHT
by Charles Robey
(Trussville AL, USA)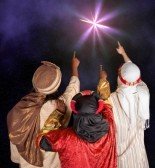 In the still of the night
God took his earthly flight
To a lowly stable bed
As the Holy word foresaid

Angels harkened to proclaim
The precious Savior's name
Peace on earth good will to all
Humble shepherds they did draw

God shined brightly in the star
Wise men did follow from afar
Precious gifts they would bring
To worship the new born King

While on earth miracles incurred
By the spreading of God's word
Many hearts opened to believe
As the Gospel they did receive

In the still of the night
God took His heavenly flight
To prepare Heaven's zone
For worship at God's Throne

God's light still shines today
Finding those who are astray
By faith who may believe
God's Grace to them receive

Have you ever wondered, if God has always been here from eternity past to eternity future, why He selected a particular time to send His Son to earth, as a payment for our sins. ( Galatians 4:4 )

Simply put, God is never late but always on time. Way back in the Garden of Eden, at the fall of our first parents sin, ( Genesis 3:15) God promised a way of escape for mankind. ( 1 Cor 10:13 )

You see, there were three things that had to take place in the known world, for the birth of Christ, 1) universal desire, 2) universal peace and 3) universal language.

Praise the Lord for His perfect knowledge.
Join in and write your own page! It's easy to do. How? Simply click here to return to Charles Robey Sermons.
© 2008-2028 - All rights reserved.

No content on preachology.com may be printed or

copied to any other site without permission.