In the Synagogue & School of Tyrannus Part 2 of 2
by John Lowe
(Woodruff, S.C.)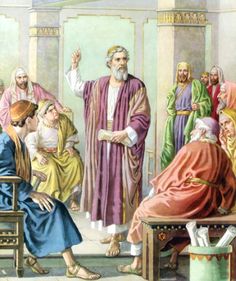 9 But when divers were hardened, and believed not, but spake evil of that way before the multitude, he departed from them, and separated the disciples, disputing daily in the school of one Tyrannus.


BUT WHEN DIVERS ("some") WERE HARDENED, AND BELIEVED NOT (implying that others, probably a large number, believed.), BUT SPAKE EVIL OF THAT WAY BEFORE THE MULTITUDE. The word used for "HARDENED" is the same word used for the hardening of Pharaoh's heart (Romans 9:18) and for the way the nation of Israel HARDENED2 its heart in unbelief in the wilderness and so missed out on the Promised Land, a whole generation perishing in the wilderness (Hebrews 3:8). It was deliberate hardening in the face of convincing and irrefutable evidence of the power and purposes of God; they simply refused to believe. In the Ephesian synagogue, the small group that refused to believe was probably able to influence the majority, so that in the end Paul had no option but to pull out, taking his converts with him. The Christians were probably already holding separate meetings (18:19; 14:27).

The expression "THE WAY" is peculiar to Acts (19:9, 23; 22:4; 24:14, 22) and may have originated with the Jews who saw the Christians as those who had adopted a distinctive way of life. But it must have soon come into use among the Christians as a fitting way of describing themselves as the followers of Him who is the way: "Jesus saith unto him, I am THE WAY, the truth, and the life: no man cometh unto the Father, but by me. (John 14:6).

In the face of such evidence, presented by Paul in Holy Spirit power, the hardcore of Ephesian synagogue Jews refused to believe. They "BELIEVED NOT," says the Holy Spirit, using an expression that first occurs in the New Testament in John 3:36, "He that BELIEVETH NOT the Son shall not see life; but the wrath of God abideth on him." They expressed their unbelief by speaking EVIL of God's revealed WAY of salvation through Christ, and by agitating the multitudes against the WAY. Again the Holy Spirit uses a significant word, one used in Matthew 15:43, which warns that cursing one's father or mother puts a person in danger of death. The rejection of Christ by the unbelieving Jews, then, followed a pattern of unbelief manifested elsewhere in Acts (14:2; 17:5), which was unjust and total.

HE DEPARTED FROM THEM, AND SEPARATED THE DISCIPLES, DISPUTING DAILY IN THE SCHOOL OF ONE TYRANNUS4. As soon as Jewish unbelief reached the stage of cursing Christ, Paul SEPARATED himself and his converts from the synagogue altogether. He chose as his new meeting place the lecture hall of the well-known teacher in town, "ONE TYRANNUS." What a name for a teacher; Tyrant! Was that his real name or the nickname given to him by his students? According to some authorities, where a town had a large number of Jews, they organized a divinity school as well as a synagogue. Possibly TYRANNUS was one of Paul's Jewish converts who, when matters came to a head in the synagogue, put the facilities of his divinity school at Paul's disposal.

It has been suggested by some that Paul used the building from 11 o'clock in the morning until 4 o'clock in the afternoon, during the heat of the day (no air conditioning in those days) when TYRANNUS would not be using the building himself. That would normally be the time of the midday and afternoon siesta. Thus Paul would labor at his tent-making in the early hours of the day (20:34) and would devote the siesta hours to teaching the Word to those who would come. And come they did. In addition to his public teaching in the hall of TYRANNUS (probably a large room/lecture hall or gymnasium), the apostle went from house to house instructing and admonishing the disciples in Ephesus—"You know that I have not hesitated to preach anything that would be helpful to you but have taught you publicly and from house to house . . . So be on your guard! Remember that for three years I never stopped warning each of you night and day with tears" (20:20, 31).


10 And this continued by the space of two years; so that all they which dwelt in Asia heard the word of the Lord Jesus, both Jews, and Greeks.

If at Ephesus Paul followed his usual
policy of devoting his mission time to establishing a thriving evangelistic church in the city and encouraging his converts to get busy evangelizing the surrounding area. We learn from Revelation 2 and 3 and elsewhere that churches were planted in Colossae and Hierapolis as well as in Smyrna, Pergamos, Thyatira, Sardis, Philadelphia, and Laodicea, though Paul himself does not seem to have visited them. This gives us some concept of how the Word of God was growing in that day. Apparently, from this vantage point, the church in Colossae came into existence before Paul wrote to the Colossians as he did to the Romans before he had visited them. Yet he was the founder of those churches. How could this be? By the simple fact that from the school of TYRANNUS the gospel sounded fourth—it went out everywhere. When the Corinthians wanted Paul to come over to them, he wrote to them, "For I do not want to see you now and make only a passing visit; I hope to spend some time with you, if the Lord permits. But I will stay on at Ephesus until Pentecost, because a great door for effective work has opened to me, and there are many who oppose me" (1 Corinthians 16:7-9). For two to three years the Gospel sounded out so that everyone had heard it in the province of Asia. Probably the seven churches of Asia came into existence through the preaching of Paul the apostle here at Ephesus. This may have been where he had his greatest ministry. Luke said that the witness in the hall of Tyrannous continued for a period of two years. When this is added to the initial three months in the synagogue plus the "little longer" of verse 22, one arrives at the three years or so Paul later gave as the length of his Ephesian Ministry (20:31). Truly the three years he spent at Ephesus were fruitful years. An avid soul-winner and church planter himself, Paul infused his converts with the same missionary zeal. The result was THAT ALL (many; the sense in which ALL is used) . . . WHICH DWELT IN ASIA
5
HEARD THE WORD OF THE LORD JESUS, BOTH JEWS, AND GREEKS. Thus a great door and effectual was opened to Paul, even though there were many adversaries (1 Corinthians 16:9). That Paul had many Jewish converts in Ephesus is confirmed by the large number of Jewish names in Romans 16, if that chapter is considered to be addressed to Ephesus. Paul won friends even among the officials of the province (the principal citizens of Asia, v. 31). Despite the many plots of the Jews, and the severe sufferings of that period, Paul was enabled to continue in Ephesus for a period covering from 2 to 3 years (19:20, 31; 20:19; 1 Corinthians 15:32).
It's worth mentioning that Paul made no definitive statement to the Ephesian synagogue about turning exclusively to the Gentiles. A number of the Ephesian Jews did become disciples, and Paul seems to have continued his witness to the Jews thereafter moving from the synagogue. The Jews of Ephesus were evidently seriously divided over Christ. On the one hand, there were those who became believers. On the other, there were those who strongly opposed Paul. It would indeed be some of these "Asian Jews" who would provoke mob action against Paul in Jerusalem (21:27).
End Notes:
1
(Acts 28:31, NIV) "He proclaimed the kingdom of God and taught about the Lord Jesus Christ—with all boldness and without hindrance!"
2
The Greek word which has been translatedHARDENED always refers to defiance against God (Romans 9:18; Hebrews 3:8, 13, 15; 4:7). Truth rejected leads to a hardened heart, causing the life-giving message of salvation to become "the aroma of death leading to death" (2 Corinthians 2:16).
3
(Matthew 15:4, NIV) "'For God said, 'Honor your father and mother' and 'Anyone who curses their father or mother is to be put to death.'"
4
We know nothing about TYRANNUS, but it is generally thought that he was a Greek who made his living by conducting classes in philosophy or rhetoric. His appearance here unannounced is one of those pieces of otherwise pointless information that inspire confidence in Luke's sources.
5
Asia here is the western Roman province of Asia Minor. Ephesus was the capital, where the Roman proconsul resided. It was the chief Asian City in the promotion of emperor worship.