"In Whom all things are to be reconciled to God" Page 2 of 2 (series: Lessons on Colossians)
by John Lowe
(Woodruff, S.C.)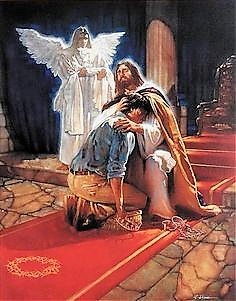 "Shed on the Cross."

Do you know who it was who died on the Cross that day on Golgotha? Can you realize that the One on the Cross was the Creator or . . . the Preserver . . . the beginning and the end of all things? Creation in its fullest extent and in its farthest reach will be affected by His death. Jesus laid aside the splendor of the Godhead to take a body and to walk in the flesh of man upon this earth. He died in and for a world He created, to satisfy divine justice and glorify the Father whom He loved—the Father who sent Him and surrendered Him to pay sin's debt. No wonder the death of this Person should be felt everywhere—to the ends of the earth and to the highest heaven. In the death of Jesus, God is saying to us, "I love you like that. I love you enough to see my Son suffer and die for you." The Cross is proof that there is no length to which the love of God will refuse to go in order to win men's hearts; and a love like that demands an answering love. If the Cross will not awaken love in men's hearts, nothing will.

Before the foundation of the world, it was agreed between Father, son and Holy Ghost that Jesus would redeem, by His shed blood, all who would come unto God by Him. Not only man, created in the image of God, but "the whole creation has been groaning as in the pains of childbirth right up to the present time" (Romans 8:22).

Just before Jesus died, He said to the heavenly Father, "IT IS FINISHED!" In His own words He came to fulfill the Law and the prophets―"Do not think that I have come to abolish the Law or the Prophets; I have not come to abolish
them but to fulfill them." (Matthew 5:17). In the shed blood of Jesus the holy law of God is satisfied. Because of that satisfaction, guilty, hell-deserving sinners are set free from the curse, and thus God reconciles the world unto Himself. Man, having been justified by faith in the shed blood of Jesus Christ, is at peace with God. "Therefore, since we have been justified through faith, we have peace with God through our Lord Jesus Christ, through whom we have gained access by faith into this grace in which we now stand. And we boast in the hope of the glory of God." (Romans 5:1, 2).
1) (Hebrews 9:23-24) "It was necessary, then, for the copies of the heavenly things to be purified with these sacrifices, but the heavenly things themselves with better sacrifices than these. For Christ did not enter a sanctuary made with human hands that were only a copy of the true one; he entered heaven itself, now to appear for us in God's presence."
2) "Justification." Justification is a one-time legal declaration with continuing results, not an ongoing process.
3) (Philippians 2:10) "that at the name of Jesus every knee should bow, in heaven and on earth and under the earth,"
4) (Romans 8:19-22) "For the anxious longing of the creation waits eagerly for the revealing of the sons of God. For the creation was subjected to futility, not willingly, but because of Him who subjected it, in hope that the creation itself also will be set free from its slavery to corruption into the freedom of the glory of the children of God. For we know that the whole creation groans and suffers the pains of childbirth together until now."
5) (Romans 5:10) "For if, while we were God's enemies, we were reconciled to him through the death of his Son, how much more, having been reconciled, shall we be saved through his life!"