IS YOUR CHRISTIANITY AWESOME? IF NOT, WHY NOT!
by Charles Robey
(Trussville AL)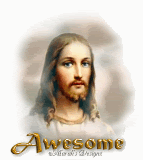 Our God is an awesome God
He reigns from heaven above
With wisdom, pow'r and love
Our God is an awesome God.
(Michael W. Smith)

Have you ever attempted to keep track of how many times you've heard the word "Awesome". It's probably used, in today's society, as much as any other splendor, but what does it mean. Webster's unabridged dictionary gives the definition as, "deeply reverent, dreadful," awful".

I remember a time, on our vacation in the Smokey Mountains, when I walked across the great Grandfather Mountain Swinging bridge. Just being able to cross in safety, gave my young heart an awesome experience.

And as I look up into God's vast universe, with its uncountable stars, I realized the meaning of the word awesome. For we serve an awesome God. No wonder David wrote, "How awesome is the Lord Most High, the great King over all the earth." (Psalm 47:2)

Just taking God's promises by faith and being transformed by God's grace into a regenerated soul, is in itself awesome as the Bible teaches.

"For by grace you have been saved through faith; and not of yourselves, it is the gift of God; not as a result of works, that no one should boast. (Ephesians 2:8-9).

From a human secular point of view, often times, we get preoccupied with the cares of the day, only to push the awesomeness of God aside. Yes, Christians often get "down in the mouth". However, it is very important as individuals naming the name of Christ, that we walk by faith as we progress in our Christian life.

It is so awesome what God does for us, day by day, not only from a spiritual point of view but in just giving us the necessities of life. This in itself is a miracle.

"For we have brought nothing into this world, so we cannot take anything out of it either. And if we have food and covering with these we shall be content" (1 Timothy 6:7-8).

Oh yes, we Christians are also far from being perfect but God knows our needs, even before we ask, and has made a way of escape.
"No temptation has overtaken you but such as is common to man; and God is faithful, who will not allow you to be tempted beyond what you are able, but with the temptation will provide the way of escape also, that you may be able to endure it"(1 Corinthians10:13).

So, how do we continue, day by day, to experience the awesomeness of God? The Bible is crammed full of ideas. One of the best examples was in the early church.

Here are some excerpts, from the early church protocol:
They continued devoting themselves to the Apostles teaching.
They were together and had all things in common.
They were sharing their possessions, with others, as they had need.
They continued, day by day, with one mind in the temple.
They were taking their meals together, with gladness and sincerity of heart.
They were praising God and having favor with all the people.
ACTS 2:42-47

If we follow the early church's example, we will surely experience the awesomeness of God. Simply put, we should:
Spend time in prayer.
Spend time studying the Bible.
Spend time supporting the church's mission by our tithes and offerings.
Spend time fellowshipping with other like minded Christians.
Spend time witnessing to unbelievers.

Charles Robey is a retired Church Lay Leader who specializes in freelance Christian writings, with a strong evangelistic message. Mr. Robey's many publications center around the Lord's Commissioning, as outlined in Acts 1:8, and he feels strongly that in today's hectic stressful environment, more than any other period of time, God's peace continues to ring true and is freely available to all.