ISN'T RETIREMENT GRAND
by CHARLES ROBEY
(MOODY AL USA)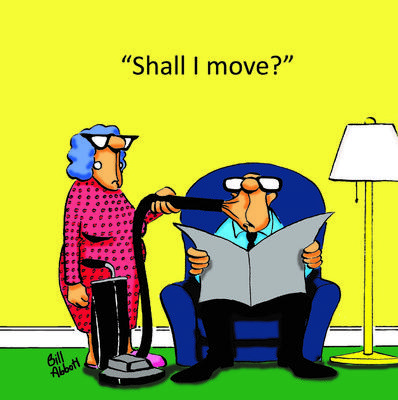 "The glory of young men is their strength, gray hair the splendor of the old." (Proverbs 20:29)

What has happened to me? It seems as if I went to bed in the 50's and suddenly awoke in the 21st century. Was it just a dream, or am I now a part of the "over the hill" gang who by some divine miracle has slipped into my retirement years?

Dream or no dream, I am now finding retirement to be one of the most rewarding experiences of my life. A time to concentrate on "the things that count in life." A time to spend time working in my local church. And a time to get out and be a positive influence within my family, friends and neighbors. Even though my dream world seems to give a secular view of retirement life, Divine revelation is still in command of any life, regardless of the situation.

Do you remember that old cliché, "You can't go home again?" This idiom is just one among the many culture statements quoted down through the ages. But what does it mean? Mean to a wanderer who carries their home with them? To a runaway child abused by their parents. To a homeless man, who has no home?

To me, home actually means a place of comfort and safety. A place where one is loved by all concerned. So is the meaning of this old expression physical or is it just a philosophical "pipe dream." And how does it parallel retirement? As for retirement, I may have just talked myself into the "can't go back in life" camp. So, one must make the best of his or her retirement years, while they may.

I have been retired now a number of years. In some ways it just seems like yesterday, and in some respects, it has been a virtual lifetime. Yes, in retirement one cannot roll back the years. With each day comes a completely new ball game of life. And what we do with it, or how we handle it, is all up to us.

Like many others, I just knew I'd set the world on fire. I would become like so many other great "Shakespearean" orators by sharing my vast life experiences with all my neighbors at our little monthly "town hall" senior get together.

Well, guess what? I failed in the orator's roll, as well as many other projects I tried to take on. I couldn't even win at checkers. Not to mention my "bingo" failures. One would think, after so many retirements let downs, giving up would be a relief. However, I just continue moving along.

I just knew the wife would be so happy if I indulged in the many "handy man" projects, or her "honey do" list, which suddenly without notice appeared hanging on my workshop wall just waiting for my retirement. To complicate matters even more so, my workshop was filled with the many TV advertised "fool proof" gadgets that make for an easier "handy man" lifestyle. Did I ever get a wrong number, here, including not getting my orders doubled?

Why I even tried those miracles "fountain of youth" pills advertised on prime-time television. You know the ones that will mystically shed pounds, put spring back in your step and greatly improve memory. But, sadly to say, I still have to ask the wife what day it is as I rise to begin my day's reign in my own little kingdom man cave.

One of my first projects, after retiring, was becoming better educated on the world's current events. After all, if it was told on national television it had to be true, right. So, I settled back in my "Frazier Dad" comfortable recliner, (you know the one, held together with all that "duct tape") and tuned in. Boy, was I surprised? How did this planet get in such disarray? And where have I been the last 50 years?

Oh well, life is depressing enough, without some expert commentator telling me. So much for the TV news. Now, I just love those TV "home and garden" shows, - the ones that tell me how to remodel my home in three days with a budget of a few thousand dollars.

I must admit, I'm not the smartest fish in the pond, but I do have some logic. Life is what you make it, and that includes our glorious retirement years. So, I think I'll drive down the street and visit my favorite "fast food" joint for breakfast. For you see, with a coupon I can get the "gravy and biscuit" and the senior coffee for less than two dollars. If I'm lucky, I can join the other seniors in helping solve the world's problems over my cup of "decaf" coffee.

Or, if I'm energetic enough, I'll just mosey over to the gym and work out on my free senior pass, by joining all the other senior "Mr. American's." And, since I feel so good, I may just hike out to the old woodshed, uncover my old '49 model classic car, and try once more to get it cranked. After all, the third time is the charm, right.

Retirement life, in spite of what you might have heard, is great. And about all those uncontrollable worldly phenomena with which you read, just take life as it comes by rolling with the punches. And since I can't do anything about such happenings, I'll just take Deputy Barney Fife's advice and "nip it in the bud." Those ever-present negative thoughts, that is.

Yes, the realism practicality of those retirement years may or may not be new for you. However, just skip through that immature "second childhood" right into the new world of optimistic certainty by joining the philosophy of the wisest man who ever lived. Wake up, grab that cup of coffee, walk out on the back deck and smell the roses. Amen!

"His hair is sprinkled with gray, but he does not notice." Hosea 7:9,

AUTHOR'S POSTSCRIPT

"And afterward, I will pour out my Spirit on all people. Your sons and daughters will prophesy, your old men will dream dreams, your young men will see visions. (Joel 2:28)

As I write this blog, my desktop daily inspiration almanac displays today's thought "As a child, it was my dream to make a perfect bar of soap, but somehow it just slipped away." This providential satire really hits the spot, with respect to this blog, would you not say.

So. how about you? Do you have vivid memories of the past? What experiences would you like to relive? And conversely, what experiences would best be erased from the ole subconscious?

It was once said that "Memories of childhood were the dreams that stayed with you after you woke." As for me, I would just pray this simple prayer in my dreams, "Dear Lord, let me be a child again, just for today. Just to turn back the clock to those happy years of yesterday. A time of the simple way of life. A life chock-full of joy and happiness. A time when Santa Claus, the Tooth Fairy, and the Easter Bunny were as real as the night's happy dream world."

To this, I give a big amen shout out to all.