Israel Sins - Page 2 (series: Lessons on Judges)
by John Lowe
(Woodruff, S.C.)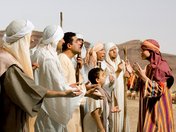 The Midianites and the Amalekites moved as a disorganized tribe. They were raiders. They would raid the crops and supplies of others. They generally took their families with them. In fact, they took all that they had with them. They would pitch their tents as they moved along. In this incident, we are not given numbers concerning them because no one in the world would have been able to number them—they were so disorganized. But by sheer numbers, and they were many, they overwhelmed the inhabitants of the land. The children of Israel fled from their homes and lived in caves and dens. There is abundant evidence in the land of Israel today that they lived in caves, especially during the period of the judges.



It is the same old story once again. Israel sinned and the hoop started moving. God had blessed the children of Israel under the administration of Deborah. When they sinned, God delivered them to Midian, and they cried out for deliverance.

made . . . dens . . . in the mountains and caves--not, of course, excavating them, for they were already there, but making them fit for habitation.


And the hand of Midian prevailed against Israel. The hand of Midian prevailed, purely by their multitude. God had promised to increase Israel like the sand on the sea shore; but their sin stopped their growth and diminished them, and then their enemies, though they were inferior to them in every other way, overpowered them with numbers. They came upon them like a huge swarm of grasshoppers (v. 5), not in a regular army way, to engage them in the field, but in a confused swarm to plunder the country, billet themselves upon it, and enrich themselves with its spoils—they were no better than bands of robbers. And sinful Israel, being separated by sin from God, did not have the spirit to make headway against them. Observe the wretched havoc that these Midianites made with their bands of plunderers in Israel. The Israelites imprisoned, or rather imprisoning themselves, in dens and caves, owing purely to their own timidity and faint-heartedness, that they would rather flee than fight; it was the effect of a guilty conscience, which made them tremble at the shaking of a leaf, and the just punishment for their apostasy from God, who fought against them with those very terrors with which he would otherwise have fought for them. Had it not been for this, we cannot help but to think that Israel was more than a match for the Midianites, and able enough to make headway against them; but the heart that departs from God is lost, not only to that which is good, but to that which is great. Sin blunts the spirit of men, and makes them sneak into dens and caves. The day will come when great and mighty men will call in vain to rocks and mountains to hide them.


And the hand of Midian prevailed against Israel: and because of the Midianites the children of Israel hid in the dens which are in the mountains, and caves, and strong holds. They were too strong for them, and overcame them, and brought them into subjection to them, and no wonder, when the Lord delivered them into their hand.


Made them the dens which are in the mountains and caves, and strong holds. —nothing can give a more distressing description of the state of the Israelites than what is related here. The Israelites did not reside in the open country, but were obliged to live in the dens and caves in the mountains, and they lived like wild beasts, and were hunted like them by their adversaries; and the oppression lasted for seven years. The caves were for the poorer sort, and the strong holds for the richer to withdraw to with their goods; though, according to Jarchi, the strong holds were nothing more than fences they made in woods, by cutting down trees, and setting them round about them, perhaps much the same as the thickets, 21(1 Samuel 13:6) . Wood (p. 202) dates this oppression as beginning 1169 B.C. It was now more than a century since Joshua had conquered the land, and the Midianite oppression was almost the conquest in reverse! The Midianites were desert nomads who had learned to domesticate camels and were now using them for the purpose of long-distance raids into more settled areas. Midian was south of Edom, near the Gulf of Aqaba. The oppression headed by the Midianites was also aided by the Amalekites and the children of the east, nomadic groups from the Syrian desert. The statement that their camels were without number is the first documentation of extensive use of camels in a military campaign, giving the Midianite-Arab alliance a tremendous advantage against the Israelites.


The extent of their infiltration and invasions reached into the tribal areas of the north and penetrated as far south as Gaza in the territory of the Philistines. The final battle
took place in the Valley of Jezreel
22
(vs. 33) and drove the Midianites completely out of Israelite territory. The statements that they destroyed the increase of the earth.…And Israel was greatly impoverished would imply that these were probably annual raids which were made on the agricultural produce of the Israelites. They literally rushed in like grasshoppers (i.e., locusts) covering the land and devouring everything in their path. It is no wonder then that the children of Israel prayed for deliverance from this invading desert horde. (On the Midianites and Amalekites see R. K. Harrison, Old Testament Times, pp. 180ff.)
____________________________________________
3 And so it was, when Israel had sown, that the Midianites came up, and the Amalekites, and the children of the east, even they came up against them;
4 And they encamped against them, and destroyed the increase of the earth, till thou come unto Gaza, and left no sustenance for Israel, neither sheep, nor ox, nor ass.
5 For they came up with their cattle and their tents, and they came as grasshoppers for multitude; for both they and their camels were without number: and they entered into the land to destroy it.--KJV
3 Whenever Israel planted crops, Midian, Amalek, and Kedem came and damaged the crops. 4 The enemy used to camp on the land and destroy the crops all the way to Gaza. They left nothing for Israel to live on—not one sheep, cow, or donkey. 5 Like swarms of locusts, they came with their livestock and their tents. They and their camels could not be counted. They came into the land only to ruin it.--GW
_______________________________________________
They came into Israel's territory, pitched their camps where ever they wanted, and they brought their livestock with them, above all, they possessed innumerable camels (v. 5). They were not a raiding party that would attack only a few settlements take their livestock and crops and then leave as suddenly as they had come. But what they did do was to force their way, and they penetrated through the heart of the country as far as Gaza on the western side. They let the Israelites alone to sow their ground, but at harvest time they seized it all, and either ate it up or destroyed it, both grass and corn. And when they went away, they took with them the sheep and oxen, so that they left no sustenance for Israel, except what was secretly taken by the rightful owners into the dens and caves. Now here we may see:
1. The justice of God in the punishment for their sin. They had neglected to honor God with their substance in tithes and offerings, to whom it rightfully was due, and had instead given that to Baal; and now God justly sends an enemy to take it away in the harvest season
23
(Hos. 2:8, 9) . Israel's backsliding resulted in poverty, slavery, and fear. Those whom Israel had once conquered were now her masters. When we turn from the Lord as Christians, old habits enslave and impoverish us as well
2. The consequence of God's departure from a people is that all good goes with Him and all monkey business breaks in. When Israel kept in touch with God, they reaped what others sowed (
24
Jos. 24:13 ;
25
Ps. 105:44) ; but now that God had forsaken them others reaped what they sowed. Let us learn a lesson from this: to bless God for our national peace and tranquility, that we may eat the labor of our hands.
Children of the East—probably those who inhabited the eastern part of the Arabian Desert, Ishmaelites.
Encamped against them—Wandering hordes of Midianites, Amalekites, and Ishmaelites came, in the times of harvest and autumn, and carried away their crops, their fruit, and their cattle. And they appear to have come early, encamped in the plains, and watched the crops till they were ready to be carried off.
And destroyed the increase of the earth—they destroyed the corn and grass before they were ripe, and fit to cut down; except they gave some of it to their cattle, and the rest they carried off.
till thou come unto Gaza—a principality of the Philistines, which lay in the western part of Canaan, on the shore of the Mediterranean sea; so that as these people came out of the east, and entered the eastern part, they went through the whole land from east to west, cutting down all the fruits of the earth for feed for their cattle: so they destroyed the whole land.
Till thou come unto Gaza—That is, the whole breadth of the land, from Jordan to the coast of the Mediterranean Sea. Thus the whole land was ravaged, and the inhabitants deprived of the necessaries of life.
And left no sustenance for Israel—nothing to support life with, cutting down their corn and their grass, their vines and olives, so that they had nothing to live upon.
Neither sheep, nor ox, nor ass—not anything was left for the Israelites to live upon.