Israel Sins - Page 4 (series: Lessons on Judges)
by John Lowe
(Woodruff, S.C.)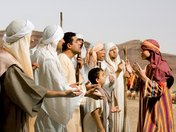 And I delivered you out of the hand of the Egyptians, and out of the hand of all that oppressed you. He brought them out of Egypt, where they would have continued in perpetual poverty and slavery, if He would have ignored their cries for deliverance. Even after they were brought out of Egypt, when the Egyptians pursued after them, and overtook them at the Red sea; where they were in the utmost danger, and the Lord skillfully saved them, by making them a safe passage through it, and destroyed the Egyptians in it. Furthermore, He delivered them out of the hands of all that oppressed them (the Amalekites who made war with them at Rephidim, Sihon, and Og, kings of the Amorites, who came out to fight with them, and oppose their passage through their land into Canaan, and the kings of the Canaanites also, who combined against them); this is mentioned to imply that the reason why they were not now delivered out of the hands of the oppressing Midianites was not due to the absence of any power or good-will on God's part, but because they had sold themselves by their wickedness, and God would not redeem them until they repented and turned to him



And drave them out from before you, and gave you their land. It was not only the land of Sihon and Og, but the whole land of Canaan that it can be said that He drove out the inhabitants of these territories. He put them in quiet possession of this good land; this not only aggravated their sin, and revealed their base ingratitude, but it justified God, and cleared him of blame for the trouble they were now in. They could not say He was unkind, for he had given all possible proofs of his love and good will for them; if they meet with troubles, they have only themselves to thank for it.


He sets before them the great things God had done for them; but now he turns to their rebellion and lack of respect for how He had looked after them. Thus saith the Lord God of Israel; they had worshipped the gods of the nations, as if they had had no God of their own to worship and therefore might choose whom they pleased; but they are reminded here of one whom they had forgotten, who was known by the title of the God of Israel, and to him they must return. They had turned to other gods, as if their own had been either incapable or unwilling to protect them, and therefore they are told what he did for their fathers, in whose loins they were, the benefit of which descended and still remained to this their ungrateful seed.


And I said unto you, I am the LORD your God; fear not the gods of the Amorites, in whose land ye dwell. He was the covenant God of them and their fathers, and they should not have owned idols and acknowledged any other god besides Him. They had shown themselves to be unfaithful; therefore, he shows the easiness and fairness of God's demands and expectations for them: "I am the Lord your God, to whom you lie under the highest obligations, fear not the gods of the Amorites,'' that is, "do not worship them, or show any respect to them; do not worship them for fear of their doing you any hurt, for what hurt can they do you while I am your God? Fear God and you need not fear them."


But ye have not obeyed my voice. He charges them with rebellion against God, who had laid this injunction upon them: But you have not obeyed my voice. The charge is short, but very comprehensive; this was the malignity of all their sin, it was disobedience to God; and therefore it was this that brought those calamities upon them under which they were now groaning. He intends here to bring them to repentance; and our repentance is right and genuine when sin, in the form of disobedience to God, is what we chiefly grieve over.

______________________________________________________________________
1(Heb. 11.32) "And what shall I more say? for the time would fail me to tell of Gedeon, and of Barak, and of Samson, and of Jephthae; of David also, and Samuel, and of the prophets:"
2(Jg. 6.13) "And Gideon said unto him, Oh my Lord, if the LORD be with us, why then is
all this befallen us? and where be all his miracles which our fathers told us of, saying, Did not the LORD bring us up from Egypt? but now the LORD hath forsaken us, and delivered us into the hands of the Midianites."
3
(Jg. 6.17) "And he said unto him, If now I have found grace in thy sight, then shew me a sign that thou talkest with me."
4
(Jg. 6.36) "And Gideon said unto God, If thou wilt save Israel by mine hand, as thou hast said,"
5
(Mark 9:22–23) "And ofttimes it hath cast him into the fire, and into the waters, to destroy him: but if thou canst do any thing, have compassion on us, and help us. Jesus said unto him, If thou canst believe, all things are possible to him that believeth."
6
(Jg. 6.27) "Then Gideon took ten men of his servants, and did as the LORD had said unto him: and so it was, because he feared his father's household, and the men of the city, that he could not do it by day, that he did it by night."
7
(Jg. 6.12) "And the angel of the LORD appeared unto him, and said unto him, The LORD is with thee, thou mighty man of valour."
8
(Jn. 1.42) "And he brought him to Jesus. And when Jesus beheld him, he said, Thou art Simon the son of Jona: thou shalt be called Cephas, which is by interpretation, A stone." Cephas. This is a Syriac word, meaning the same as the Greek word Peter, a stone. Matthew 16:17. The stone, or rock, is a symbol of firmness and steadiness of character-a trait in Peter's character after the ascension of Jesus that was very remarkable. Before the death of Jesus he was rash, headstrong, fickle; and it is one proof of the omniscience of Jesus that he saw that Peter would possess a character that would be expressed appropriately by the word stone or rock.—Barnes' Notes on the New Testament
9
(Jg. 6.23) "Then the LORD said to him, "Peace be with you; do not fear, you shall not die."
[10(Phil. 4:4–9) "Rejoice in the Lord alway: and again I say, Rejoice. 5 Let your moderation be known unto all men. The Lord is at hand. 6 Be careful for nothing; but in every thing by prayer and supplication with thanksgiving let your requests be made known unto God. 7 And the peace of God, which passeth all understanding, shall keep your hearts and minds through Christ Jesus. 8 Finally, brethren, whatsoever things are true, whatsoever things are honest, whatsoever things are just, whatsoever things are pure, whatsoever things are lovely, whatsoever things are of good report; if there be any virtue, and if there be any praise, think on these things. 9 Those things, which ye have both learned, and received, and heard, and seen in me, do: and the God of peace shall be with you."
11
Apostasy (pronounced /əˈpɒstəsi/) is the formal religious disaffiliation, abandonment, or renunciation of one's religion, especially if the motive is deemed unworthy. In a technical sense, it is as used sometimes by sociologists without the depreciative and disparaging connotations of the word; the term refers to renunciation and criticism of, or opposition to, one's former religion. One who commits apostasy is an apostate, or one who apostatizes.
12
(Numbers 31:1-18) 1 Then the LORD said to Moses,2 "On behalf of the people of Israel, take revenge on the Midianites for leading them into idolatry. After that, you will die and join your ancestors."3 So Moses said to the people, "Choose some men, and arm them to fight the LORD's war of revenge against Midian.4 From each tribe of Israel, send 1,000 men into battle."5 So they chose 1,000 men from each tribe of Israel, a total of 12,000 men armed for battle.6 Then Moses sent them out, 1,000 men from each tribe, and Phinehas son of Eleazar the priest led them into battle. They carried along the holy objects of the sanctuary and the trumpets for sounding the charge.7 They attacked Midian as the LORD had commanded Moses, and they killed all the men.8 All five of the Midianite kings—Evi, Rekem, Zur, Hur, and Reba—died in the battle. They also killed Balaam son of Beor with the sword.9 Then the Israelite army captured the Midianite women and children and seized their cattle and flocks and all their wealth as plunder.10 They burned all the towns and villages where the Midianites had lived.11