Israel Sins - Page 5 (series: Lessons on Judges)
by John Lowe
(Woodruff, S.C.)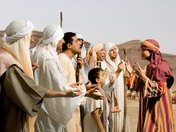 After they had gathered the plunder and captives, both people and animals,12 they brought them all to Moses and Eleazar the priest, and to the whole community of Israel, which was camped on the plains of Moab beside the Jordan River, across from Jericho.13 Moses, Eleazar the priest, and all the leaders of the community went to meet them outside the camp.14 But Moses was furious with all the generals and captains who had returned from the battle.15 "Why have you let all the women live?" he demanded.16 "These are the very ones who followed Balaam's advice and caused the people of Israel to rebel against the LORD at Mount Peor. They are the ones who caused the plague to strike the LORD's people.17 So kill all the boys and all the women who have had intercourse with a man.18 Only the young girls who are virgins may live; you may keep them for yourselves.

13(Numbers 31:1, 2) "And the LORD spake unto Moses, saying, 2 Avenge the children of Israel of the Midianites: afterward shalt thou be gathered unto thy people." The Lord spake unto Moses, Avenge the children of Israel of the Midianites -- a semi-nomad people, descended from Abraham and Keturah, occupying a tract of country east and southeast of Moab, which lay on the eastern coast of the Dead Sea. They seem to have been the principal instigators of the infamous scheme of seduction, planned to entrap the Israelites into the double crime of idolatry and licentiousness (lacking legal or moral restraints) Nu 25:1-3, 17, 18 by which, it was hoped, the Lord would withdraw from that people the benefit of His protection and favor. Moreover, the Midianites had rendered themselves particularly obnoxious by entering into a hostile league with the Amorites (Jos 13:21). The Moabites were at this time spared in consideration of Lot (De 2:9) and because the measure of their iniquities was not yet full. God spoke of avenging "the children of Israel" (Nu 31:2); Moses spoke of avenging the Lord (Nu 31:3), as dishonor had been done to God and an injury inflicted on His people. The interests were identical. God and His people have the same cause, the same friends, and the same assailants. This, in fact, was a religious war, undertaken by the express command of God against idolaters, who had seduced the Israelites to practice their abominations.
14(Num. 22.4) "So Moab said to the elders of Midian, "Now this company will lick up everything around us, as an ox licks up the grass of the field." And Balak the son of Zippor was king of the Moabites at that time."
15Providence—God's foreseeing protection and care of his creatures.
16Froward—Stubbornly contrary and disobedient; obstinate.
17(Lev. 26:21, 24) "And if ye walk contrary unto me, and will not hearken unto me; I will bring seven times more plagues upon you according to sins…Then will I also walk contrary unto you, and will punish you yet seven times for your sins."
18(Num.22.4) "And Moab said unto the elders of Midian, Now shall this company lick up all that are round about us, as the your ox licketh up the grass of the field. And Balak the son of Zippor was king of the Moabites at that time."
19(Num. 31.7) "And they warred against the Midianites, just as the LORD commanded Moses, and they killed all the males." they slew all the males -- This was in accordance with a divine order in all such cases (De 20:13). But the destruction appears to have been only partial -- limited to those who were in the neighborhood of the Hebrew camp and who had been accomplices in the villainous plot of Baal-peor (Nu 25:1-3), while a large portion of the Midianites were absent; And they warred against the Midianites, just as the LORD commanded Moses, and they killed all the males.
20(Deu. 32:21) "They have moved me to jealousy with that which is not God; they have provoked me to anger with their vanities: and I will move them to jealousy with those which are not a people; I will provoke them to anger with a foolish nation." those which are not a people -- that is, not favored with such great and peculiar privileges as the Israelites (or, rather poor, despised heathens). The language points to the future calling of the Gentiles.—Jamieson-Fausset-Brown Bible Commentary
21(1 Samuel 13:6) "When the Israelites saw that they were in trouble, they went to hide in caves and bushes, among the rocks, and in pits and wells."
22(Jg, 6.33) "All the Midianites, the Amalekites, and other peoples from the east joined together and came across the Jordan River and camped in the Valley of Jezreel."
23(Hos. 2:8, 9) "For she did not know that I gave her corn, and wine, and oil, and multiplied her silver and gold, which they prepared for Baal. Therefore will I return, and take away
my corn in the time thereof, and my wine in the season thereof, and will recover my wool and my flax given to cover her nakedness." God says that He will judge Israel. I think we can apply the same thing to our own nation. We entered into difficult times beginning in World War I because we thought we were such a sophisticated nation. We have become so sophisticated that we think homosexuality should be considered normal in our society. We don't like to punish murderers anymore; we would rather accept them into our society. God calls murder and homosexuality sin, and He says that when these things become prevalent in a nation it is a sign that the nation is going down the tube. We have too many judges who know a great deal about the law but know nothing about how God overrules even the laws of a nation, especially when the laws are wrong and the wrong men sit on the benches of our judicial system.
24
(Jos. 24:13) "I have given you a land for which you did not labor, and cities which you did not build, and you dwell in them; you eat of the vineyards and olive groves which you did not plant." Now the people of Israel are settled in the land. But, because they did not get rid of the civilization that was there, they are surrounded by idolatry. They are in real danger. Realizing this, Joshua calls them to a real dedication to God, a turning over of their lives completely to Him.
25
(Ps. 105:44) "He gave them the lands of the Gentiles, And they inherited the labor of the nations."
26
(Isaiah 60:6) "The multitude of camels shall cover thee, the dromedaries of Midian and Ephah; all they from Sheba shall come: they shall bring gold and incense; and they shall shew forth the praises of the LORD."
camels -- laden with merchandise; the camel is "the ship of the desert" (compare Isa 30:6).
cover thee -- so many of them shall there be.
dromedaries -- They have one hump on the back, whereas the camel has two: distinguished for swiftness (Jer 2:23).
Midian -- east of the Elanitic branch of the Red Sea, and stretching northward along Mount Seir. Associated with the Ishmaelites in traffic (Ge 37:25, 28).
Ephah -- part of Midian, east of the Dead Sea. It abounded in camels (Judges 6:5).
Sheba -- in Arabia-Felix, famed for frankincense and gold (Ps 72:15 Jer 6:20), which they traded in (Isa 45:14 Job 6:19 Eze 27:22).—Jamieson-Fausset-Brown Bible Commentary
27
(Job 1:3) "His substance also was seven thousand sheep, and three thousand camels, and five hundred yoke of oxen, and five hundred she asses, and a very great household; so that this man was the greatest of all the men of the east."
28
(Ps. 130:4) "But there is forgiveness with thee, that thou mayest be feared." But there is forgiveness with thee—Thou canst forgive; mercy belongs to thee, as well as judgment. The doctrine here is the doctrine of St. John: "If any man sin, we have an Advocate with the Father, Jesus Christ the righteous; and he is the propitiation for our sins, and not for ours only, but also for the sins of the whole world." "Hear, O heavens, and give ear, O earth; for the Lord hath spoken!" Jesus has died for our sins; therefore God can be just, and yet the justifier of him who believeth in Jesus.—Adam Clarke's Commentary
29
(Jg. 2:1) "And an angel of the LORD came up from Gilgal to Bochim, and said, I made you to go up out of Egypt, and have brought you unto the land which I sware unto your fathers; and I said, I will never break my covenant with you." I believe that the "angel of the Lord" is none other than the pre–incarnate Christ. God appeared in a form that could be perceived by the human senses.
30
(Job 33:23, 24) "If there be a messenger with him, an interpreter, one among a thousand, to shew unto man his uprightness: 24 Then he is gracious unto him, and saith, Deliver him from going down to the pit: I have found a ransom."
31
(Ps. 80:19) "Turn us again, O LORD God of hosts, cause thy face to shine; and we shall be saved."
Turn as again—Redeem us from this captivity.
O Lord God of hosts—Thou who hast all power in heaven and earth, the innumerable hosts of both worlds being at thy command.
Cause thy face to shine—Let us know that thou art reconciled to us. Let us once more enjoy thy approbation. Smile upon thy poor rebels, weary of their sins, and prostrate at thy feet, imploring mercy.
And we shall be saved—From the power and oppression of the Chaldeans, from the guilt and condemnation of our sins, and from thy wrath and everlasting displeasure. Thus, O God, save US!—Adam Clarke's Commentary