IT FIT LIKE A GLOVE, AMERICA
by CHARLES ROBEY
(MOODY AL USA)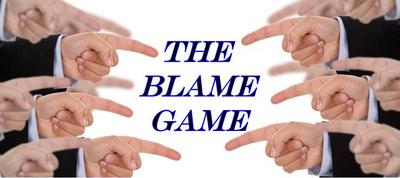 PROLOGUE

There is an old proverb which says; there are two types of people in the world: "finger people" and "thumb people." Finger people point at others, pass the blame, and sulk about problems. Thumb people point to themselves, take ownership, and find solutions.

Being older the dirt and twice as gritty, I have had the privileged of seeing both kind. My concern is the cultivation of liberal thought growing down through society's generations. I must admit, I never thought I'd see the day the fingers out-weighed the thumbs, as they seem to be doing.

In the early days of my life, Christianity was based on the thumb precept. Our society stood by the tried and true Golden Rule as much as we could.

"Therefore, all things whatsoever ye would that men should do to you, do ye even so to them: for this is the law and the prophets. (Luke 6:31) And as ye would that men should do to you, do ye also to them likewise. (Matthew 7:12)

I surely can't say the same about today's culture. Not all Americans, obviously, but we now have more than our share of those individuals who live by the finger pointer's philosophy.

"Woe to those who call evil good and good evil, who put darkness for light and light for darkness, who put bitter for sweet and sweet for bitter." (Isaiah 5:20)

What has happened to our society? What has happened to that divinely directed and sanctioned foundational doctrine given to America over two centuries ago known as the Constitution? That working document was said to be too solid to crack.

But crack it did. Where and why did America crack? When did the finger concept overcome that of the thumb perspective?

Well, have you read any newspapers lately, or tuned in the television, surfed the Internet. Have you been talking to that nosy neighbor across the back yard fence, or sad to say, listened in at church for the unbelievable posture of America's progressive culture?

So, where will it all end? Are we approaching the beginning of the end? For a divine answer, we must go to straight to the Scripture's guidance. (II Timothy 3:16-17)

It all started thousands of years ago. God's angel of light Lucifer (Satan or the Devil) rebelled against his Maker God and was expelled from Heaven's glory. (Isaiah 14:12-14) (Ezekiel 28:16) He, then took a third of the angels with him to earth. (Revelation 12:4)

Satan continued his destruction of mankind with the first sin against God in the Garden of Eden. (Genesis 3:1-7) And now we are in a spiritual war of daily battles against Satan and his demons. This demonic host of Satan is always assembled for unseen mortal combat. (Ephesians 6:12) Here is where we get the fingers versus the thumbs concept.

What does the Scripture say about all of this free fall into a socialistic mindset? Are we now in the period of history known as the end of the age? Open your Bible and take a look. As the end of the age draws near, apostasy will run rampant. (II Timothy 3:2-9,13) The population will no longer be content to hear sound Bible teaching. (II Timothy 4:3-4) Even the word on the street, so to speak, will doubt all of Scripture. (II Peter 3:3-4). So, get ready, fellow believers, for in the last days difficult times will surely come. It looks to be coming in our lifetime. (II Timothy 3:1)

Oh, I know, Scripture teaches against setting dates, (Matthew 24:36) (Acts 1:7) but the Bible gives us certain eventful signs to watch out for concerning the end of the age. (Matthew 24:4-28) God doesn't want us to be taken unaware by events.

Now into the gist of our blog, here is a parable of a life dream with a godly meaning entitled "It Fit Like a Glove, America."

(PLEASE CLICK ON THE RELATED SCRIPTURES AS YOU READ)

Here's how it all happened. Arriving home, I quickly laid down out of the family's way for a much-needed recovery snooze. Not only was I out like a light, but I found myself in the weirdest dream world of my successful Biblical-driven career. I've just got to tell you about it, if I can still remember.

I was suddenly drawn away from my little cat-nap by the most unusual character sitting there on the edge of my bed. He seemed to be very calm and assured of himself as he began eating the weirdest meal of dried locusts and honey.

If my Biblical history serves me correctly, this man was one of the most distinctive characters in the New Testament. He had an unusual flair for fashion, wearing strange-looking clothing made of camel's hair and a leather belt around his waist.

But why me, what did this man want with me? He did have a particular message for the people of that day, so maybe he now wants to help me out in today's frantic, frenzied world.

He took my hand and we were off, passing mysteriously through the house and up into the wild blue yonder, flying high above the city.

"Where are we going?" I asked.

His only answer was, "This adventure will fit you like a glove."

We landed in the middle of a large convention center. The main hall was packed with vendors displaying their merchandise. The most notable sellers were those displaying various glove designs. Two in particular happened to capture my attention. One was selling blue colored four fingered gloves, having no thumbs, which seemed weird to me. The other was just the opposite, selling red colored gloves with only a thumb. "How can this be?" I wondered.

The four finger vendors all seemed rather rude and were drawing quite a crowd. They were yelling out improper, X-rated conjectures. Many seemed to be interested in their wares. The thumb glove vendors were just the opposite, being very polite and having a rather small group of onlookers seemingly very supportive of their product.

"Why the big difference in these two venders?" I inquired of my escort.

He replied, "Come, follow me and we shall see."

We came to two main conference rooms located side by side. One room's sign displayed an introduction of the event. 'This Four Fingers conference session is designed to enhance your everyday liberal actions in a world of progressive interaction.' Sad to say, this room seemed to be packed out.

The other conference room displayed advertising of just the opposite. The heading was 'The Thumbs' giving a very positive description of that conference. Incorporated in the course were several related Bible verses. There was a much smaller group here.

Just like the action surrounding the two vendors, the two conference rooms seemed to also take on the opposite demeanors. The fingers group was unruly, and inattentive, shouting the same X-rated comments towards each other as did the outside glove vendors. They seemed to even be pointing fingers at each other, accusing each other of all sorts of imagined goings on.

Again, the thumbs group was well-organized, polite and courteous towards each other, as were the outside vendors. All seemed to take personal blame for any number of life's infractions. All were living up to the advertised Bible verses.

Even in a dream, my curiosity got the best of me. "Sir, may I ask what this is all about? Why the difference in these two conferences? And if you don't mind, who are you and where did you come from?" I queried.

"It's all about the future, my son. The time is short. We must get the message out before it's too late," he replied. (Matthew 3:1-3)

"I get it, my good man, just as you did before you want the message to get out," I responded. But there was no further answer for he was gone, as was the entire scene.

And that was that. It all ended, this apparently divinely-directed dream of mine.

I found myself back at home still lying on my bed, wide awake and sweating profusely. I must act quickly, and contact my pastor. I really need to apologize for my rudeness in falling asleep during his Sunday sermon. Besides, he may be right. We may be approaching the End Times as Scripture calls it. (I Timothy 4:1-5)

"Pastor, pastor, please pick up the phone, we really need to talk." End of dream, the beginning of service. (Matthew 28:19-20) (Acts 1:8)

EPILOGUE

I trust you enjoyed this bit of fictional musing. Prompted by a brief church snooze, we have a realistic picture of today's culture. Although being a well-rounded student of the Bible, the reason for our main character's snooze was probably to drive home an all-important point, which was the subject of this blog.

(The following is taken from the website "Teaching of Jay Mark.")

"Let's face it, daily life can be a grind. It's not hard to feel worn down by all our responsibilities, overwhelmed by worries or agitated by injustices. As a result, we can forget that our lives are hidden with Christ in God (Colossians 3:3). We are not alone, trudging through life's difficulties with no one to help us. We are in the center of God's eternal plan. Jesus is with us, and His Holy Spirit is working in and through us! Because Messiah is really coming again, our lives have a purpose and a goal beyond making it to the end of a day or completing all the items on our to-do list."