IT HAPPENED IN THE SUMMER KITCHEN
by CharlesRobey
(Trussville, AL USA)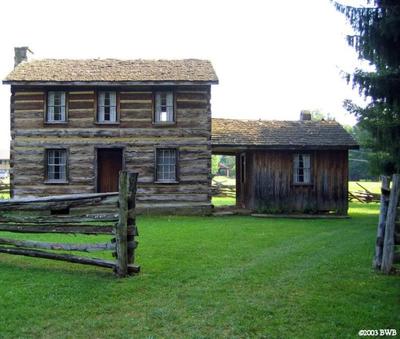 Well, it sure is hot in here! Bet it must be over 90 degrees! Are we living in an open oven? When did that repairman say he would be here to fix our air conditioner? Oh well, guess we must make the best of it. We'll just eat a lot of cold cuts and not heat up the kitchen. We can make it, you kids are tough.


Kids, kids, did you hear me at all? I know they didn't hear a word I said, while they are punching those iPod keys. Ok, guess you'll get the message when you come to realize we have an air conditioner problem.

Somehow, some way, we did make it through the day and into the evening. I'll just open the bedroom window, catch the night air, drift off to dreamland, if I'm lucky, and can beat off all those flying bugs at parade rest, gracing my bedroom. Your Mom is so lucky, working away from home and enjoying that cool hotel room.

Then it happened. I not only drifted off to dreamland all right, but all of a sudden, I went back in time. I found myself at the turn of the century, in what appeared to be a lonely farmhouse stationed in the middle of nowhere. For sure we aren't in Kansas anymore.

What is this? A kitchen set up off the back porch. I never heard of such. Before I could move in and examine its contents, however, I noticed the shadow of a man. Not just any shadow, but one dressed in what appeared to be Bible garb.

What was so strange, this shadow commenced to speak, either in some sort of broken English, or he was speaking in old English simulating my King James Bible writing.

"I noticed you seem to be a bit troubled, my lad, with this home setup. You see this is what's known as a summer kitchen. It is used in the summertime to keep the stove heat out of the main living area," he explained.

"What a cool idea," I thought.

Then without further ado, this strange character pulled an old tattered New Testament from his pocket and commenced to read.

"I am not saying this because I am in need, for I have learned to be content whatever the circumstances. I know what it is to be in need, and I know what it is to have plenty. I have learned the secret of being content in any and every situation, whether well fed or hungry, whether living in plenty or in want. " (Philippians 4:11-12)

"Wow, you are right on. Are you a preacher, or are you really the Apostle Paul personified?" I exclaimed. "I'm sorry for the spurt of ill manners, but that Scripture really hit home with me, given all the hard luck our family has been experiencing lately."

"No apology needed, my lad, we all are tested from time to time. It will all come out in the wash. Oops, a bad cliché. Nonetheless, theologically speaking the Scripture tells us we will have trouble living in this old world. It's a given. However, while here on earth, our Lord experienced like-minded troubles. And guess what? He did overcome the world, so that He may also overcome our trouble."

"When you are faced with hard and uncertain times, you can be encouraged to press on knowing you are an overcomer! Just let the Scripture talk to you."

"Be strong and courageous. Do not be afraid or terrified because of them, for the LORD your God goes with you; He will never leave you nor forsake you." (Deuteronomy 31:6)

"And that includes a broken down air condition system," he concluded.

"Wow again, you're not only a preacher, or a prophet, but a mind reader as well. Now, will you please tell me who you are, and just where you came from?" I asked.

No luck, for at that point in our conversation, the room scenery hastily and impulsively changed. The shadow suddenly disappeared along with the supposed Bible character. It was as if a big breeze came through that little summer kitchen carrying this character off in the wind.

What happened next could have been out of this world as well. Like many
of my mixed up subconscious dreams, this little summer kitchen scenery instantly changed.
Now, standing in this little kitchen was a personality of times past. I was without words, as this little old grandma-type lady was the spitting image of my Ma-Maw, flowered apron, braided hair and all.
I don't think she could see me, for without hesitation she went straight to work, engaging in her kitchen chores, singing those "old-time religion hymns" as she worked.
What caught my attention was the sweet aroma penetrating from the old wood stove oven. As she removed a tray of those big Baptist biscuits, I could just taste one baptized in some old-fashioned jam. However, my dream did not allow me to participate in a taste, so I missed out on it all. Besides as I mentioned, I don't think she was able to see me in this dream.
It didn't much matter, for as she was waiting for her cooking to develop, she sat down at the table, and opening her Bible, she began to read out loud.
Strangely enough, her Bible passage was also in line with that of the strange man who had disappeared.
"Trust in the LORD with all your heart and lean not on your own understanding; in all your ways submit to Him, and He will make your paths straight." (Proverbs 3:5-6)
And as strangely as was the disappearance of the strange prophet, preacher or mind reader, was my little old Ma-Maw.
It really didn't matter, for my dream ended as well, but not before I got the message, loud and clear. On my bedside table was my Bible open to yet another Scripture passage.
"You will keep in perfect peace those whose minds are steadfast, because they trust in you." (Isaiah 23:3)
Thanks to that long night sleep, I awoke to the sensation of a nice breeze blowing in my bedroom window. And along with this morning atmosphere blessing came the air conditioner service truck.
"Gather around me, kids. I want to tell you about the dream I had last night," I proudly announced.
"Oh no, Dad, not again, we'll be late for school!" the kids yelled back in unison.
"OK then, I just have one thing to say to you kids. Next time you kids require any disciplinary action, such as being grounded, the air conditioning will be turned off," I replied.
"Come on Dad, please give us a break!" the kids yelled back as they grabbed their lunches and off to school they went.
What did I do in reply? Just give a big smile and thank God for them all. Thank God for His many blessings, known and unknown, Amen!
Author's Postscript
Have you ever had an air conditioner break down in the heat of summer? I've been there and done that. Not so pleasant, I can assure you !
Remember the old cliché, "You never know what you have, till it's gone"? My definition: That's just how life is, secular life, that is. You don't appreciate what you have till you lose it. So make the best of any particular given situation. Do not allow problem or unfortunate circumstances, be it controllable or uncontrollable, to ruin your day or your life.
Now for the spiritual: If your soul has been redeemed, you will never have to wait till it's gone to realize what you had. God's love is eternal. (Genesis 21:33) God's love is real, (Ephesians 2:4-5) and His love is everlasting. (I Kings 8:27) You see, God's attributes belong to Him and Him alone, unlike those of mortal man. (John 7:24)
Unlike the common secular point of view, as Christian believers, we should never forget the good things God does for us all. (Psalm 103:2) He forgives our sins, heals our diseases, redeems our lives from death, and crowns us with love. (Psalm 103:3-4)
So today think not that we have to wait till it's gone to see what we may have missed. Simply take time to acknowledge God's abundance instead of overlooking the overflow of His blessings. You see, adding up your blessings will multiply your joy.
Remember the old hymn, "Count Your Blessings, Name Them One By One"? Let's change those lyrics too.
"Count Your Blessings, Name them Ton By Ton." Amen!