Jesus Baptized (series: Harmony of the Gospels)

(Woodruff, S.C.)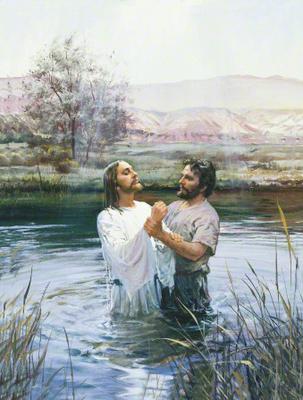 Harmony of the Gospels

-AD 27-
Jordan River
(1) Jesus Baptized

(Psalms 2:7) Matthew 3:3-17, Mark 1:9-11, Luke 3:21-23, John 1:29-34


Water baptism does not save you, but every believer should be baptized, because Jesus, Himself, commanded it. He said, "Therefore go and make disciples of all nations, baptizing them in the name of the Father, and of the Son and of the Holy Spirit. (Matthew 28:19) It was so important to Jesus that He went to John the Baptist to be baptized by him in the Jordan River. All four of the Gospels tell about His baptism.

-Matthew-

Then Jesus came from Galilee to the Jordan to be baptized by John. (Matthew 3:13)
It didn't just happen. Jesus sought out John and traveled a good distance for no other purpose than to be baptized. So why did Jesus want to be baptized? Well, let's go a little further.
But John tried to deter him, saying, "I need to be baptized by you, and do you come to me?" Jesus replied, "Let it be so now; it is proper for us to do this to fulfill all righteousness." Then John consented. (Matthew 3:14-15)


Why was Jesus baptized? There were several reasons, but Jesus in His reply to John gave the best one, "It is proper for us to do this to fulfill all righteousness." He was identifying Himself with sinful mankind, "…..Because he poured out his life unto death and was numbered with the transgressors." (Isaiah 53:12) He was not baptized to give us an example to follow. He did not need to repent. He was holy, harmless, undefiled and separate from sinners. He was baptized to completely identify Himself with mankind.


The second reason for His baptism is that water baptism is symbolic of His death. Christ's death was a baptism. He entered into death for you and for me. When James and John argued about who would set on His right side and on His left side in the Kingdom, Jesus said, "Are you able to drink of the cup that I shall drink of, and to be baptized with the baptism that I am baptized with?" He was of coarse talking about His death. (Matthew 20:22, KJV)


There is a third reason for Jesus' baptism. Now I am going to shock some of you, so be patient with me. We are saved by baptism. 1 Peter 3:21 says, "And this water symbolizes baptism that now saves you also; not the removal of dirt from the body but the pledge of a good conscience toward God. It saves you by the resurrection of Jesus Christ." Now Peter and I are both in trouble. Let me give a little more explanation. Our sin is put on Him, not in Him. There is an important distinction. Being identified with Him saves you and me. He identified Himself with us in baptism. To be saved is to be in Christ, and how do we get in Christ-by the baptism of the Holy Spirit. We must recognize that we have to be identified with Christ, and that is accomplished by the Holy Spirit. Our water baptism is a testimony to this. Now let me back up a step. We are saved by faith in Jesus Christ, but at that moment the Holy Spirit baptizes us into the body of Christ.


There are a lot of arguments going on today concerning baptism; such as what is the proper mode and what is its relevance. I don't want to get involved in an argument, so I will just make my opinions known and leave the arguing to the theologians.


As soon as Jesus was baptized, He went up out of the water. At that moment heaven was opened, and he saw the Spirit of God descending like a dove and lighting on him. And a voice from heaven said, "This is my son, whom I love, with him I am well pleased." (Matthew 3:16-17)

Here is a manifestation of the Trinity. The Holy Spirit rests upon Him and the Father speaks from heaven. The Lord Jesus is now identified with His people through baptism and God the Father and the Holy Spirit give Him their stamp of approval. What a wonderful Savior and King He is!


-Mark-

At that time Jesus came from Nazareth in Galilee and was baptized
by John in the Jordan. (Mark 1:9)
Jesus not only came from Nazareth, but He also came from heaven, where He shared glory with God. His baptism once again showed His humility and obedience to His Father. His first coming was wonderful because He came to save. But when He comes the second time it will not be to save, but to judge the world and to establish His kingdom.
As Jesus was coming up out of the water, he saw heaven being torn open and the Spirit descending on him like a dove. And a voice came from heaven: "You are my son, whom I love, with you I am well pleased." (Mark 1:10-11). Jesus, the servant is introduced by John the Baptist, and God the Father identifies Him and puts His stamp of approval on Him.
-Luke-
When all the people were being baptized, Jesus was baptizing too. And as he was praying, heaven was opened and the Holy Spirit descended on him in bodily form like a dove. And a voice came from heaven: "You are my son, whom I love; with you I am well pleased." (Luke 3:21-22)
Jesus Christ is the eternal Son of God, and God is the eternal Father. They existed as Father and Son throughout all eternity. Jesus Christ was God-man at His baptism. He maintained His divinity, but He left His glory in Heaven, with the Father.
-John-
The next day John saw Jesus coming toward him and said, "Look, the Lamb of God who takes away the sin of the world." (John 1:29)
John says that Jesus is the Savior. He is the complete Savior because He takes away the sin of the whole world. "Takes away" is current tense; anyone can come to Him at any time. In Genesis 22:7-8, Isaac said to his father Abraham, "The fire and wood are here, but where is the lamb for the burnt offering?" The answer is right here in the person of Jesus Christ. Abraham replied to his son, "God will provide himself a lamb." John identified Jesus as the "Lamb of God."
"This is the one I meant when I said, 'A man who comes after me has surpassed me because he was before me.' I myself did not know him, but the reason I came baptizing with water was that he might be revealed to Israel." Then John gave this testimony, "I saw the Spirit come down from heaven as a dove and remain on him. I would not have known him, except that the one who sent me to baptize with water told me, 'The man on whom you see the Spirit come down and remain is he who will baptize with the Holy Spirit.' I have seen and testify that this is the Son of God." (John 1:30-34)
John is saying that Jesus is the real baptizer. He will baptize with the Holy Spirit and with fire. John began by calling Him, "the one who will come after me." Now he calls Him the "Lamb of God" and the "Son of God." God revealed this to him.
Also, in these verses, he answers my question, "Did John know Jesus before he baptized Him?" It is clear that he did not know Him personally, but Jesus knew everything about John because:
• God the Holy Spirit revealed it to Him.
• Jesus and John were cousins, so Mary must have told Him some things. The Bible tells of one occasion when Mary went to visit John's mother who was pregnant with John. She was informed by the Holy Spirit that this baby was the Messiah. "At that time Mary got ready and hurried to a town in the hill country of Judea, where she entered Zechariah's home and greeted Elizabeth. When Elizabeth heard Mary's greeting the baby leaped in her womb, and Elizabeth was filled with the Holy Spirit. In a loud voice she exclaimed; "Blessed are you among women, and blessed is the child you will bear! But why am I so favored, that the mother of my Lord should come to me? As soon as the sound of your greeting reached my ears the baby in my womb leaped for joy. Blessed is she who has believed that what the Lord has said to her will be accomplished!" (Luke 1:39-45)