Jesus Before Herod -- Page 1 (series: Harmony of the Gospels)
by John Lowe
(Woodruff, S.C.)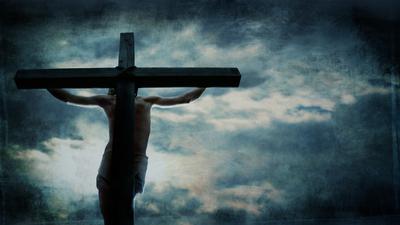 HARMONY OF THE GOSPELS


(32) Jesus Before Herod
Scripture: Luke 23:6-12


Tom Lowe
2/20/2008


Date: Friday of Jesus' Final Week
Place: Jerusalem


Jesus enters into the fourth phase of His trial. This time He is interviewed by Herod Antipas, who has wanted to see Jesus for a long time. He had heard the stories, but now He wants to meet the Savior to satisfy his curiosity and perhaps see a miracle. But Jesus never says a word, and that angers Herod and leads to His abuse by Herod's security force. Jesus is sent back to Pilate, whereupon a friendship is fashioned between these two men based on their common animosity toward Jesus.

 
6 When Pilate heard of TL1Galilee, he asked whether the man were a TL2Galilaean.
7 And as soon as he knew that he belonged unto Herod's jurisdiction, he sent him to Herod, who himself also was at Jerusalem at that time.

The previous lesson covered verses 1-7, which deals with Christ's appearance before Pilate. There we learned that when Pilate asked Jesus if He was the King of the Jews, He answered that He was. Pilate did not interpret His claim to be a threat to the Roman Emperor. After a private interview with Jesus, he turned to the chief priests and to the crowd saying that he could find no fault with Him. The mob became more insistent, accusing Jesus of stirring up disloyalty, beginning in despised Galilee (despised because it was the hotbed of revolution) and eventually going all the way to Jerusalem. When Pilate heard the word Galilee, he thought he had found an escape route for himself. Since Jesus was from Galilee, and since Roman law allows a person to be tried in the province where his crime was said to have been committed (which in this case was anywhere from Galilee all the way to Jerusalem) or in the province to which he belongs, and Jesus was a Galilean, he could be tried by a Galilean court. Galilee was Herod's (Herod Antipas) jurisdiction, and so, Pilate wanting to avoid any further involvement, in this case, sent Jesus the Galilean to Herod Antipas, the governor of Galilee. It so happened, that Herod was visiting in Jerusalem at that very time, for the Passover. Was it a coincidence? No! God prearranged it to fulfill the prophecy of David (1Ps. 2:2), as mentioned in 2Acts 4:26, 27, where the kings of the earth and the rulers set themselves against the Lord and his Anointed. It is expressly said to be fulfilled in Herod and Pontius Pilate.

There was a succession of Herods, who ruled in Palestine. The whole family was wicked; they were comparable to the modern-day mafia. Herod Antipas was the son of Herod the Great, who massacred the infants of Bethlehem. It was Antipas who murdered John the Baptist for condemning his illicit relationship with his brother's wife. This was the Herod whom Jesus called "that fox" in 3Luke 13:32.


8 And when Herod saw Jesus, he was exceeding glad: for he was desirous to see him of a long season, because he had heard many things of him; and he hoped to have seen some miracle done by him.

Herod was very glad to have Jesus appear before him, and perhaps even more glad because he was a prisoner. He had heard many things about Him and for a long time had hoped to see some miracle performed by Him. Jesus did most of His miracles in Galilee, where they were the talk of the countryside and had been for a long time. Herod longed to see him, not because he had a liking for him or his doctrine, but purely out of curiosity; and it was only to gratify his curiosity that he hoped to see some miracle done by him, which he could talk about for a long time afterward. Herod's interest in Christ was fueled by the fact that Christ reminded him of his late nemesis John the Baptist. Luke 9:7-9 attests to that; "Now Herod the tetrarch heard of all that was done by him: and he was perplexed, because that it was said of some, that John has risen from the dead; And of some, that Elias had appeared; and of others, that one of the old prophets has risen again. And Herod said, John have I beheaded: but who is this, of whom I hear such things? And he desired to see him."

Towards the close of Christ's ministry, certain Pharisees warned Jesus, "Get out and move on from here, for Herod wants to kill you." Did the presence of Jesus anywhere within the realm of the tetrarch bother his conscience?

Whatever the answer might be, Jesus is now a prisoner and is being brought before this same impenitent, restless, inquisitive, superstitious Herod Antipas. The latter is still as wicked as he was before. Though he had been repeatedly warned, there is no evidence of even an
inkling of repentance. He simply wants to be entertained by Jesus—he hoped to see Him perform a miracle. The evil king would make the Son of God into a court entertainer.
9 Then he questioned with him in many words; but he answered him nothing.
He questioned him about many things, but no matter how much Herod questioned the Savior, he received no answer. Perhaps he pumped him concerning things to come or his curing diseases. But Jesus refused to answer, and He refused to gratify him by doing even one miracle. The poorest beggar that asked for a miracle was never denied; but this proud prince, that asked for a miracle merely for the gratifying of his curiosity, is denied. He could have seen Christ and his wondrous works many times in Galilee, but he chose not to. Now that he wants to see one, Jesus ignores his request, and therefore it could be said, "Now he wants to see a miracle, and shall not; they are hidden from his eyes because he did not know the day of his visitation." Herod may have thought that now that Jesus was his prisoner, he could command a miracle, but miracles must not be made cheap.
Jesus performed no miracle and He spoke not a word. It is interesting that in all of Jesus' various interrogations, Herod was the only one to whom He refused to speak (
4
Matthew 7:6). Herod had promptly rejected the truth when he heard it from John the Baptist; so it would be pointless for Jesus to answer him (
5
Isaiah 53:7). Herod had silenced God's voice, and there was nothing left for him but divine judgment.
At this point, the Jews became more violent in their accusations, but Jesus remained silent.
10 And the chief priests and scribes stood and
6
vehemently accused him.
11 And Herod with his
7
men of war set him at naught, and mocked him, and arrayed him in a gorgeous robe, and sent him again to Pilate.
His prosecutors, who were in reality the chief priests, appeared against him before Herod. They stood, and
6
vehemently accused him. They would make Herod believe that Jesus had poisoned Galilee too with his seditious notions.
Herod was probably too scared to condemn Jesus to death. His conscience would not allow him to forget what he had done to another innocent man, John the Baptist. He was filled with haunting superstition, but he was probably too angry with Jesus to acquit Him, for his curiosity had not been satisfied. Jesus had refused to perform any miracle or to answer any of his questions.
Herod was very abusive to him: he, along with his soldiers, his entourage, his officers, and wealthy friends, treated Him as if He was worth nothing. What terrible wickedness! To make nothing of Him who made all things. They laughed at him and called Him a fool. They knew he had made many miracles to help others, and so, why wouldn't He do something miraculous now to make friends with them? Or, they laughed at him as one that had lost his power, and has become as weak as other men.
Herod, who had been acquainted with John Baptist, and had more knowledge of Christ than Pilate had, was more abusive to Christ than Pilate was; for knowledge without grace makes men more deceitfully wicked. All Herod could do, he thought, was to allow his soldiers to manhandle Jesus, and to mock Him by clothing Him in a gorgeous
8
robe and sending Him back to Pilate. In a few hours, Pilate's soldiers would do Him the same indignity; they would put a purple robe on Him and a crown made of thorns on His head.
12 And the same day Pilate and Herod were made friends together: for before they were at
9
enmity between themselves.
Previously, Herod and Pilate had been enemies. The reason for this is not stated. Some point to
10
Luke 13:1, which reports in a very gruesome manner that Pilot had ordered some of Herod's subjects (Galileans) killed. Whatever the reason was, they had been at
6
enmity between themselves, but now the enmity was changed to friendship. They were both on the same side against the Lord Jesus, and this united them. There is another reason for the restoration of this friendship; Herod was grateful to Pilate for helping him to see Jesus and for honoring him by seeking his counsel. The fact that Herod sent Jesus back to Pilate without issuing a verdict could be interpreted as, "Since we are not in Galilee, Pilate, you have the authority to act, and I will not interfere. Jesus is your prisoner, not mine. I know you will do the right thing." It was said by Theophylact: "It is a matter of shame to Christians that while the devil can persuade wicked men to lay aside their enmities in order to do harm, Christians cannot even keep up friendships in order to do good."