Jews and Greeks and Wisdom Part 6 of 7 (series: Lessons on 1st Co.)
by John Lowe
(Woodruff, S.C.)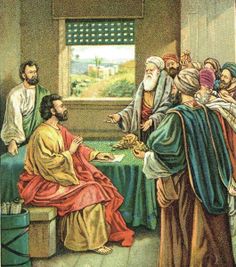 We—Paul and Apollos.
Christ crucified--The Greek doesn't express only the mere fact of His crucifixion, but the permanent character acquired by the transaction, whereby He is now a Savior (See Galatians 3:1). The crucified Savior was the stone on which the Jews stumbled (See the next line). The opposition of both Jews and Gentiles shows that a religion that was treated in such a disgraceful manner at it beginning could not have survived if it had not been divine.
Matt 16:24 (KJV) Then said Jesus unto his disciples, If any man will come after me, let him deny himself, and take up his cross, and follow me. If any man will come after me. Compare Mark 8:34-38, and Luke 9:23-27. The conditions of discipleship are presented. Let him deny himself. Let him be prepared to say "no" to many of the strongest cravings of his nature, more particularly to earthly ease, comfort, dignity, and glory. Take up his cross. Luke adds, daily; not once, but all the time. The cross is the pain of the self-denial required in the preceding words. The cross is the symbol of doing our duty, even at the cost of the most painful death. And follow me. To follow Christ is to take him for our master, our teacher, our example; to believe his doctrines, to uphold his cause, to obey his precepts, and to do it though it leads to heaven by the way of the cross.
Gal 3:1 (KJV) O foolish Galatians, who hath bewitched you, that ye should not obey the truth, before whose eyes Jesus Christ hath been evidently set forth, crucified among you?

unto the Jews a stumblingblock;
The Word stumbling-block, means anything in the way over which one may fall; likewise, anything that is offensive or that causes one to fall into sin. Here it means that, to the Jews, the doctrine that the Messiah was to be crucified gave great offense; excited, irritated, and exasperated them; so that they could not endure the doctrine, and treated it with contempt.

In Isaiah we have the prophesy that the long-anticipated Messiah would cause the nation of the Jews to stumble: "And he shall be for a sanctuary; but for a stone of stumbling and for a rock of offence to both the houses of Israel, for a gin and for a snare to the inhabitants of Jerusalem" (Isaiah 8:14; KJV). The New Living Translation has it this way: "He will keep you safe. But to Israel and Judah, he will be a stone that makes people stumble, a rock that makes them fall. And for the people of Jerusalem, he will be a trap and a snare." This prophecy came to pass when Jesus entered the arena of public ministry. The Jews who heard Him or heard about Him stumbled at the poor conditions of his birth, His parentage, and education, at his ministry, miracles, friendships, and followers; but especially at his sufferings and death: it was a point of stumbling to them that he would die at all, since they understood from their law, that Christ would live forever; and more than anything else, they could not, and would not, accept a Messiah that was crucified on a cross, by which, according to their law, he appeared to be accursed; and furthermore, this was a stumblingblock to them, because they expected an earthly kingdom to be set up by him. The Lord Jesus spoke about "a stone of stumbling" (See Matt. 21:42) of which it was said that if one stumbled on it, it will grind him to powder. Jesus was a stumblingblock to the Jews because they had an entirely different conception of the Christ. They had expected the Messiah would be a worldly prince, who would deliver and exalt their nation; so, to them, to present as their Messiah someone crucified as a malefactor was the greatest possible insult. Therefore, to them, he was "a stone that will make people stumble, a rock that will make them fall" (See Romans 9:33 and 1 Peter 2:8). To the Greeks this doctrine was foolishness, because to them, nothing can be more absurd to rational thinkers than that the blood of the cross can remove sin, promote virtue, and secure salvation; or that the preaching of that doctrine will one day convert the world. Paul, at one time, believed the same way; in fact, he was once outraged by a crucified Christ; it infuriated him that one obviously cursed by God (according to Deuteronomy 21:23) would be honored as Messiah and Lord. So, he persecuted the church before being confronted by Jesus on the road to Damascus (Acts 9).
Matt 21:42-44 (KJV) Jesus saith unto them, Did ye never read in the scriptures, The stone which the builders rejected, the same is become the head of the corner: this is the Lord's doing, and it is marvelous in our eyes? Therefore say I unto you, The kingdom of God shall be taken from you, and given to a nation bringing forth the fruits thereof. And whosoever shall fall on this stone shall be broken: but on whomsoever it shall fall, it will grind him to powder.
Romans 9:33 (KJV) As it is written, Behold, I lay in Sion a stumblingstone and rock of offence: and whosoever believeth on him shall not be ashamed.
1 Peter 2:8 (KJV) And a stone of stumbling, and a rock of offence, even to them which stumble at the word, being disobedient: whereunto also they were appointed.
Deut 21:23 (KJV) His body shall not remain all night upon the tree, but thou shalt in any wise bury him that day; (for he that is hanged is accursed of God;) that thy land be not defiled, which the LORD thy God giveth thee for an inheritance. For he that is hanged is accursed of God—That is, he has forfeited his life to the law; for it is written, Cursed is every one who continueth not in all things that are written in the book of the law to do them; and on his body, in the execution of the sentence of the law, the curse was considered as alighting.

and unto the Greeks foolishness;
The Greeks considered these things foolish-thinking and unacceptable to anyone who possessed a rational mind: that the Son of God was crucified; that riches should come through his poverty, and men be brought to a kingdom and glory through one so poor and wretched; that there was life for men in his death, and salvation through his crucifixion, or the shameful death of the cross; that blessings can come through his being made a curse; and that his death was an atoning sacrifice for the sins of men; and that men can be justified by One that was condemned; and peace and pardon would come by his blood; that he was raised from the dead; and that anyone who died such a humiliating death could not be divine. These things were the subject of their ridicule and banter, and, in their opinion, deserved to be laughed at instead of admired.

Now, we should say at this point, that the feelings of the Jews and of the Greeks on this subject are the common feelings of men. Sinners everywhere have the same views of the cross; and everywhere the human heart, if left to itself, rejects it, as either a stumbling-block or as foolishness. But the doctrine should be preached even if it is offensive to some and foolishness to others. It is the only hope of man; and only by the preaching of the cross alone, can sinners be saved.
Note: The Alexandrian copy, the Vulgate and all the oldest manuscripts read "unto the Gentiles."

24 But unto them which are called, both Jews and Greeks, Christ the power of God, and the wisdom of God.

But unto them which are called,
In this clause the phrase "them which are called", are the elect; those who are called externally by the Word and internally by the Holy Spirit, and respond with faith alone to be saved by God's grace. These are called out of darkness to be illuminated by the Spirit of God; they see wisdom, beauty, glory, excellence, and suitableness in Christ, and in his Gospel. The Apostle has said that not many are called, and of those who are called, very few are wise: For ye see your calling, brethren, how that not many wise men after the flesh, not many mighty, not many noble, are called" (1 Cor 1:26; KJV). The subject of "the elect" is ignored in most Protestant circles, except for the Reformed faith where I believe it is overemphasized, along with "predestination" and some other "big words." Do you want to know if you are one of the elect? Brother, sister, if you are saved you are; if you are lost, you are not. It is as simple as that. And that is the gist of these well-known verses. And we know that all things work together for good to them that love God, to them who are the called according to his purpose. Moreover whom he did predestinate, them he also called: and whom he called, them he also justified: and whom he justified, them he also glorified. (Romans 8:28, 30; KJV) The called are the true Christians, both of Jews and Greeks, who were by the preaching of the Gospel called or invited to the marriage feast, and have accordingly believed in Christ Jesus and were saved to the uttermost. The called or invited is a title that is frequently used in the New Testament for Christ's saints.

It should be noted that the elect of God, whether Jews or Gentiles, are not hindered by any stumblingblock from coming to Christ, so that they may find in him a sure salvation.

The Jews wanted a display of power; the Greeks sought wisdom. Both are found in Christ, and in the highest degree.