John the Baptist's Problem Part 3
by John Lowe
(Laurens SC, USA)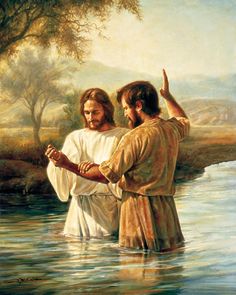 THE FINAL MIRACLE FOR YOU TO CONSIDER CONCERNS THE POOR. JESUS TOLD JOHN'S FRIENDS TO TELL HIM, "THE POOR HAVE THE GOSPEL PREACHED TO THEM."


JESUS SHOWED A SPECIAL LOVE AND CONCERN FOR POOR PEOPLE. IN FACT, HIS MESSAGE WAS FOR THE POOR. HE DIDN'T SPEND MUCH TIME PREACHING TO PHARISEES, RULERS AND OTHER WEALTHY MEN; FOR YOU SEE WEALTH WILL RUIN MOST PEOPLE.REMEMBER THOSE WORDS OF JESUS, "IT'S EASIER FOR A CAMEL TO GO THROUGH THE EYE OF A NEEDLE THAN IT IS FOR A RICH MAN TO GO TO HEAVEN."

ON ONE OCCASION, A MAN DESCRIBED ONLY AS A CERTAIN RULER CAME TO JESUS AND ASKED, "WHAT MUST I DO TO HAVE ETERNAL LIVE." THIS MAN KNEW THAT HE MUST LOVE GOD AND REPENT OF HIS SINS, BUT HE WAS SHOCKED WHEN JESUS WENT ON TO SAY HE MUST SELL EVERYTHING HE HAD, GIVE THE MONEY TO THE POOR AND FOLLOW HIM.
YOU SEE, JESUS LOOKED INTO THE MAN'S HEART AND HE COULD TELL THAT HE LOVED HIS RICHES MORE THAN ANYTHING ELSE. THAT DAY, THIS CERTAIN RULER WALKED AWAY FROM JESUS JUST AS LOST AS HE WAS WHEN HE CAME TO HIM. I HEARD SOMEONE SAY, "JESUS MUST LOVE POOR PEOPLE, BECAUSE HE MADE SO MANY OF THEM." THAT'S A TRUE STATEMENT, SINCE JESUS DOES LOVE POOR PEOPLE. BUT, HE ALSO LOVES EVERYONE ELSE; HE DOESN'T WANT ANYONE TO PERISH. SIN AND WEALTH ARE A LOT ALIKE, BECAUSE BOTH OF THEM WILL RUIN A PERSON. A PERSON CAN GO SO FAR INTO SIN THAT THERE IS LITTLE HOPE OF THEM EVER COMING TO CHRIST. SIN HARDENS THE HEART, SEPERATES GOD AND MAN, AND PUTS A PERSON INTO A DOWN-HILL SPIRAL THAT LEADS TO THEIR DESTRUCTION. SIN GIVES SATAN A BEACHHEAD IN YOUR HEART, FROM WHICH HE CAN EVENTUALLY TAKE OVER.

THE LAST POINT TO BE MADE IS THIS, "JESUS CONQUERS ALL."

HE SHOWED HIS POWER OVER SIN AND DEATH BY THE MIRACLES HE DID. IT WAS PROOF THAT HE WAS THE PROMISED MESSIAH AND THE SON OF GOD. PAUL SAID WE BECOME MORE THAN CONQUERORS THROUGH FAITH IN THE LORD JESUS. IT'S THE SPIRIT OF GOD THAT HE PLACES WITHIN OUR HEART WHEN WE ARE SAVED THAT GIVES US THE VICTORY OVER SIN.

BUT WHY
DID HE SAY WE ARE "MORE THAN CONQUERORS?" I BELIEVE THAT PAUL IS REMINDING BELIEVERS OF THEIR FUTURE. WE HAVE A BLESSED HOPE; THAT IS, WE BELIEVE THE PROMISE OF ETERNAL LIFE AND OF A HOME IN HEAVEN.
WE ARE MORE THAN CONQUERORS BECAUSE WE ARE SONS AND DAUGHTERS OF OUR HEAVENLY FATHER.
CONCLUSION
DO YOU BELIEVE IN JESUS, OR DO YOU HAVE DOUBTS LIKE JOHN THE BAPTIST. IF JESUS CAME TO OUR MEETING TODAY, WOULD YOU ASK HIM, "ARE YOU REALLY GOD'S SON, AND CAN YOU REALLY GIVE FORGIVENESS AND ETERNAL LIFE TO THOSE WHO BELIEVE IN YOU?" JESUS MIGHT GIVE YOU THE SAME ANSWER HE GAVE JOHN. HE MIGHT SAY, "LOOK AROUND AT THE PEOPLE OF GOD, AND LISTEN TO THEIR TESTIMONY. YOU BE THE JUDGE!"
FRIENDS, I CAN SAY THAT I AM ALIVE TODAY BECAUSE HE HEALED ME AFTER EACH OF MY NINE SURGERIES. I BELIEVE SOME OF YOU COULD TELL HOW YOU HAVE BEEN HEALED OF A VARIETY OF ILLNESSES. AND ANOTHER THING; THE GOSPEL IS STILL BEING PREACHED AND JESUS IS STILL IN THE SAVING BUSINESS. FOLKS, JESUS IS STILL WORKING MIRACLES. THE GREATEST MIRACLE OF ALL IS SALVATION. I DON'T UNDERSTAND HOW GOD CAN TAKE ANY SINNER MAN OR SINNER WOMAN AND CHANGE THEM, SO THEY GIVE UP THE OLD HABITS AND BEGIN TO LOVE GOD. IF YOU ARE A CHILD OF GOD, THEN YOU ARE DIFFERENT THAN YOU USED TO BE. IN FACT, YOU'RE BETTER, AND YOU'RE GOING TO CONTINUE TO GET BETTER. THERE ARE MIRACLES EVERYWHERE I LOOK THIS MORNING, BECAUSE IF YOU ARE A BORN-AGAIN BELIEVER, YOU ARE A MIRACLE.
THE LAST WORD IS THIS. "JESUS SAID, I HAVE COME TO SEEK AND TO SAVE THOSE WHO ARE LOST!" HE IS HERE TODAY SEEKING THOSE WHO ARE LOST. HE WANTS TO SAVE TO THE UTTERMOST ANYONE WHO WILL BELIEVE IN HIM. IF YOU FEEL A DESIRE IN YOUR HEART TO BE FORGIVEN AND TO BE SAVED, IT'S BECAUSE JESUS HAS CLAIMED YOU FOR HIS OWN, AND HE IS CALLING YOU TO COME TO HIM. WILL YOU COME AND RECEIVE JESUS AS SIERRA PLAYS? IF YOU BELONG TO GOD, WILL YOU BOW YOUR HEAD AND PRAY FOR THOSE AROUND YOU. PRAY FOR THOSE WHO NEED TO COME AND RECEIVE JESUS.
AMEN.