Joseph of Arimathea part 2
by John Thomas Lowe
(Woodruff, S.C.)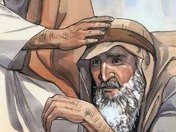 part 2
6. He was wealthy
Matthew 27:57 also points out that Joseph of Arimathea was a rich man. This is evident in the way the Bible describes Joseph:
• He was a prominent member of the Jewish Council (Mark 15:43)
• He had an unused tomb cut out of the rock (John 19:41)
• The tomb was located in a garden (John 19:41)
7. He cared for Jesus
However, Joseph of Arimathea's riches did not restrict his character, personality, or devotion, as can be seen in how he and Nicodemus treated Jesus after His death. Joseph of Arimathea boldly asked for Jesus' body, took Jesus down from the cross, and lovingly and carefully wrapped His body in linen.
8. He was courageous
"Joseph of Arimathea...who was himself waiting for the kingdom of God, coming and taking courage, went into Pilate and asked for the body of Jesus" (Mark 15:43). This passage only mentions Joseph, and no one else, approaching Pilate and asking for Jesus' body. Imagine the courage and faith it would have taken to do this by yourself.
9. He was a planner
Joseph of Arimathea had a tomb prepared for his burial. He planned and was ready for his death. However, Matthew 27:60 says that Joseph of Arimathea laid Jesus' body "...in his new tomb which he had hewn out of the rock; and he rolled a large stone against the door of the tomb, and departed." He was preparing a burial place for his death, but when he saw his Master's need, Joseph of Arimathea quickly and willingly laid Jesus in his tomb "where no one had ever lain before" (Luke 23:53).
Joseph of Arimathea is a biblical figure mentioned in all the four gospels of the New Testament as the man who buried Jesus Christ after his crucifixion. Joseph probably belonged to the Sanhedrin. He asked Pontius Pilate for permission to bring Jesus's body down, bathed it with spices, rolled it up in cloth, and buried it in a cave with the help of Nicodemus. Over the years, his story has been retold and has given rise to multiple legends. One of them states that Joseph went to England with Jesus and established Christianity there. Another version states he carried the Holy Grail to England. Joseph is considered a saint by both the Eastern and Western churches.
The Bible has a way of repeating itself. All of Scripture is worthy of deep study and meditation, and the reader should take special note of everything in it. There are no wasted words in Scripture (2 Timothy 3:16-17). The Gospels (Matthew, Mark, Luke, and John) each have accounts of the life of Jesus while He "wore flesh" on Earth. The four Gospels do not share all the same reports, but Joseph of Arimathea and his role related to the burial of Jesus is mentioned in each.
Conclusion:
As you look at Joseph of Arimathea and his character, why not reflect upon your life and devotion to Jesus? Although not much is said about this man, Joseph of Arimathea's actions helped remove the shame of Jesus hanging on the cross overnight and provided burial for Jesus.
Perhaps another question to ask is, who is your true Master? What have you done for your Master's recently? Will you, like Joseph of Arimathea, use your position, money, and courage to stand for what is right?