Justification is by Faith Alone: Page 1 of 4 (series: Lessons on Romans)
by John Lowe
(Woodruff, S.C.)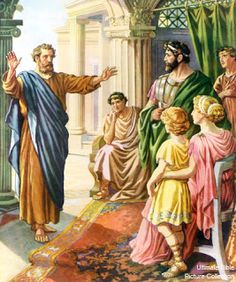 (13) Justification is by Faith Alone

Romans 3:21–31

21 But now the righteousness of God apart from the law is revealed, being witnessed by the Law and the Prophets,

We now come to the heart of the Letter to the Romans, when Paul answers the question: According to the gospel, how can ungodly sinners be justified by a holy God? He begins by saying that the righteousness of God has been revealed apart from the law. This means that a plan or program has been revealed by which God can righteously save unrighteous sinners, and that it is not by requiring men to keep the law. Because God is holy, He cannot condone sin or overlook it or wink at it. He must punish it. And the punishment for sin is death. Yet God loves the sinner and wants to save him; there is the dilemma. God's righteousness demands the sinner's death, but His love desires the sinner's eternal happiness. The gospel reveals how God can save sinners without compromising His righteousness.

The righteousness of God. The righteousness of God is neither an attribute of God or the changed character of the believer. As defined in II Corinthians 5:21, the righteousness of God is Christ Himself, who met every demand of the law for us in our stead, and is "made unto us … righteousness" (I Cor 1:30). God's righteousness is demonstrated and communicated to us through the Cross. This righteousness is apart from the law. This expression is a strong expression emphatically stating that righteousness is given totally separate from any law. Hebrews 4:15 proclaims that the Lord Jesus was tempted in all points as we are "yet without sin." Just as sin and Jesus Christ have nothing in common, so too righteousness was not revealed in keeping the law, but it was seen at the Cross when "He (God the Father) hath made him (God the Son) to be sin for us, who knew no sin; that we might be made the righteousness of God in him" (II Cor 5:21).
This righteous plan is witnessed by the Law and the Prophets. It was foretold in the types and shadows of the sacrificial system that required the shedding of blood for atonement. And it was foretold by direct prophecies (see Isa. 51:5, 6, 8; 56:1; Dan. 9:24). Every time a man took his sacrifice to the Temple for a sin offering, confessed his sin, and killed the animal, he was testifying that he had faith in a righteousness that was not his own. Therefore, the Law bears witness to an external righteousness that God provides, but the Law itself cannot provide. Likewise the prophets were witnesses to this righteousness. The "Law and the prophets" refer to the entire Old Testament. Jesus did not come to do away with the Law of Moses and the words of the prophets; He came to fulfill the predictions of the Messiah and His kingdom and He fulfilled the Law by obeying it perfectly.

22 Even the righteousness of God, through faith in Jesus Christ, to all and on all who believe. For there is no difference.
The righteousness of God, through faith in Jesus Christ. A more understandable phrasing is "We are justified when the righteousness of God is applied to us 'through faith in Jesus Christ.'" The righteousness of God then does not come to one who simply has faith in God, but to those who by faith claim the name of Jesus Christ. Saving faith in Christ is a necessary part of the righteousness God provides. "Nor is there salvation in any other, for there is no other name under heaven given among men by which we must be saved" (Acts 4:12).

Verse 21 told us that this righteous salvation is not obtained on the basis of law-keeping. Now the apostle tells us how it is obtained—through faith in Jesus Christ. Faith here means utter reliance on the living Lord Jesus Christ as one's only Savior from sin and one's only hope for heaven. It is based on the revelation of the Person and work of Christ as found in the Bible.

Faith is not a leap in the dark. It demands the surest evidence, and finds it in the infallible word of God. Faith is not illogical or unreasonable. What is more reasonable than that the creature should trust his Creator?

Faith is not a commendable work by which a man earns or deserves salvation. A man cannot boast because he has believed the Lord; he would be a fool not to believe Him. Faith is not an attempt to earn salvation, but is the simple acceptance of the salvation which God offers as a free gift.

To all and on all who believe. God's righteousness is provided unto all men. It is to all in the sense that it is available to all, offered
to all, and sufficient for all. We therefore go into the entire world and preach the gospel to every creature. "And He said to them, "Go into all the world and preach the gospel to every creature" (Mk 16:15). However, even though this righteousness is provided unto all, it is nevertheless applied upon only those who believe in Jesus Christ as Savior. This is the only conditional element of the gospel. This righteousness is placed upon us as a covering when by faith we receive Jesus Christ as Savior. Righteousness is from God, through Jesus Christ, to all who receive Him by faith.
For there is no difference. The Jew has no special privilege and the Gentile is at no disadvantage. In this verse, there is no difference between the need of the Jew and the Gentile. That need is explained in the expression for all have sinned (v.23). But just as there is no difference in human need, likewise there is no difference in divine provision. "For there is no distinction between Jew and Greek, for the same Lord over all is rich to all who call upon Him. For "'whoever calls on the name of the Lord shall be saved'" (Rom 10:12–13).
23 For all have sinned and fall short of the glory of God.
Sin has been defined as any thought, word, or deed that "misses the mark" and "falls short of God's standard of holiness and perfection. Sin is not only doing what is wrong; it is also the failure to do what one knows to be right. "Therefore, to him who knows to do good and does not do it, to him it is sin" (Jas. 4:17). Whatever is not of faith is sin. "But he who doubts is condemned if he eats, because he does not eat from faith; for whatever is not from faith is sin" (Rom. 14:23). This means that it is wrong for a man to do anything about which he has a reasonable doubt. If he does not have a clear conscience about it, and yet goes ahead and does it, he is sinning. "All unrighteousness is sin" (1 Jn. 5:17). And the thought of foolishness is sin (Prov. 24:9). Sin begins in the mind. When encouraged and entertained, it breaks forth into an act, and the act leads on to death. Sin is often attractive when first contemplated, but hideous in hindsight. Sin is often identified as deeds, such as stealing, murder, adultery, or lying (Ex. 20:1–17; Deut. 5:1–21). However, a more fundamental attitude deep within the human heart underlies all "sins" and is expressed as "I know better than God in this matter." This attitude led Eve to that first, fatal, disobedient act in the Garden of Eden. Adam had told her that God had forbidden the eating of the fruit, but when the fruit was presented to her as good, pleasant, and desirable, she allowed her own judgment to take precedence over the Word directly from God, and she ate the forbidden fruit. "But of the fruit of the tree which is in the midst of the garden, God has said, 'You shall not eat it, nor shall you touch it, lest you die.'…So when the woman saw that the tree was good for food, that it was pleasant to the eyes, and a tree desirable to make one wise, she took of its fruit and ate. She also gave to her husband with her, and he ate" (Gen. 3:3, 6). God has not given us His Word so we can make a reasoned evaluation of His judgment and decide whether or not we want to obey. He has given us His Word because that Word is truth and life, and we are to obey it without question and with unhesitating confidence. To follow our own judgments in disobedience of God's Word is to put self in the place of God, no matter how innocent or noble the deed may seem. "There is a way that seems right to a man, But its end is the way of death" (Prov. 14:12).
For all have sinned. The Gospel must be made available to everyone for all have sinned. What's more, everybody sinned in Adam; when he sinned, he acted as the representative for all his descendants. But men are not only sinners by nature; they are also sinners by practice. Although men differ greatly in the nature and extent of their sinfulness, there is absolutely no difference between the best and the worst of men. God, who cannot lie said, "All have sinned." "All" includes you. You have sinned against God by thought, word and deed. You have committed sins of commission and sins of omission. In the sight of God, you are a lost sinner, until you have been saved through faith in Christ. Have you accepted Him as Savior and Lord?