Justification is by Faith Alone: Part 4 of 4 (series: Lessons on Romans)
by John Lowe
(Woodruff, S.C.)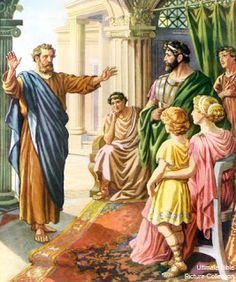 Paul is not here simply teaching monotheism as opposed to heathen polytheism. As a Jew, a Hebrew of the Hebrews, but the called apostle to the Gentiles, Paul is the bridge between the Jew and the Gentile. But his message has made both one in Christ. "There is neither Jew nor Greek, there is neither slave nor free, there is neither male nor female; for you are all one in Christ Jesus" (Gal 3:28). The Lord Jesus Christ did not die for one race of mankind but for the whole world of sinners. And the offer of full and free salvation goes out to whosoever will, Jew or Gentile.


30 Since there is one God who will justify the circumcised by faith and the uncircumcised through faith.

Are there two Gods—one for the Jews and one for the Gentiles. There is only one God and only one way of salvation for all mankind. He justifies the circumcised by faith and the uncircumcised through faith. Paul no doubt had in mind here the "Shema" of Israel, "Hear, O Israel: The Lord our God, the Lord is one!" (Deut. 6:4). This one God, who is over Jews and Gentiles, will justify all who come to Him regardless of background (circumcised or uncircumcised) on the basis of the same human condition—faith.

Why does Paul say that the Jews come by faith and Gentiles through faith?" Paul probably used this wording to give greater emphasis to the truth that we all come the same way; by faith. However, he wanted to show that the Jews, who were the born heirs of the promise, had a long history with God to base their faith upon. But the Gentiles, who had previously been strangers to the covenant of promise, had faith base
d
on God's word. But regardless how they got it, they both had to come to God the same way—by faith.
31 Do we then make void the law through faith? Certainly not! On the contrary, we establish the law.
Do we then make void the law through faith? Because God saves through faith and not through keeping the law, does this make
the Law useless? Paul gives his characteristic answer; On the contrary, we establish the law. Faith in Christ is the proper response to the law, for what the law could not do, Christ alone can do. The teaching that justification is by faith alone does not destroy the Law. It completes the Law, fulfills it, and makes it meaningful. Justification by faith alone honors the Law, because prior to Jesus Christ no one ever honored the Law by perfectly keeping it. Since the Lord Jesus did, faith in the finished work of Christ on Calvary brings the ultimate respect to the Law.
If the gospel establishes (proves) the law, how does it do it? This is how: The law demands perfect obedience. The penalty for breaking the law must be paid. That penalty is DEATH. If a lawbreaker pays the penalty, he will be lost eternally. The gospel tells how Christ died to pay the penalty of the broken law. He did not treat it as a thing to be ignored. He paid the debt in full. Now anyone who has broken the law can avail himself of the fact that Christ paid the penalty on his behalf. Thus, the gospel of salvation by faith upholds the law by insisting that its utmost demands must be and have been fully met.
The Jew has tried to be a good man and to keep the law because he is afraid of God and terrified of the punishment that breaking the Law would bring. That day is gone forever. But what has taken its place is the love of God. Now a man must try to be good and keep God's law, not because he fears God's punishment, but because he thinks he must work to deserve that amazing love. (We know that no amount of work will make a person worthy of salvation, but it does bring God's approval and future rewards.) He strives for goodness, not because he fears God, but because he loves Him. He knows now that sin is not so much breaking God's law as it is breaking God's heart, and, therefore, it is twice as terrible.