Keeping Warm at the Enemy's Fire Part 2
by John Lowe
(Laurens SC, USA)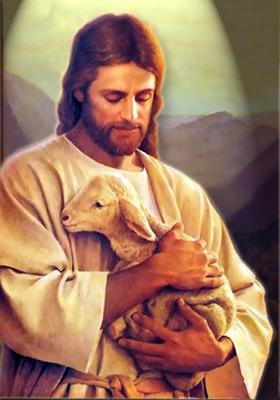 The Lord Jesus Christ prayed for you today.
It may be that you did not pray for yourself but He prayed for you.
Paul wrote, "For we do not wrestle against flesh and blood, but against principalities, against powers, against the rulers of the darkness of this age, against spiritual hosts of wickedness in the heavenly places."
The enemy whom the Christian is to fight is not flesh and blood.
The enemy is spiritual, and the warfare is spiritual.
That is why we need spiritual power.
It is only God's armor which can withstand the strategy and onslaught of Satan who has all kinds of spiritual missiles.
We need an antimissile system if we are going to overcome him.

That is why it is so important for the Christian soldier to recognize that he does not fight an enemy who is flesh and blood.
We are not to fight other men.
The enemy is spiritual, and the warfare is spiritual.
The devil is the enemy of every believer and the one here whom we are told to fight.
The way to victory over the devil is to obey the commands to "put on the whole armor of God" and "to stand."
Jesus taught us by the Lord's Prayer, to pray for deliverance from the evil one.
We pray, "And do not lead us into temptation, but deliver us from the evil one."

Deliver us from the evil one—deliver us from the devil.
Today Satan is an awful reality.
The world has tried many times to get rid of him.
They laughed at Martin Luther who threw an inkwell at him.
But recently we have had a turn of events.
As we work in any church we become the conscience of the presence of God and also dreadfully conscience of the presence of Satan.
But we have this plea to our Heavenly Father, "Deliver us from the evil one."
We can say along with Paul, "I thank God—through Jesus Christ our Lord!"
He is the one that we are going to have to thank because He is the only one who can deliver us.
Now, this is the last thought for you to consider; Peter felt the pressure to conform.

What was the vulnerable spot for Peter?
It was this—he let himself be guided by those around him.
Is this entirely wrong?
A healthy concern for what others think is an asset.
But Peter went beyond this concern and allowed his actions to be molded by those around him.
A dialog between Jesus and Peter, recorded in Matthew 16, illustrates this peer pressure.
Jesus was talking about His coming rejection and death when Peter strongly reacted, "Far be it from You, Lord; this shall not happen to You!"
In essence, Peter said, "You are the Messiah; You are the Son of God. You must not, You cannot go to the cross!"
The cross was not in the thinking of the apostle at all, as you can see.

Peter's concept of the Messiah did not include Jesus as the Suffering Servant.
Instead, Peter subscribed to the popular concept of the victorious Messiah conquering the Romans and reestablishing the throne of David.
Jesus rebuked him: "Get behind Me, Satan! You are an offense to Me, for you are not mindful of the things of God, but the things of men."
It is satanic for anyone to deny the facts of the gospel which is that Jesus died on the cross for our sins, was buried and rose again from the dead.

Imagine this: Here is Peter by whom the Spirit of God could say that Jesus was the Son of God, and yet he could in the next moment let Satan deceive him!
There was yet another time when Peter exhibited the tendency to yield to the prevailing social pressure.
Paul describes what happened in Galatians 2.
"Before certain men came from James, (Peter) would eat with the Gentiles; but when they came, he withdrew and separated himself, fearing those who were of the circumcision."

This is probably what happened.
When the time came to eat, Paul and Peter ate at the Gentile table.
They had never tasted pork before, and they were delighted at the taste.
As they dined, Paul commented to Peter, "Isn't it wonderful that under grace we can eat what we want. It makes no difference because what you eat doesn't commend you to God."
The next day, they were joined at dinner by a group from the Jerusalem church, who had come for a visit.
Paul once again ate from the Gentile table, but Peter looked over at the visiting elders and went all the way around the Gentile table.
He went to the kosher table and sat down like a little whipped puppy.

Peter knew the Lord was no respecter of persons, but he was afraid to resist the pressure of a strong group in the church.
Peter was a strong man but not strong enough to stand against the values of immature Christians—even though they were against God.
What are we to do in the face of compromising peer pressure?
I believe that Paul has the answer.
He says to do what is pleasing to God.
"And do not be conformed to this world, but be transformed by the renewing of your mind, that you may prove what is that good and acceptable and perfect will of God."

In this verse, Paul is urging the believer not to fashion his life and conduct by those around him, even those in the church.
Instead, we are to allow the Spirit of God to renew our mind.
By yielding to the will of God for his life the believer finds that it is first good, and then it's acceptable, and finally, it is perfect, in that the believer's will and God's will are equal to each other.
That's why Paul could say, "I can do all things through Christ who strengthens me."
The believer can do all things that are in God's will.
In the mid-1800's two distinguished statesmen delivered addresses before a British university.

Benjamin Disraeli said, "If you would succeed, know the temper and spirit of the times in which you live and act accordingly."
William Gladstone said, "Do not drift with the age. Have fixed principles and stand by them."
At the enemy's campfire, Peter did drift with the age and lived to regret it.
There is something I never noticed before, even though I have read these verses many times. It is in this line; "and when you have returned to Me." It must have gone over Peter's as it did mine; Jesus is saying to Peter, "You are going to deny me and you will leave me and go back to fishing, but eventually you will return to me, and I will welcome you back. You are going to be a great preacher!" Peter would return to Jesus and he would have a faith that would never again betray our Lord. Jesus predicted it and it happened just like He said it would, because He was God, and He made it happen.

Conclusion
In the days following Jesus' resurrection, some of the disciples had breakfast with the Lord beside the Sea of Galilee.
Three times Jesus asked Peter if he loved Him and then He told Peter that he would have to suffer for Him.
Peter pointed to John and asked, "But Lord, what about this man?"
Jesus answered, "If I will that he remain till I come, what is that to you? You follow Me."
Our Lord is saying, "Look, Simon Peter, you are going to die for Me. What John does is none of your business. Even if he lives until I return, that does not effect what you are to do. You follow Me."

The tension was still present; it was still difficult for Peter to face God's will.
The same crucial question that confronted Peter confronts us as well: "What will you do with Christ?"
You can't pass the decision off to someone else.
You must decide.
The pressure of others offers convenient options.
The warmth of the enemy's fire is appealing.
But with the help of the Holy Spirit, let's be faithful to God.
May the Lord hear us say, "Yes, I know Jesus—He is my Lord!"

Is Jesus your Lord?
He wants to be.
I want to pray with you today.
Let me know if you are not sure that if you died right now that you would go to heaven.
God loves you and Jesus died for you.
You are dismissed, but if you would like for me to pray with you, just stay in your seat and I will come to you.
Amen.