Knowledge, Love, and Idols - Page 7 (Lessons on First Corinthians)
by John Lowe
(Woodruff, S.C.)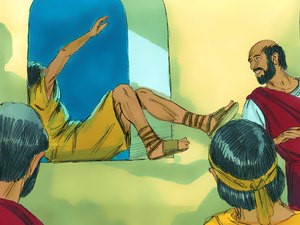 by whom are all things,

"By whom," means by whose authority; or through whom, as the producer. The word "by" stands in contrast to "of" in the second clause of the verse; and obviously means, that though "all things" derived their existence from God, who is the Fountain and Author of them, yet they come to us "by" the ministry or actions of the Lord Jesus. This doctrine, that the Son of God was the great agent in the creation of the world, is taught elsewhere in the Scriptures: "All things were made by him; and without him was not any thing made that was made" (John 1:3; KJV).

"Are all things" refers to the universe; no words could better express the idea of the universe than these; and the declaration is therefore unmistakable, that the Lord Jesus created all things. Some explain that this is a reference to the "new creation," as if Paul had said that all things pertaining to our salvation were from him. But the objections to this interpretation are obvious:
(1.) It is not the natural meaning.
(2.) The phrase "all things" naturally denotes the universe.
(3.) The context of the passage requires that we understand that it refers to the universe. Paul is not speaking of the new creature; but he is speaking of the question whether there is more than one God, one Creator, one Ruler, over the wide universe. The heathen said there was; Christians disagreed. The scope, therefore, of the passage requires us to interpret it to be the vast material universe; and the obvious assertion here is, that the Lord Jesus was the Creator of it all: everything in nature; all the created beings of this, or the other world, whether visible or invisible, thrones, dominions, principalities, and powers, are by him; no creature was made without him; and added to that is grace, our election, redemption, reconciliation, pardon, justification, and everlasting glory and happiness.

And we by him.
We are redeemed by him from sin, Satan, the law, death, and hell; we are by him
as far as what we have become, as Christians, as believers in him; by him we have access to the Father, and fellowship with him; by him we are governed, influenced, protected, and preserved for his kingdom and glory; and by him we are, and shall be, saved with an everlasting salvation. We were redeemed by him, and we are brought to God by him. We Christians or, we as men have derived our existence "by" or through him; this applies to our original creation and to our new creation, where we are placed in him. Probably the idea is, that all that we have, as men and as Christians, our lives and our hopes, are through him, and by his agency.
"And we," have been brought to the knowledge of the true God by him, by the revelation of Jesus Christ; because it is the only begotten Son alone that can reveal the Father. The gods of whom the apostle speaks were their divinities, or objects of religious worship; the lords were the rulers of the world, such as emperors, who were considered next to gods, and some of them were deified. In opposition to those gods he places GOD the Father, the fountain of abundance and being; and in opposition to the lords he places Jesus Christ, who made and who governs all things. We, as creatures, live because of God the Father, who is the fountain of our being: and, as Christians, we live by or through Jesus Christ; by whom we are bought, enlightened, pardoned, and saved and "for whom we exist."
Paul had said, in respect to God the Father of all that we were in him; he says here that in regard to the Lord Jesus, we are by him, or by his agency. The sense is, "God is the author, the former of the plan; the source of being and of hope; and we are to live to honor him: but Jesus is the agent by whom all these things are made, and through whom they are conferred on us."