Lesson 1: Dear Ephesians (Ephesians series) Part 2 of 3
by John Lowe
(Woodruff, S.C.)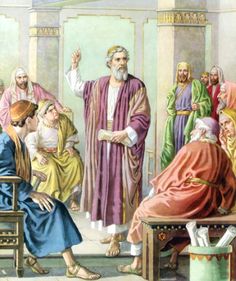 Thus Paul—the littlest one—was enabled to fulfill his calling. He had a deep consciousness that it was God, not man, nor even his own aspirations that had brought him into the service of the Lord Jesus Christ. A Christian must never be filled with pride in any task that God gives him to do; he must be filled with wonder that God thought him worthy of a share in His work. To the end of his life, Paul was amazed that God could have chosen a man like him to do His work.
"How Thou canst think so well of us,
And be the God Thou art,
Is darkness to my intellect,
But sunshine to my heart."

God is sovereign—but the sovereignty of God does not destroy the free will of individuals, as we will clearly see in our study of Ephesians. Paul was a chosen vessel to make known the mystery hidden from the foundation of the world, but revealed to us upon whom the ends of the world have come. Knowing that he was an apostle by the sovereign will of God, Paul wanted every believer to know and be assured of the same spiritual truth. Let me repeat: "The sovereign will of God and the sovereign grace of God do not destroy the free will of individuals."

"Paul, an apostle of Christ Jesus by the will of God." Paul rested his apostleship upon the will of God rather than any personal ambition or will of man or request of the church. He wrote to the Galatians: "But when it pleased God, who separated me from my mother's womb, and called me by his grace, To reveal his Son in me, that I might preach him among the heathen . . ." (Galatians 1:15-16). Paul said to Timothy: "And I thank Christ Jesus our Lord, who hath enabled me, for that he counted me faithful, putting me into the ministry; Who was before a blasphemer, and a persecutor, and injurious: but I obtained mercy, because I did it ignorantly in unbelief" (1 Timothy 1:12-13). Paul made constant reference to the "will of God" as the foundation of his apostleship. You can check 1 Corinthians 1:1; 2 Corinthians: 1; Colossians 1:1; 2 Timothy 1:1. He said it in all these places.

"To God's holy people in Ephesus." Here, I prefer the English Standard Version (ESV)," which says, "To the saints who are in Ephesus, and are faithful in Christ Jesus," to the New International Version (NIV)," undoubtedly because I love the thought that God thinks of me as a saint. The readers of this letter are described in several ways. They are saints, they are at Ephesus, and they are also faithful in Christ Jesus. Please notice the term saint is used to denote all those in the church in Ephesus. Some of the other names given Christians during the apostolic period are "believers," "disciples," "followers of the way," "brethren," and "Christians." By saints nowadays we mean virtuous in goodness, or people who have been canonized by the Roman Catholic Church as great Christians.

According to the New Testament all born-again Christians—young and old, rich and poor, wise and simple—are saints. Saint refers to the believer's standing in Christ, and is applied to even the most unworthy believer. If you will read the first and second letters Paul wrote to the Corinthians, you will note that some of these dear people certainly did not act like a saint—but in spite of their carnality, they were saints because they were born again and were members of the body of Christ. All believers are saints because all believers are "in Christ." They have been set apart ("sanctified") or reserved for God's special purposes. For Paul becoming holy is the natural fruit of becoming a saint. For a person becomes a saint, not by years of hard work leading to promotion among the spiritual elite when the Christian life ends, but by the spiritual resurrection and transformation with which it begins.

The Christian is a man who always lives a double life. Paul's friends were people who lived in Ephesus and in Christ. Every Christian has a human address and a divine address; and that is precisely the secret of the Christian life. Where ever the Christian is, he is still in Christ.

"The faithful in Christ Jesus." These saints are also faithful. That is, they were people who had put their whole trust in Jesus as Son of God, Lord, and Savior. The expression "in Christ Jesus" suggests not only that He was the object of their faith but that they enjoyed a living union with Him. Geographically they were at Ephesus, but spiritually they were in Christ Jesus.

Faithfulness also describes their response to God's grace—they were full of trust that led to obedience. "Faithful" is the description of the believer when he lives the kind of life that every saint of God should live. If we are what we should be as a believer, we will be faithful in all that we do and say and in all that we are, for Christ's sake. The word, "faithful," means "believing ones" and is thus a description of all true Christians. Of course, believers should also be faithful in the sense that they are reliable and trustworthy. But the primary thought here is that they had acknowledged Christ Jesus to be their only Lord and Savior.

We are saints—and we should be faithful because we are in Christ Jesus. Listen to these glorious verses:
• In Colossians 1:27 Paul declares, ". . . Christ in you, the hope of Glory."
• Again, "There is therefore now no condemnation to them which are in Christ Jesus" (Romans 8:1).
• Again, "For ye are dead, and your life is hid with Christ in God" (Colossians 3:3).
• "Therefore if any man be in Christ, he is a new creature" (2 Corinthians 5:17).
Notice in all of these Scriptures we are declared to be "in Christ" if we are children of God.

Someone may be asking, "How do we get in Christ?" Our Textbook gives us the answer: "For as the body is one, and hath many members, and all the members of that one body, being many, are one body: so also is Christ. For by one Spirit are we all baptized into one body, whether we be Jews or Gentiles, whether we be bond or free; and have been all made to drink into one Spirit" (1 Corinthians 12:12-13).

We become a member of the body of Christ—bone of His bone, flesh of His flesh (Ephesians 5:30) through the baptism of the Holy Ghost; and this occurs the instant, the split second, we believe on the Lord Jesus Christ as our personal Savior. Jesus declares, "Except a man be born of the spirit he cannot enter the kingdom of God" (John 3:5). The spiritual birth through the power of God is imperative if we would enter the kingdom of God. We are saints because we are in Christ Jesus. All believers should be faithful because we are saints in Christ Jesus.

We are told, "But he that is joined unto the Lord is one spirit" (1 Corinthians 6:17). We belong to Him, and there's nothing as wonderful as that. "There is therefore now no condemnation to them which are in Christ Jesus . . ." (Romans 8:1). Can you improve on that? Being in Christ Jesus is the great accomplishment of salvation. The Lord Jesus said, "Abide in me, and I in you . . ." (see John 15:4). How wonderful! We are in Christ. I can't explain it; it's so profound; but, perhaps these analogies may help to explain it:
The Bird is in the air; the air is in the bird.
The fish is in the water; the water is in the fish.
The iron is in the fire; the fire is in the iron.

The believer is in Christ and Christ is in the believer. We are joined to Him. The head is in the body and the body is in the head. My body can't move without the head directing it. The church, which is "the body of Christ" is in Christ, the Head. All the truths of Ephesians revolve around this fact.

2Grace and peace to you from God our Father and the Lord Jesus Christ.
"Grace and peace to you." Ancient letters opened with greetings. Paul transforms the usual formula, elevating it to new Heights. As an apostle, he writes with Christ's authority. He wishes them nothing less than grace and peace—from both the Father and His Son.

"Grace" is God's amazing favor and love, not only unmerited by us but also actually de-merited, because we don't thank Him and we keep on doing the same old sins. This letter is full of it (see 1:6, 7; 2:4-5; 3:2, 8). This single word summarizes the first three chapters Paul is about to write, in which he will expound its origin and the means by which He expresses it.

"Grace" always has two main ideas in it. The Greek word is charis which could mean charm. There must be a certain loveliness in the Christian life. A Christianity which is unattractive is not real Christianity. Grace always describes a gift, and a gift which it would have been impossible for a man to procure for himself, and which he never earned and in no way deserved. Whenever we mention the word grace, we must think of the sheer loveliness of the Christian life and the sheer undeserved generosity of the heart of God.

The grace of God is the means by which He saves us. You must know the grace of God before you can experience the peace of God. You must have grace before you can experience peace. "Therefore being justified by faith, we have peace with God through our Lord Jesus Christ"(Romans 5:1).