Lesson 15 - Consider Paul's Imprisonment as a Reason to Rejoice - Page 2 of 2 (Lessons on Philippians)
by John Lowe
(Woodruff, S.C.)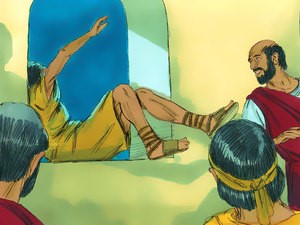 (2:18) So you too should be glad and rejoice with me.
In other words, "If your life commends the gospel, my life is just poured out as a drink offering. Together we will rejoice over this." It is a walk in humility. Only a person with the mind of Christ could be as poured out as a drink offering. How very gloriously wonderful is that.

Throughout Philippians, we see Paul as the Christlike model of joyful Christian maturity. He projects his personal joy as a motive for their obedience: "Fulfill ye my joy" (Philippians 2:2) and "Rejoice with me" (2:18). This is not a selfish plea but an example of true joy. Sixteen times in this letter Paul addresses the lofty subject of the believer's joy. This sublime quality was the driving desire of the apostle's life. Spiritual joy finds its source in the Lord and its substance in the gospel―His saving work in the lives of people. That's why Paul's joy was deeply affected by the Philippians' response to this epistle as they lived worthy of the gospel and progressed in their spiritual maturity.

The last clause of verse 17, "with all of you," suggests that Paul regards the church as a unit and is not siding with any one faction. If he was serving them he was serving all of them. If he was to have joy and rejoicing in them, he would recognize God's grace in all of them.

Paul ends on a note of joy and rejoicing. Today we often "rejoice" over the wrong things. We need to rejoice over the fact that Jesus died for us and that we can serve Him. When we hear of someone whom God is using or hear of a wonderful church where people are being saved and built up in the faith, we ought to rejoice. If we are walking in humility, we will rejoice at the success of others. We have too much strife and vainglory. That was hurting the cause of Christ in Paul's day, and it still hurts the cause of Christ. The mind of Christ in the believer will bring joy and will bring glory to God.




Join in and write your own page! It's easy to do. How? Simply click here to return to John Lowe Sermons.
© 2008-2028 - All rights reserved.

No content on preachology.com may be printed or

copied to any other site without permission.