Lesson 15: With No Sorrow Concerning Those Who Have Died - Page 2 (series: Lessons on 1 Thess.)
by John Lowe
(Woodruff, S.C.)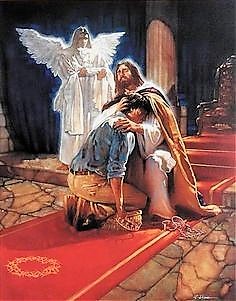 [1} "We are confident, I say, and would prefer," We are cheerful in our present state, being assured of future happiness; though we choose rather "to be away from the body"; that is, to die, to depart out of this world. The interval between death, and the resurrection, is a state of absence from the body, during which time the soul is disembodied, and exists in a separate state; not in a state of inactivity and sleep, for that would not be desirable, but of happiness and glory, enjoying the presence of God, and praising of Him, believing and waiting for the resurrection of the body, when both will be united together again; and after that there will be no more absence, neither from the body, nor from the Lord:

"and at home with the Lord". This was promised to Christ in the everlasting covenant that all his spiritual seed and offspring should be with him. This he expected; it was the joy of this which was set before him, that carried him through his sufferings and death with so much cheerfulness; this is the sum of his prayers and intercession, and what all his preparations in heaven are on the account of. It is this which supports and comforts the saints under all their sorrows here, and which makes them meet death with pleasure, which otherwise is formidable and disagreeable to nature; and even desirous of parting with life, to be with Christ, which is far better.


14 For we believe that Jesus died and rose again, and so we believe that God will bring with Jesus those who have fallen asleep in him.

In this one short statement the faith of the believer is expressed in brief, understandable terms. The same message is found in Romans 10:9-10―the same verses I have used when revealing the way of salvation to the lost: "If you declare with your mouth, "Jesus is Lord," and believe in your heart that God raised him from the dead, you will be saved. For it is with your heart that you believe and are justified, and it is with your mouth that you profess your faith and are saved."

For we believe that Jesus died and rose again
We have hope in Christ. That is good news. That means that we do not face sin but grace, not punishment but pardon, not judgment but mercy, not defeat but victory, not death but life, not the temporal but the eternal. The resurrection of Jesus provides us unspeakable hope for the future. Paul exclaimed, "For we believe that Jesus died and rose again, and so we believe that God will bring with Jesus those who have fallen asleep in him." What an intimate phrase, "fallen asleep in him." Jesus surrounds them as they slip into rest. The Bible says, "Or if we live, we live for the Lord, or if we die, we die for the Lord; therefore whether we live or die, we are the Lord's. For to this end Christ died and lived again, that He might be Lord both of the dead and of the living" (Romans 14:8-9). Paul speaks of Christ not as sleeping but as dying. In the New Testament there are two distinct strands of teaching about death. On the one hand it is the most natural of all things and is an inevitable part of the conditions of our earthly existence. On the other hand it is completely unnatural, a horror, the result of sin. Christ in His death bore the wages of sin. He endured the worst that death can possibly be. Thereby He transformed the whole position of those who are in Him. It is because there was no easing of horror of death for Him that there is no horror in death for His people. For them it is just sleep.

If we believe that Jesus died on the cross and God raised Him from the dead, all the fundamentals of Christianity are wrapped up in this declaration of faith. If we believe that God raised up Jesus from the dead, we believe Christ is divine (Romans 1:4); we also believe that through His death we have justification (Romans 4:25), and that if Jesus was raised from the dead, His blood was divine and through His shed blood we have redemption and remission of sins (Colossians 1:14, 20; 1 John 1:7). The resurrection is the heart and soul of Christian faith. If we refuse to believe in the bodily resurrection of Jesus, our preaching is vain, our faith is vain, our hope is vain, we are of all men most miserable, and we are traveling day by day, step by step toward the lake that will forever burn with fire and brimstone. Read carefully 1 Corinthians 15:20-34, Romans 8:29, and Colossians 1:18.

Paul laid down a great principle. The man who has lived and died in Christ is still in Christ even in death and will rise in Him. Between Christ and the man who loves Him there is a relationship which nothing can break; a relationship which overpasses death. Because Christ died and rose again, so the man who is one with Christ will rise again.

and so we believe that God will bring with Jesus those who have fallen asleep in him.
In the Greek, the words "fallen asleep in him," read "them which fell asleep in Jesus." Because of His death and resurrection from the dead, the sting and fear of death have been removed for believers. Those in the Thessalonian church who had died in the Lord had not fallen into death―but had simply fallen asleep in Jesus. To the believer, death has no sting, no power―and the fear of death is removed in the fact that Jesus conquered death and emerged victorious from the tomb. Therefore, all who fall asleep in Jesus are not dead, but are resting from their labors. The works they leave behind will continue to bear fruit until the Church is complete and caught up to meet Jesus in the clouds in the air, where we will receive our rewards at the marriage supper of the Lamb (Rev. 14:13; 2 Cor. 5:10).

The resurrection was the great event that demonstrated that death really was conquered. The resurrection is the great triumphant act wherein the divine quality of the Christian gospel is conclusively demonstrated. In the light of the resurrection there can be no doubt that God was in Christ, and if God was in Christ, then, just as He raised His Son, so in due time He will raise those who "have fallen asleep in" Jesus. The resurrection is the guarantee of the Christian hope.

God will bring along with Jesus those Believers who have fallen asleep in Him―for the God who raised His Son from the dead will also raise up all believers who fall asleep in Jesus (2 Cor. 4:14; Eph 1:19-20).

The tremendous truth Paul is attempting to get across to the believers at Thessalonica is that Jesus died and rose again, and because He died and conquered death, He made a pathway through the grave. By this pathway true believers who fall asleep before the Rapture will be conducted into the place where they will be at rest until Jesus comes, and at that time they will appear with Him in the air.