Lesson #19 ID3b The Encouragement toward Maturity part 2
by John Lowe
(Woodruff, S.C.)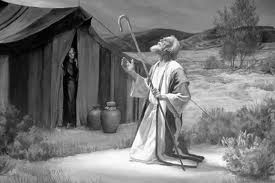 Abraham praying
(6:2) instruction about cleansing rites (Or about baptisms), the laying on of hands, the resurrection of the dead, and eternal judgment.


The next two items (baptisms and laying on of hands) has to do with a person's relationship to the local assembly of believers. In the New Testament, a person who repented and trusted Christ was baptized and became a member of a local church (Acts 2:41-47). The word baptisms in Hebrews 6:2 is plural and can be translated "washings" (Heb. 9:10). Doctrine of Baptisms ("washings") has nothing to do with New Testament baptism. They refer to the washings of the Old Testament rituals, and there were many of them. The Hebrew believers were wanting to return to these things which were only shadows; they were the negatives from which the spiritual pictures were developed. They prefigured Christ, the reality. While water alone can never remove sin (1 Pe. 3:21), baptism is a symbol of spiritual cleansing (Get up, be baptized, and wash your sins away, calling on His name"─ Acts 22:16), as well as our identification with Him in death, burial, and resurrection (Rom. 6:1-4). The laying on of hands (Heb. 6:2) symbolized the sharing of some blessing (Luke 24:50; Acts 19:6) or the setting apart of a person for ministry (1 Tim. 4:14).

"Laying on of hands" was also an Old Testament ritual. When a man brought an animal offering, he laid his hands on its head to signify his identification with it. The animal was taking his place on the altar of sacrifice.

The last two items, the resurrection of the dead (Acts 24:14-15) and eternal (final) Judgment (Acts 17:30-31), have to do with the future. Both Orthodox Jews and Christians believe in these doctrines. The Old Testament teaches a general resurrection but does not make the doctrine clear. The New Testament teaches a resurrection of the saved and a resurrection of the lost (John 5:24-29; Rev. 20:4-6, 22-15); but now, they needed to come up to the resurrection of Christ and to the living Christ.

The six foundational truths of the Christian faith:
1. Repentance from dead works. Dead works are works performed by men dead in trespasses and in sins, without any life or love in them, wrong often in the substance of them, and always wrong in the manner and purpose of them. The expression "dead works" refers to the works of the ceremonial law under the Levitical system. They were performed by men in the flesh and therefore could not satisfy the holiness and righteousness of God.
2. Faith in God. It is impossible to conceive of any but a heartless, hypocritical, profession of any form of piety, unless it is accompanied with a firm and abiding belief in the existence, perfections and government of God. He that cometh to God must believe that He is a rewarder of them that diligently seek Him (Heb. 11:6). True faith in God always leads the soul to accept of the Lord Jesus as He is faithfully offered in the gospel, and of the Holy Spirit as the Sanctifier, Comforter and Guide. Faith also respects all that God has spoken. It practices no eclecticism respecting the truths of the Bible. It has hearty and real delight in learning, in doing, and in suffering the will of God. It is not dead but operative. Nothing imparts
more energy to the soul.
3. The doctrine of baptism. There are two baptisms in the Christian church─ one of water, and the other of the Spirit; one, emblematical, the other, the thing set forth by the emblem; the one, administered by man, the other by the Lord. The dictionary of New Testament words says that the usual word for baptism is not used here, but another form of the word is used, which elsewhere is rendered "washings."
4. The doctrine of laying on of hands. In scripture the phrase "laying on of hand or hands is used in three very diverse senses. Sometimes it indicates punishment or violence (Gen. 22:12; 37:22). Sometimes it denotes an act of confession over a victim, to which guilt is ceremonially or typically transferred (Lev. 4:24; 16:21). But neither of these pertains to the Christian doctrine spoken of here. And so the laying on of hands in this place must refer either to an act of blessing, an act of prayer, or an act of imparting a spiritual gift (Gen. 48:14; Num. 27:18; Mark 16:18). Since God the Father has laid on Christ the iniquities of us all, it is no longer necessary for the Jewish High Priest to "lay on hands." They must look to Him who is the resurrection and the life, instead of believing in the doctrine of the resurrection as taught by Judaism.
5. The doctrine of the resurrection of the dead. The friends of Christianity do not hesitate to admit that this doctrine is still around and in all coming ages of the world will be vital and essential to those, who would be saved. Listen to what Paul had to say: "If there be no resurrection of the dead, then is Christ not risen: and if Christ be not risen; then is our preaching futile, and your faith is also futile. Yea, and we are found false witnesses of God," (1 Cor 15:13-15).
6. The doctrine of eternal judgment. It is called eternal because its decisions will be called irreversible and their effects everlasting. Christian doctrine teaches eternal judgment for the wicked, but no judgment to those who are in Christ Jesus (John 5:24; Rom. 8:1).
These six foundational truths have nothing to do with the foundation of Christianity. At first glance they seem to refer to the doctrine of Christianity, but closer examination will prove otherwise. It is important to see that these six things are parenthetical. They constitute an explanation of what the apostle meant by "having left the beginning of the Word of Christ."
(6:3) And God permitting (God's will be done), we will do so.
The first clause is clear enough; it expresses Paul's desire to raise his Hebrews from their present low estate of attainment to a completeness of Christian character; but he admits that neither he nor they could do this on their own and so he adds "And God permitting." The dependence of good men upon God for grace and strength to make advances themselves or to be truly and largely helpful to others in their march to glory is absolute. It ought to be consistently kept in mind and adoringly declared.
The lesson of the three verses (Heb. 6:1-3) is clear: "You have laid the foundation. You know your ABCs. Now move forward! Let God carry you forward to maturity!"