Lesson 26 - Slaves and Masters Page 2 of 2 (series Lessons on Ephesians)
by John Lowe
(Woodruff, S.C.)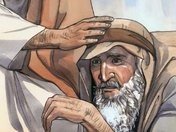 7 With good will render service, as to the Lord, and not to men,


In Matthew 6:1-7, 16-21, Jesus clearly teaches that whatsoever we do we should do to the glory of God. . . we should not do it to be seen of men, but "AS TO THE LORD," and if we do what we do as to the Lord, He who sees in secret will reward us in full, openly, "at that day." Paul said, "For I know whom I have believed, and am persuaded that He is able to keep that which I have committed unto Him against that day" (2 Timothy 1:12b).

I am glad that whatsoever we commit unto the Lord Jesus, He is very capable and able to protect and keep for us until "that day" when we stand before Him to receive our just reward. Servants, give your master good measure . . . heaped up, pressed down, running over. Do it as unto the Lord—not to please men, but because you are a son of God.

Were you to review the life of Jacob, Lot, David and others I'm sure you would find that God's love wondrously covers sin when sin is confessed and forsaken. But forgiveness, past, present and future, depends upon Calvary—because at Calvary God was at His best, delivering heaven's best for earth's worst—and only through the shed blood at Calvary can such grace be bestowed upon sinners.

Therefore, if God so loved us, we certainly ought to love Him; and if Jesus served out of a heart of love in order that we might have salvation, if we claim to be followers of the Lord Jesus we should serve out of a heart of love.

I wish I could get this across to all believers who work in public work: According to Dr. Bob Jones, Sr., one of the old-time saints, "IT IS A SIN TO DO LESS THAN YOUR BEST." To every born again person who is in public work, let me say, you may get by with a lot of things. You may play on the job and get away with it. You may say, "Well, all of the other employees take their liberties. They stand and talk, they kill time . . . why shouldn't I?" I will be very happy to answer that for you: The poor unbeliever is working only for a salary—but my dear brother and sister in Christ; you are serving the Lord even though you work in a textile plant, a plastic plant, or any other commercial work. You are on your honor. Your employer may trust you in every detail; but if you kill time on the job you are grieving the Lord. We who are saved are to do whatsoever we do to the glory of God. As a believer we should give our employer a good full hour for every hour we are paid for. If he pays us for eight hours and we give him seven and a half, we have stolen a half hour of our pay. IT IS WRONG TO DO LESS THAN YOUR BEST, regardless of what you are doing.

Christianity is not a fire insurance policy against hell. We are the only Bible this careless world will read. We are God's signboards in a sinful world. Men watch us, and they judge Jesus by the way we live, work, act, and talk. The most menial tasks—even cleaning out the gutters, janitoring at the church or a public building—the most menial routine of drudgery must be done AS UNTO THE LORD, and if we fail, we are not failing our employer—we are failing our Savior. We are not to do what we do to please men; we are not to do what we do to be seen of men. A person, who stands idle on the job until the footsteps of the boss are heard and then runs to take up his tools or his position at his desk, is a poor specimen of Christianity. You should not serve your boss or employer any less faithfully when he is in another city or another state, than you serve him when he is standing beside you where you work! Remember—AS SONS OF GOD, WE ARE TO DO ALL TO THE GLORY OF GOD.

8 knowing that whatever good thing each one does, this he will receive back from the Lord, whether slave or free.

"KNOWING THAT WHATSOEVER GOOD THING ANY MAN DOETH, THE SAME SHALL HE RECEIVE OF THE LORD, WEATHER HE BE BOND OR FREE." Think of it! Knowing that whatsoever good we do―if we do it as if we were working for the Lord; as if the Lord signed our paycheck―we shall be blessed by the Lord usually in kind. The Lord keeps a strict
and careful account of all services rendered by His children—from the greatest to the most humble task. The Lord Jesus is a faithful Paymaster—nothing misses His eye, nothing is overlooked by Him. The Lord keeps a record of whatever we do—even to the giving of a cup of cold water in His name. Or if, as the widow, we have only two mites to give, that most humble of gifts will not go unrewarded. We will receive "in full" from our Paymaster when we are rewarded for our stewardship. The Christian slave can know that his Heavenly Master will not fail to recompense his work. Every "GOOD THING" done, whether by "BOND OR FREE," is known to the Lord and shall be rewarded by His grace.
To those of you who are masters, let me give a warning: Do not be a slave driver. Do not be lords over God's heritage. Do not be overbearing and threatening, because you, too, have a Master—even the Lord of heaven—and one day you will stand before Him. I am sure you want your Master to deal with you in mercy, love and kindness—but remember, as we sow—we reap!
9 And masters, do the same things to them, and give up threatening, knowing that both their Master and yours is in heaven, and there is no partiality with Him.
Paul now turns to Christians who were slave owners. Why doesn't he tell them to free their slaves? Probably many Christians did exactly that. But in effect that would have had no immediate impact on the practice of slavery. Did Paul realize that God has His time and place for everything, and understand that sometimes more is accomplished through deprivation than through liberty? It is the suffering of believers rather than their prosperity that God characteristically uses to advance His kingdom and build His church.
But the Christian master had then (and has now) important responsibilities. As owner and employer the gospel must transform his perspective. He is called to serve Christ, to be a master who expresses in practical ways what it means to be a new man in Christ. But masters are to do the same to them (i.e. their slaves). That is, despite very different social spheres both master and slave live out the same kingdom principles in all of their relationships.
As a result, in sharp contrast to many ungodly slave owners, the Christian MASTER does not threaten
The ESV translation―"stop your threatening" suggests that some Christian masters still needed to work this principle through, as doubtless some Christian fathers needed the words "do not provoke your children. . ."6:4
. Grace transforms threats into encouragement. Imagine what a surprise it must have been to slaves whose master was converted when the spirit of the entire household was transformed!
The Christian MASTER does not show partiality. Like his MASTER he will begin to demonstrate grace without qualifications. The MASTER realizes that he is not lord. Christ alone is, and He is Lord of both SLAVES and MASTER. Before Him both are equal. He judges all by the same impartial, divine standards; therefore, the master who is over the servant is not a special one in the eyes of the Master in heaven. They are all in the same category—sinners who need a Savior; and we are all saved in the same way—through the finished work of the Lord Jesus Christ.
This is a unique view of life. One lesson it teaches us is how muddleheaded it is to regard work and witness as two different realities for the Christian. We witness in the work we do, by the way we do it—as if we were doing it for the Lord Jesus Christ. If we are His, we are.
Have you learned that the gospel can work anywhere, under any circumstances? The grass always seems greener somewhere else! The gospel's power is not dependent on favorable human situations or sympathetic people but on the power of God, the grace of Christ, and the presence of the Holy Spirit. This made first-century slaves free men and women in Christ long before the abolition of slavery.
If the gospel of Jesus Christ can work under those circumstances, it can surely work where you spend forty hours or more each week.
Summing Up
Before leaving this section of our study of John's Revelation, let me point out that you will receive from the hand of Almighty God exactly what is coming to you—no more, and no less. As we sow, so shall we reap. As we treat those who are under us, so shall we be treated when we receive the reward for our stewardship. You may rest assured that faithful service unto the Lord will receive a full reward, while unfaithful service will certainly cause your reward to be burned.