Lesson 5: The Manner of His Preaching: Part 3 of 3 (series: Lessons on 1 Thessalonians)
by John Lowe
(Woodruff, S.C.)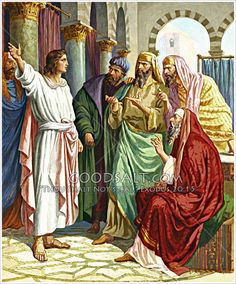 6 We were not looking for praise from people, not from you or anyone else, even though as apostles of Christ we could have asserted our authority.

Verse 6 indicates that Paul was accused of seeking personal prestige. It is the preacher's constant danger that he should seek to display himself and not the message. In 1 Thessalonians 1:5 there is a suggestive component. Paul does not say, "I came to you." He says, "Our Gospel came to you." The man was lost in his message.

The third point Paul makes is that he and his associates had not sought the esteem of people, whether from the Thessalonians or any others (which might mean other Christians or other people in general). Here he claims that they did not seek praise for themselves, the emphasis being on the inner state of the preachers. The preachers did not look for commendation. They may have received it, and they certainly deserve it, but Paul's point is that they did not seek it. Their motives were pure.

Paul speaks of the "apostles of Christ." We read of the appointment of the apostles in Mark 3:14-15, where Jesus chose twelve men "that they might be with him and that He might send them out to preach and to have authority to drive out demons." This gives us the primary function of the apostles. They were to preach in Christ's name and perform certain miracles. After Judas fell, the early church took steps to see that his place was filled. But they neither selected nor commissioned Matthias. They recognized that God had already chosen a successor (†Acts 1:24), and when, in answer to their prayer, God showed who the new apostle was, they simply numbered him with the eleven (†Acts 1:26). In the same vein Paul stressed that his apostolate was not of human origin (†Galatians 1:1).

The phrase "we could have asserted our authority" is literally "being able to be in weight" (NEB: "we might have made our weight felt"). This is the weight of influence which someone enjoys or claims," and it means to "wield authority, insist on one's importance."

Since at least Silas and possibly Timothy are included in the term "apostles," it cannot be used here in its highest meaning of those directly called by Christ, but carries the broader sense of "missionaries," i.e. those who have been commissioned and sent out by the church (†Acts 13:4). The success of their mission, in spite of sustained opposition, was due largely to their courage inspired by God.

Gentleness is not often a respected quality. Power and assertiveness gain more respect in our society, even though none of us like to be bullied. Gentleness is love in action—being considerate, meeting the needs of others, allowing time for the other person to talk, and being willing to learn. It is an essential trait for both men and women. We all need to maintain a gentle attitude in our relationships with others. In reminding the Thessalonians of his conduct, he says five times what it did not involve: deception, people-pleasing, flattery, greed, and being a (financial) burden (2:5-9). It is a veritable catalog of what preachers should avoid.

It is interesting here to recall Jesus' words: "Among the nations those who are seen as rulers over the Gentiles lord it over them. . . . but it shall not be so among you. Rather, whoever wishes to be great among you will be your servant" (Mark 10:42-43). Paul's actual conduct accords with Jesus' instructions.


† (Acts 1:24) "Then they prayed, "Lord, you know everyone's heart. Show us which of these two you have chosen."
† (Acts 1:26) "Then they cast lots, and the lot fell to Matthias; so he was added to the eleven apostles."
† (Galatians 1:1) "Paul, an apostle--sent not from men nor by a man, but by Jesus Christ and God the Father, who raised him from the dead."
† (Acts 13:4) "The two of them, sent on their way by the Holy Spirit, went down to Seleucia and sailed from there to Cyprus."


7 Instead, we were like young children among you. Just as a nursing mother cares for her children,

The meaning is that when they preached in Thessalonica the apostles spoke as simply as possible, as simply as babies. It is a strong expression for the extreme lengths to which they went to meet the needs of their hearers.

Paul speaks of being "among you," though some versions have "in the midst of you." He then compares his behavior to that of a mother (but the Greek means "a nurse") among children. A nurse in such a position could be relied upon to give the children the most tender care. Paul claims to have given care like this to the Thessalonians. So far from trying to make gain of them he had become one of them. He had lavished affectionate care on them.

Some who have read this verse believe that Paul was charged with being something of a dictator. His gentleness was that of a wise father. His was the love which knew how to be firm. To him Christian love was no easy sentimental thing; he knew that men needed discipline, not for their punishment but for the good of their souls.


8 so we cared for you. Because we loved you so much, we were delighted to share with you not only the gospel of God but our lives as well.

All this had followed naturally enough from the fact that Paul and his companions had shared such a deep regard for the Thessalonians. Now he employs a very unusual word to express it. It expresses a real depth of desire: "we loved you so much" brings out much of its significance.

When Paul speaks of the gift they made, he puts "the gospel of God" first. Even when he is putting the emphasis elsewhere, he never loses sight of the fact that it was the Gospel that gave the reason for the very existence of the preachers. They were "slaves of Christ." They lived to render service to God. The particular service to which they were called was the imparting of the blessing of news of the salvation that God Himself had made available to sinners through the atoning death of his Son. Nothing must ever obscure that great fact.

By "lives" he means their whole personality; his expression sums up their innermost being. Thus he is saying that in their preaching the apostles were totally committed to preaching the Gospel without concern for their own safety (also see 2 Corinthians 12:15; Philippians 2:17). Paul had come to see the Thessalonians as the objects of God's love, and therefore the objects of the love of God's servants too.

Rather than being greedy (v.5) the missionaries "were delighted to share" with the Thessalonians. They not only gave the message of eternal life, "the gospel of God," but also imparted their own innermost beings (literally, "our own souls") as well. They gave whatever they had in order to help the beloved Thessalonians. The love of Paul and his companions is evident, for genuine love finds expression in giving to people—not only to their spiritual needs, which are primary, but also to their physical needs.