Lesson 7: For Their Faithfulness Part 3 of 4 (series: Lessons on 1 Thess.)
by John Lowe
(Woodruff, S.C.)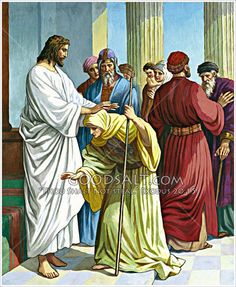 The fact that we shall one day stand at the Judgment Seat of Christ ought to motivate us to be faithful in spite of difficulties. We must remember that faithfulness is the important thing―"Now it is required that those who have been given a trust must prove faithful" (1 Corinthians 4:2). At the Judgment Seat of Christ, our works will be judged and rewards will be given (Romans 14:10-12; 1 Corinthians 4:1-5; 2 Corinthians 5:9-10). In his letters, Paul often pictured rewards as crowns. The word used signified the "victor's crown" at the races, not the royal crown of the king.


Paul did not say that he would receive a crown, though this is suggested. He said that the saints themselves would be his crown when he met them at the Judgment Seat. To be sure, some of the believers in the church were not living as they should, and some were a burden to Paul. But when he looked ahead and saw them in glory, they brought joy to his heart.

This joy of creating believers in heaven also brings with it a solemn warning: we will lose joy if we go to heaven empty-handed. The Christian who has not sincerely tried to win others to Christ will not experience this glory and joy when Jesus Christ returns. It is not enough to "wait for His Son" (1 Thessalonians 1:10). We must also witness for God and work for His Son, so that when we get to heaven, we will have trophies to presents for His Glory. There is a special joy and reward for the soul winner (Daniel 12:3; see note 19.1).

There is also a crown for the believer who subdues his body and keeps it controlled for the Glory of God (1 Corinthians 9:24-27). Self-control is produced by the Spirit (Galatians 5:23). Since our bodies are God's Temples, we must be careful not to defile them. The ultimate in giving the body to God is dying for His sake; and for this there is a crown (Revelations 2:10). Those who lovingly look for Christ's appearing will receive the "crown of righteousness" (2 Timothy 4:8). The faithful pastor can anticipate the "crown of Glory" (1 Peter 5:4).

The fact that God promises rewards to us is another evidence of His grace. God could demand our service simply on the basis of all He has done for us. Our motivation for serving Him is love. In His grace, he gives us rewards so that we may have something to give Him in return.

"Don't give up!" Paul encouraged them. "Lay hold of the spiritual resources you have it in Jesus Christ. You have the Word of God within you, the people of God around you, and the glory of God before you. There is no need to give up."

(note 19.1) "Those who are wise will shine like the brightness of the heavens, and those who lead many to righteousness, like the stars for ever and ever" (Daniel 12:3). That are wise, not in things natural and civil, but in things spiritual; who are wise unto salvation.


Scripture: 1 Thessalonians 3:1-10 (NIV)
The theme of this chapter is that the coming of Christ is a purifying hope. It will change your life, affect your life-style, if you hold to the hope of the rapture of the church; that is, the eminent coming of Christ for His own. If that doesn't affect your life, you don't really believe it. It is just sort of a theory or a philosophy with you. This theme becomes the very heart of the epistle, and we will be dealing with it from chapter 3 through verse 12 of chapter 4.

1 So when we could stand it no longer, we thought it best to be left by ourselves in Athens.

So—this important word ties this chapter back in with what Paul had talked about in the previous chapter: the family relationship that exists in the church. He had been a mother to the church, a father to them, and a brother. He had led them to the Lord, and he loved them. He said that they would be his glory and his joy at the coming of Christ, at the appearance of the Lord Jesus Christ, when all believers will receive their rewards.

Paul longs to return to the Thessalonians but remains back at Athens alone so that he could send Timothy, and perhaps Silas, Dr. Luke, and others to Thessalonica to help the young church that was going through tribulations. This is one of the ways in which he expressed his great love for the believers in that city. It was because of this love that he could not abandon them when they needed spiritual help. Paul was not only an evangelist, he was also a pastor. He knew that soul-winning was just one part of the commission God gave him. These new believers must also be taught and established in the faith.

Instead of returning, Paul chose to be left alone in Athens so that Timothy could return
to Thessalonica and assist the saints. The word translated here as "left" means "to leave loved ones at death." In 1 Thessalonians 2:17 he said that he felt "orphaned" from his friends in Thessalonica, and the Greek word can also mean "bereaved." Paul was not a "hireling shepherd" who abandoned the sheep when there was danger (John 10:12-13). To leave these new believers was like an experience of bereavement.
This is a good lesson for Christian workers today. Paul so loved the Thessalonian believers that he would have risked his own life to return to them. He so loved the saints at Philippi that he was willing to stay out of heaven in order to encourage them (Philippians 1:22-26). He wanted to give of himself and his resources for them, as a parent provides for loved children. "I will very gladly spend and be spent for you" (2 Corinthians 12:15).
Now because Paul had a real affection for them, he was frustrated in not being able to return to them. He had been hindered by Satan. Paul had to leave Thessalonica so quickly that there were many unfinished teachings and doctrines that he had not been able to develop fully. He had not only longed to return, but he wondered about the future of the believers there. Paul desired to comfort them. In other words, he was demonstrating the thing he mentioned at the beginning of the letter—a labor of love.
Love is not affection or just a nice, comfortable, warm feeling around your heart. Love seeks the welfare of another. That is the way love is expressed for anyone. If you love someone, you seek his welfare and you actually would jeopardize your own life for the person whom you love.
2 We sent Timothy, who is our brother and co-worker in God's service in spreading the gospel of Christ, to strengthen and encourage you in your faith,
Because of his concern, Paul sent Timothy back to the Thessalonians to check on the condition of the church there. He calls Timothy "our brother and co-worker in God's service." The Greek word for "co-worker" is the same word from which we get our English word deacon; it literally means "servant."
"Co-worker in God's service in spreading the gospel of Christ." The Gospel of Christ is the sphere of service. Paul was not just a do-gooder. Sometimes fundamentalists are criticized because our main objective is to get out the Word of God. We make that primary. We are criticized for not emphasizing the social aspect of the Gospel enough. May I say that there has never been any great social movement that was not anchored in the preaching of the Gospel. The child labor laws came out of the great Wesley meetings. The labor movement today owes a great deal to John Wesley even though they have moved so far from the source that they don't recognize it. Hospitals have followed the preaching of the Word of God. If people will respond to the message of the Gospel of Christ, their lives will be transformed, and then these good works will flow out of that change.
We are moving more and more into a welfare state in our country. This has become one of the most corrupt things that has ever taken place in our government. I don't think any of us can grasp the corruption that is connected with this vast program. Why does that happen? Because it is not anchored in the Gospel of Christ.
"To strengthen and encourage you in your faith." He sent Timothy to help straighten out the Thessalonians' problems (1 Corinthians 16:10-11); to encourage them in the faith; to strengthen them, to make them firm and solid in the faith; and to provide them with what they needed to fight the good fight of faith, individually and collectively. Not every believer is equipped to edify other Christians in the faith. But Paul made a good choice in choosing Timothy for a couple of reasons. First, Timothy was a good team man; he was a "fellow worker." He did not try to run the show himself and get people to follow him. To begin with, he was a fellow worker with God. It was God who works in and through Timothy to accomplish His work (see 1 Corinthians 3:9 and Philippians 2:13). Second, Timothy was also a fellow worker with the other believers. He obeyed Paul and left Athens for Thessalonica. He returned to Paul in Corinth with news about the Thessalonian church. No wonder Paul wrote of him: "For I have no man like-minded, who will naturally care for your state" (Philippians 2:20).
Ideally, every Christian should be mature enough to help other Christians grow in the Lord and learn to stand on their own two feet. Unfortunately, some Christians are like those described in Hebrews 5:11-14. They have gone backward in their spiritual walk and have forgotten the basic truths of the Word. Instead of teaching others, they themselves need to be taught again. They are going through a second childhood spiritually.