Lesson 8: Part 1 of 3 (series: Lessons on Ephesians)
by John Lowe
(Woodruff, S.C.)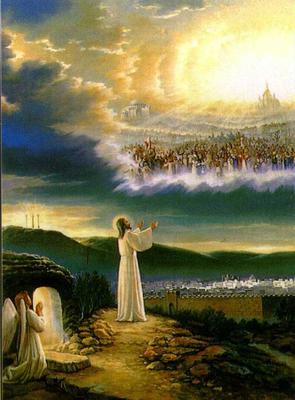 Book of Ephesians
By: Tom Lowe Date: 3/11/17

Lesson 8: The Individual Believer's Present State (2:4-10)

Ephesians 2:4-10 (KJV)
4 But God, who is rich in mercy, for his great love wherewith he loved us,
5 Even when we were dead in sins, hath quickened us together with Christ, (by grace ye are saved;)
6 And hath raised us up together, and made us sit together in heavenly places in Christ Jesus:
7 That in the ages to come he might shew the exceeding riches of his grace in his kindness toward us through Christ Jesus.
8 For by grace are ye saved through faith; and that not of yourselves: it is the gift of God:
9 Not of works, lest any man should boast.
10 For we are his workmanship, created in Christ Jesus unto good works, which God hath before ordained that we should walk in them.

Commentary
4 But God, who is rich in mercy, for his great love wherewith he loved us,

"But God, who is rich in mercy"
"Mercy" is a gift of the divine nature, and is essential to God; and may be considered with respect to the objects of it, either as "general," extending to all men in a beneficial way; or as "special," extending only to some by way of grace; for though "mercy" is a product of His nature, the display and application of it towards any object is the act of His will. Special mercy, with all the blessings and benefits of it, is only exhibited in Christ Jesus, and God is said to be "rich" in it, because He is free and liberal in dispensing it to a large number of persons, in great abundance and variety, by various ways, and in various instances, for it is present in the covenant of grace, in the mission of Christ, in redemption by him, in regeneration, in pardon of sin, and in eternal salvation; and yet it is inexhaustible and perpetual; and this reveals the excellence and glory of it. The idea of richness in grace, glory, and mercy is especially frequent in this Epistle (See Ephesians 1:7; Ephesians 1:18; Ephesians 2:7; Ephesians 3:8; Ephesians 3:16.) God has a tender, yearning feeling towards men made miserable by their own sins. And this feeling is not trivial or meager―He is rich in mercy. It is an exuberant, full-flowing feeling in God ("Thy mercy ... is in the heavens," Psalm 36:5), and may, therefore, be sought through prayer.

"for his great love wherewith he loved us"
The love of God for His chosen people is very great, if it is considered who it is that has loved them, God and not man; who is an infinite, unchangeable, and sovereign Being; and his love is like himself, for "God is love"; it has immeasurable heights and depths, and lengths and breadths. It allows neither variation nor alteration; and is altogether free, arising from the Lord Himself, and not from any man's ulterior motives and conditions. And if the persons themselves are considered, who are the objects of it―men, sinful men, unworthy of divine notice―and are loved personally, particularly, and distinctly, but not for anything in them, or done by them, and in spite of their many sins and transgressions. Rather, God's love is represented here as a past act; and indeed it is from everlasting, and is a precursor to their being quickened (saved), even though they were dead in trespasses and sins. He loves us because of Who He is―"God is love"―and what Jesus has done for us.

The love of God, more than anything else, is the one moving cause of salvation. Paul said in Romans 5:8, "God commendeth His love towards us, in that, while we were yet sinners, Christ died for us." Love is the one attribute from which the plan of salvation sprang. Love is more than compassion. Compassion may be confined to the heart, but love goes forth in active grace. It makes common cause with its object. It cannot rest till its object is made right. Two expressions are used intensifying this Divine love: (1), His great love; and (2), love with which he loved us.

5 Even when we were dead in sins, hath quickened us together with Christ, (by grace ye are saved;)

"Even when we were dead in sins"
These words should be connected, not with "loved us," (2:4) but with "hath quickened us together with Christ."It does not mean that he quickened us when we were dead in sin, but that he loved us then, and made provision for our salvation. It was love for the children of wrath; love for those who had no love to return to Him; love for the alienated and the lost. That is true love―the sincerest and the purest compassion―love, not like that of people, but such as only God bestows. Man loves his friend, his benefactor, and his family―God loves his foes and seeks to do them good.

"Even when we were dead in our sins" is repeated from verse 1, in order to set in its true light the declaration that follows of what God did for us to make more evident the free and sovereign mercy of God. Though sin is the abominable thing which He hates, He did not turn away from us when we were immersed in it; nor did He wait till we began to move towards Him; He began to influence us even when we were dead. He made us alive together with Christ. Made us alive with the life which is in Christ and which flows from Christ. The Father, having "given to the Son to have life in himself," and "the Son quickening whom he will," by God's decree we were first quickened by Him and made partakers of Christ's life―"Jesus said to her, "I am the resurrection and the life. The one who believes in me will live, even though they die" (John 11:25). All the life we had lost was restored―the life forfeited by transgression, the life of a calm and well-organized heart, the sublime life of fellowship with God.

hath quickened us together with Christ,
All Christians are declared to be quickened (or, raised up from the death of sin) to spiritual life with Christ (the life of righteousness), according to His promise, "Because I live, ye shall live also" (John 14:19). But there is a promise even beyond this one: "I am the life: whosoever liveth and believeth in Me shall never die" (John 11:25). Hence, even more emphatically, and in full accordance with this promise, we have in Colossians 3:4, "Christ who is our life;" and in 2 Corinthians 4:10-11, "The life of Jesus is made manifest in us." What this "life eternal" is He Himself declares in John 17:3—"to know the only true God and Jesus Christ, whom He has sent."

"Together with Christ"—We are already seated there IN Him ("in Christ Jesus," Eph 2:6), and henceforth shall be seated by Him. We are IN Him already for He is our Head, which is the ground of our hope; and we are by Him henceforth, for hope shall be swallowed up in fulfillment. We are, and always shall be, "together with Christ," that is, connected with him by virtue of His being raised up from the grave. The meaning is that there was such a connection between Christ and those whom the Father hath given to Him, that his resurrection from the grave involved their resurrection to spiritual life. It was like raising up the head and the members, the whole body together. Everywhere in the New Testament, the close connection of the believer with Christ is affirmed. We are crucified with Him. We die with Him. We rise with Him. We live with Him. We reign with Him. We are joint heirs with Him. We share His sufferings on earth (1 Peter 4:13) and we share His glory with Him on His throne (Revelation 3:21).
(by grace ye are saved;)

This clause gives the impression of having been thrown in here abruptly by the apostle in order to throw light on this great wonder―that Christ would be willing to impart his own life to souls dead in sin. Grace, as opposed to human merit, is at the root of the whole arrangement; free, undeserved mercy. It is not anything that God is bound to by His nature. It is the result of His will, not of his nature. Had it not been for His good pleasure, salvation would be impossible. "Saved" is the past tense denoting, not the act of being saved, but the fact of having been saved. Salvation in a real sense is a present possession. When we are one with Christ we are justified freely by God's grace, our trespasses are all forgiven. The spirit of new moral life has been given to us; we are made alive to God. But while salvation is a present attainment in a real sense, its full realization is future, for that includes perfect holiness, and also the glorification of the body. In this sense, salvation is to come―"For in this hope we were saved. But hope that is seen is no hope at all. Who hopes for what they already have? (Romans 8:24); "And do this, understanding the present time: The hour has already come for you to wake up from your slumber, because our salvation is nearer now than when we first believed" (Romans 13:11).